The Cycle X Vintage SBK Heavyweight lap record at Road America still stands. What's more, only one bike in the new Next Gen SBK class was able to beat it. Guy on a 140 hp ex AMA Honda RC30. He beat it by less than a second.

"I probably had the best seat in the house. I was out there on the track. Ken's bike went by me like I was stapled to a tree several times in practice. The thing howled past going down the front straight and then swept through turn 1 smooth as glass. Crazy fast." - Big Bob

"Kevin goes by and rails through Canada Corner. The #1 Kawasaki is about 15 bikes lengths behind him and I can feel the WTF? from here. Cycle X wins again." - Big Bob

"Kenny and the team...won again today. ;) They set an all time vintage heavyweight lap record as well." - Mike Rieck

"Have I mentioned how fast that damn bike is? The looks on the modern bike racers faces as we pass them is priceless..." - Kevin Calloway

(Full story can be read here)
BRAND NEW! Now available to the public!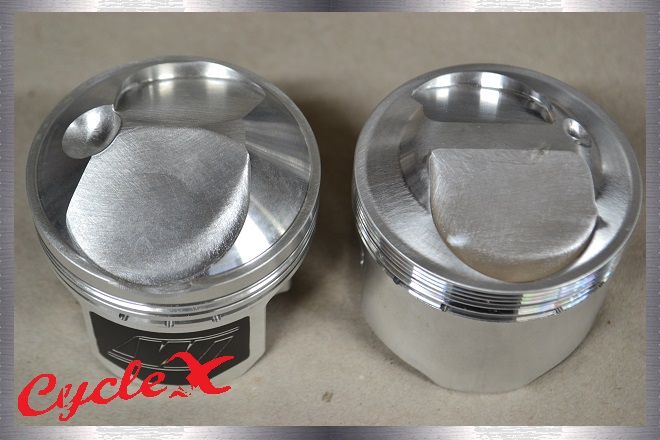 Our pistons (left) compared to the other guys pistons (right)

Cycle X Vintage Racing Pistons
Cycle X and Wiseco have teamed up to offer state of the art strutted, billet and race coated piston sets. These 1.00mm over piston sets will be race legal in all formula vintage motorcycle road races and feature a 12.5 compression ratio. Lightest pistons in the industry for your go-fast project.
ENP-VRP $840.00
Thermal Barrier Dome Coated Pistons (Polished Domes)
T
hese world class racing pistons are also offered with a race proven thermal barrier dome coating to repel unwanted heat.
After the coating is applied the piston dome is polished.
ENP-DCP $920.00
Cycle X Vintage Racing Cylinder Services
To protect your investment and insure perfect ring seal we are now offering torque plated boring services to the public. Head bolt torque can potentially distort cylinders affecting the accuracy of boring and honing after assembly. Rings won't seal as well and scuffing is likely to occur if the engine overheats. This torque plated boring and honing procedure will be done with the same head and base gaskets being used to make sure of total accuracy.
If you're in need of tech help, refer to our pistons tech tips page.
If ordering via phone, please also provide the part # of any products you are interested in for faster and more accurate service.
If you encounter a (rare) broken button as you're trying to add parts to your cart (going to PayPal summary instead of your cart or not opening PayPal at all) or anything else of concern, please call us to report it. We'll try to have it fixed for your convenience within the next 5-10 minutes. Afterwards, refresh the page and try again.
NOTE: As of July 1st, 2018, an extended goods and services tax (GST) has been applied to all Australian consumers buying overseas, charging an extra 10% in taxes to us with each purchase. To ensure that you can continue to purchase from us in Australia and we can provide our parts at our usual lower cost, please
contact us at either email below
if interested in any particular parts so that we can make a special shipping arrangement for you.
It is the sole and exclusive responsibility of the purchaser to determine the suitability of any part, product or work for his or her use.
The purchaser shall assume all legal, personal injury risk and liability and all other obligations, duties and risks therewith. There is no warranty on High Performance products.
Click to go back to our Pistons Page
Cycle X Global Headquarters
6246 US Hwy 51 South
Hazelhurst, WI 54531
Phone: 715-356-7346
Email: hotrodcyclex@gmail.com