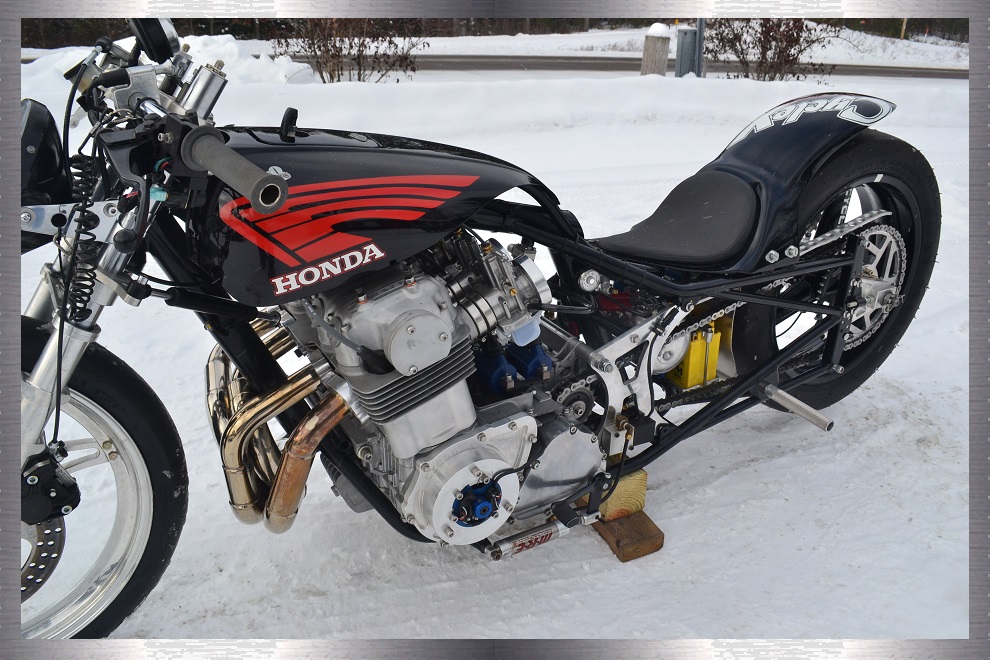 Honda CB750 Main Bearing Stud & Nut Kit

Comes as shown.

ENV-MAINBEARINGKIT $99.95

Super Stud and Heavy Duty Stud Nut Combo

Ever wonder what it would be like if Superman and Batman teamed up? Neither have we, but we did wonder what it would be like if our Super Studs and our new Heavy Duty Cylinder Stud Nuts teamed up.

The outcome is a combo that takes strength and performance to a new level.

Our Price: $195.95
Sale Price: $165.95

ENV-CXC

Heavy Duty Cylinder Stud Nuts

Heavy Duty Cylinder Stud Nuts are designed and machined by Cycle X and Kibblewhite for your high performance or stock Honda CB750 (69-78).

Grade 8 High Tensile Steel, Heat Treated for Strength and Black Oxided for corrosion resistance.

ENV-CXSN $75.99




Cycle X Super Studs

We have been working with Will Kibblewhite for a while on these heavy duty cylinder studs and finally, they're ready for the masses!
Click Here for the Full Story

Our Price: $139.95
Sale Price: $110.00

ENV-CXSS

Honda CB750 Valve Adjusters (New!)

Valve adjusters have a tough life and are usually pretty beat up. Not exactly breaking news, but the adjusters are in stock. $59.00 for a set of eight as shown.

ENV-060 $59.00, set of 8

Valve Adjuster and Titanium Jam Nut Kit

Many people spend a lot of time and money to achieve light weight valve trains. These jam nuts are super light and priced to not hurt the wallet.

ENV-061 $138 .00, set of 8 each


Titanium Jam Nuts Only Set Of 8
$ 79.00

Due to the fact that a Honda CB750 top end (head and cylinder) can grow .015 or more when at operating temperature, heavy duty cylinder studs are a good idea for stock and performance motors.

Years ago, we had stock cylinder studs and various heavy duty cylinder studs analyzed by A1 technologies. Turns out, that the stock cylinder studs were better in various categories but are a bit spindly and stretch more than most engine builders prefer. With the combination of conventional head gaskets compressing up to .016 after X amount of miles and stock cylinder studs stretching, the ability to keep the head gaskets from leaking, compressing and keeping close tolerances for your go-fast motor will generally make you lean toward the higher tolerance range to be safe.

The various heavy duty cylinder studs we had analyzed simply obtained their strength simply thru bulk. With added torque and the growth of the top end under running conditions made some heavy duty studs fail or break at the upper thread area.

Stud Manufacturing Process
Premium performance studs made from US-milled, heat treated and certified 4130 Chromalloy Steel for Honda SOHC CB750's from 1969-78.
Both ends of these studs have been rolled and not die cut or single pointed. Rolled threads produce the strongest possible thread.
When a thread is hydraulically roll-formed, the material is crushed between hardened steel dies under hydraulic force which disrupt and forms a work-hardened-thread.

Additionally, the pitch diameters of both ends of the stud are controlled to produce an interference fit for the case end and a "special" fit on the nut end.
Finally the body of the stud is centerless ground to remove "notch sensitivity"/surface irregularities in which a stud is likely to fail under stress.

Our Cycle X / Kibblewhite cylinder studs are simply the best.

Very important, burnishing the threads after installing new heavy duty cylinder studs and heavy duty case studs.

This technique is "super important" when new threads on connecting rod bolts and heavy duty studs are used.
The reason is, new threads on studs are unfamiliar with new nut threads or old nut threads.

For example:
After installing new cylinder studs into your engine cases and the cylinder and head is ready to be tightened down. Apply high pressure or heavy grease to the stud threads, nut threads and washers.
Tighten the head nuts in the Honda manual sequence in 5 lb increments.
Once the full torque has been reached (22 foot pounds)
Go back to #1 in the head torque sequence. Loosen, tighten to full torque. Loosen, tighten to full torque, 6 times to all the cylinder head nuts are 22 foot pounds.
Why is this important?
After the motor goes thru many heat cycles and the cylinder is expanding and contracting, the threads settle in and if this burnishing technique is not done, 3, 4, 5 pounds of torque will be lost.

This technique is a must for connecting rod bolts and studs.

Note:
Do not burnish the threads when installing the heavy-duty studs in the cases.
A 3.99% customer service charge is applied to all phone orders.
If ordering via phone, please also provide the part # of any products you are interested in for faster and more accurate service.
If you encounter a (rare) broken button as you're trying to add parts to your cart (going to PayPal summary instead of your cart or not opening PayPal at all) or anything else of concern, please call us to report it. We'll try to have it fixed for your convenience within the next 5-10 minutes. Afterwards, refresh the page and try again.
NOTE: As of July 1st, 2018, an extended goods and services tax (GST) has been applied to all Australian consumers buying overseas, charging an extra 10% in taxes to us with each purchase. To ensure that you can continue to purchase from us in Australia and we can provide our parts at our usual lower cost, please
contact us at the email below
if interested in any particular parts so that we can make a special shipping arrangement for you.
It is the sole and exclusive responsibility of the purchaser to determine the suitability of any part, product or work for his or her use.
The purchaser shall assume all legal, personal injury risk and liability and all other obligations, duties and risks therewith. There is no warranty on High Performance products.
Click to go back to Engine Parts page
Cycle X Global Headquarters
6246 US Hwy 51 South
Hazelhurst, WI 54531
Phone: 715-356-7346
Email: hotrodcyclex@gmail.com