Refurbished Chain Wheel Cush Drives and Balancing
Note: Before we go any further with our explanation of cush drives and rebuilding cush drives, we must mention that Honda has not offered these parts for years. Secondly, most racers and people that are desperate for a fix will use "O" ring material sold in bulk and cut it to size. The trouble with "O" ring material sold in bulk is the fluctuation of the outside diameter and the rubber quality itself.
Note: It is not uncommon for the outside diameter of "O" material to fluctuate .030 or more.
Introducing the Cycle X Nitrile blended molded cush drive rubbers with 85 +/- Durometer hardness.
This addition to our refurbished Honda CB750 section is something that many people are aware of, but sometimes ignore. Meaning, the cush drive rubbers on the inside of the hub that are disintegrated about 50% of the time. Call it father time or they just lead a hard life.

So here is what we do...

We disassemble the cush drive and glass bead for inspection. The inner portion of the hub is drilled and tapped for screws to replace the long rivets installed by Honda to hold the drive together.

Before installing the new cush drive rubbers, we measure the amount of deflection or wobble the two sprockets have. Most hubs have different measurements. But, they generally deflect or wobble over 2mm measured by the outer tooth area, relying on the cush rubbers to keep things somewhat stable.

With that said, we surface the outer plates and machine the inner portion to reduce this deflection and wobble.

Before we install the specific length and material cush drive rubbers, we remove and install (2) new needle bearings on the inside.
The cush drive is now assembled and ready to go.

By the way...
Like crankshafts and alternator rotors, the cush drives and outer steel clutch hubs are not balanced.

As an option, we are also offering balancing the cush drive and outer steel clutch hub as a unit.

Because real life story's are sometimes better than written words. Our Honda cb750 vintage heavyweight super-bike road-racer had this same cush drive process done to it in 2012 and the motor is still together and running strong after all these years. The bike was sold and is still racing in Ireland.


Exchange basis:
Send your cush drive chain wheel (estimated time for repair is 24 to 48 hrs)
Parts and labor
Balancing cush drive and outer steel clutch hub.
Exchange basis only - Call to order (for labor to rebuild or for balancing)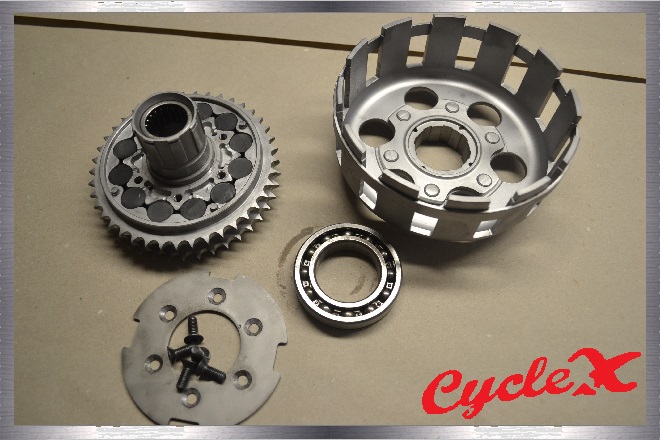 $195 for parts and labor to rebuild your cush drive hub. (Call to order)
Includes: Disassemble, inspect, machine to remove wobble, remove and install (2) needle bearings and install our cush drive rubbers.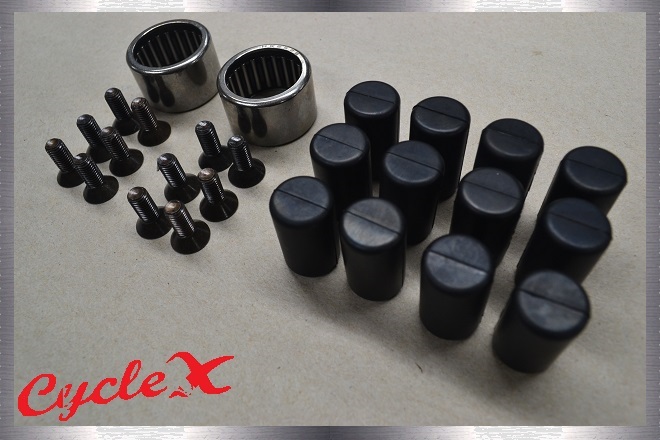 $129.00 for parts.
Parts include: Cycle X cush rubbers, screws and (2) inner cush drive bearings.


$75.00 for balancing. (Call to order)
(Click for an expanded view)
If ordering via phone, please also provide the part # of any products you are interested in for faster and more accurate service.
If you encounter a (rare) broken button as you're trying to add parts to your cart (going to PayPal summary instead of your cart or not opening PayPal at all) or anything else of concern, please call us to report it. We'll try to have it fixed for your convenience within the next 5-10 minutes. Afterwards, refresh the page and try again.
NOTE: As of July 1st, 2018, an extended goods and services tax (GST) has been applied to all Australian consumers buying overseas, charging an extra 10% in taxes to us with each purchase. To ensure that you can continue to purchase from us in Australia and we can provide our parts at our usual lower cost, please
contact us at either email below
if interested in any particular parts so that we can make a special shipping arrangement for you.
It is the sole and exclusive responsibility of the purchaser to determine the suitability of any part, product or work for his or her use.
The purchaser shall assume all legal, personal injury risk and liability and all other obligations, duties and risks therewith. There is no warranty on High Performance products.
Click to go back to Engine Parts page
Cycle X Global Headquarters
6246 US Hwy 51 South
Hazelhurst, WI 54531
Phone: 715-356-7346
Email: cyclex@cyclexchange.net (primary) or hotrodcyclex@gmail.com (for sending attachments)