Honda cb750 Camshafts and Related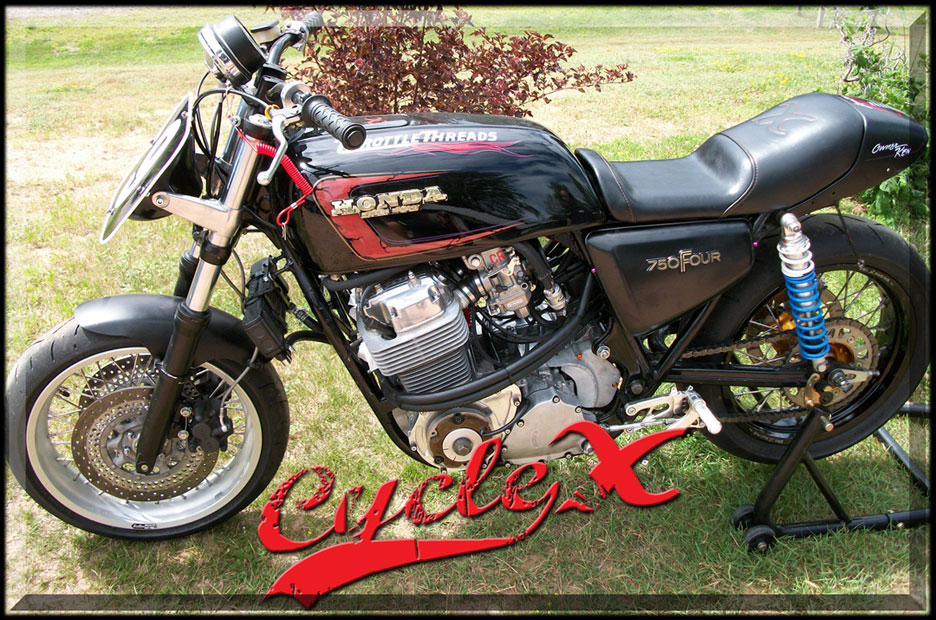 Honda SOHC High Performance Cam Shafts
Camshafts always raise a lot of questions: What kind of performance do you expect? What kind of top end power do you expect?
What kind of riding do you do? What kind of valve relief do your pistons have?
Below are some camshaft profiles you will enjoy with-out the headaches that monster cams can produce with out background and experience behind you.
For Advice Please Call (715) 356-7346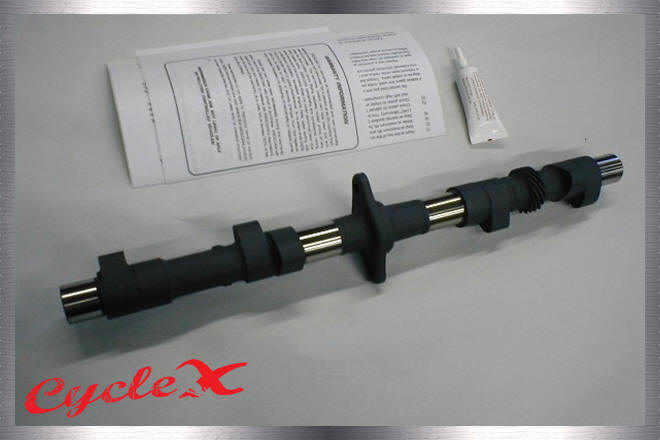 Broad power range. This cam will bolt right in stock engines. You will notice good power increase with this one. This camshaft profile was used on tight road-race tracks. You will like it. Made For Cycle X By Web Cam. Equivalent to their # 41 Cam.
.360 Valve Lift and 270° Duration

CX-1 $227.00

Need a little more power? We have used this camshaft profile in stock displacement motors but check carefully. Works well with 836cc kits. Made for Cycle X By Web Cam . Equivalent to a 41A.

.360 Valve Lift and 280° Duration

CX-2 $227.00

INSTALLATION INFORMATION

ENGINE: Honda CB750 F (75-78) SOHC 8V


INTAKE EXHAUST
VALVE LASH: .004" .005"
VALVE LIFT: 0.335 0.335
DURATION: 275° 275°
DURATION @ 0.05: 242° 239°
LOBE CENTER:

INTAKE OPENS BEFORE TDC EXHUAST OPENS BEFORE BDC

INTAKE OPENS AFTER BDC EXHAUST CLOSES AFTER TDC

VALVE TIMING IS CHECKED WITH ZERO VALVE LASH @ 0.050 INCHES OF VLAVE LIFT.

Here is a great cam for your 836cc hot street motor. Springs, big bore kit will be needed to utilize this cams potential. Made for Cycle X By Web Cam. Equivalent to a 63A.

.370 Valve Lift and 282° Duration

CX-3 $227.00

INSTALLATION INFORMATION

ENGINE: Honda CB750 F (75-76) CB750 K (69-78) SOHC 8V

INTAKE EXHAUST
VALVE LASH: .004" .005"
VALVE LIFT: 0.345 0.345
DURATION: 288° 288°
DURATION @ 0.05: 251° 250°
LOBE CENTER: 98° 99°

INTAKE OPENS 27.5° BEFORE TDC EXHUAST OPENS 44° BEFORE BDC

INTAKE OPENS 435° AFTER BDC EXHAUST CLOSES 26° AFTER TDC

VALVE TIMING IS CHECKED WITH ZERO VALVE LASH @ 0.050 INCHES OF VLAVE LIFT.

Strong mid and top end power for street-strip. Use with big bore, headers, and valve springs. Made for Cycle X By Web Cam .
Equivalent to a 63B.

.370 Valve Lift and 290° Duration

CX-4 $227.00

INSTALLATION INFORMATION

ENGINE: Honda CB750 F (75-76) CB750 K (69-78) SOHC 8V

INTAKE EXHAUST


VALVE LASH: .004" .005"
VALVE LIFT: 0.345 0.345
DURATION: 296° 296°
DURATION @ 0.05: 257° 260°
LOBE CENTER: 98° 98°

INTAKE OPENS 30.5° BEFORE TDC EXHUAST OPENS 48° BEFORE BDC

INTAKE OPENS 46.5° AFTER BDC EXHAUST CLOSES 32° AFTER TDC

VALVE TIMING IS CHECKED WITH ZERO VALVE LASH @ 0.050 INCHES OF VLAVE LIFT.




Excellent top end power. Made for Cycle X By Web Cam. Equivalent to a 63C.



.370 Valve Lift and 300° duration

CX-5 $227.00

Temporarily Out of Stock

Similar to the Mega Cycle 125-75 but with 3 more degrees of duration. We found this cam to work well with 915cc kits and above.

CX-7 $227.00
Cycle X Race Team Approved



CLICK HERE: FOR INFO ON DEGREEING AND CAM INSTALLATION
Cycle X Racing Cam Chain Tensioner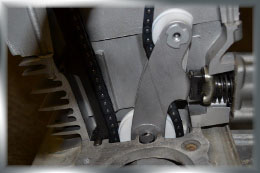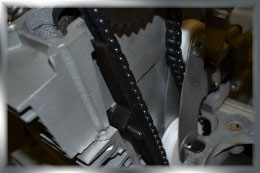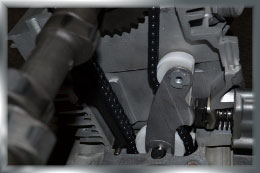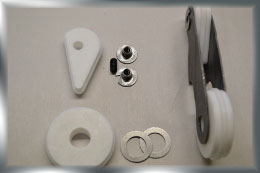 Honda had it right the first time ( well almost ). Introducing the Cycle X racing cam chain tensioner. The geometry and design of the OEM Honda tensioner is perfect............. except for the upper and lower wheels, which can disintegrate during racing applications and father time. Some of the slipper style designs in the past will cause problems with milled heads or cylinders ...............causing only the very top of the slider to make contact with the cam chain and the cam chain will also hit the lower metal pin ( not good ). By design, the lower wheel is very signifcant to keep the chain happy and stabile by applying slight pressure on both sides of the chain in the lower area of the case. Designs that eliminate the lower wheel, can and will allow the cam chain to slap, bounce and whip in the worst case scenario. Also, without the use of the lower wheel ...................8 inches or 25 chain link pins are unsupported. (In a perfect world ....... no more than 10 pins should be unsupported. The upper area of the Cycle X design uses a slipper shoe that adds over 2 inches of added support. So, with the combination of Honda's OEM design, Cycle X's battle tested ingenuity, and using the latest zero friction materials that are unaffected by heat ...................... problem solved !!!!
ENV-006 $139.00
On Exchange Basis Only - Call to Order

Adjustable Cam Sprockets

(Free Horsepower):
Billet steel perfectly cut heat treated cam chain sprockets (sohc motors).

Cycle X Race Team Approved

ENV-011 $39.00 each


Adjustable Cam Sprocket Combo

Look at the bolts on this sprocket and bolt combo compared to stock bolts.
These bolts and flange which will insure your sprocket will not slip someday.

ENV-007 $49.00

Cam Chain Tensioners

Red or Black

ENV-013 $50.65

Heavy Duty Cam Chain
This is another weak link to the Honda 750 sohc motors. These chains are clearly stronger than stock. (continuous)
TECH TIP: Soak cam chains in oil before installation, they will last longer.
ENV-012 $39.00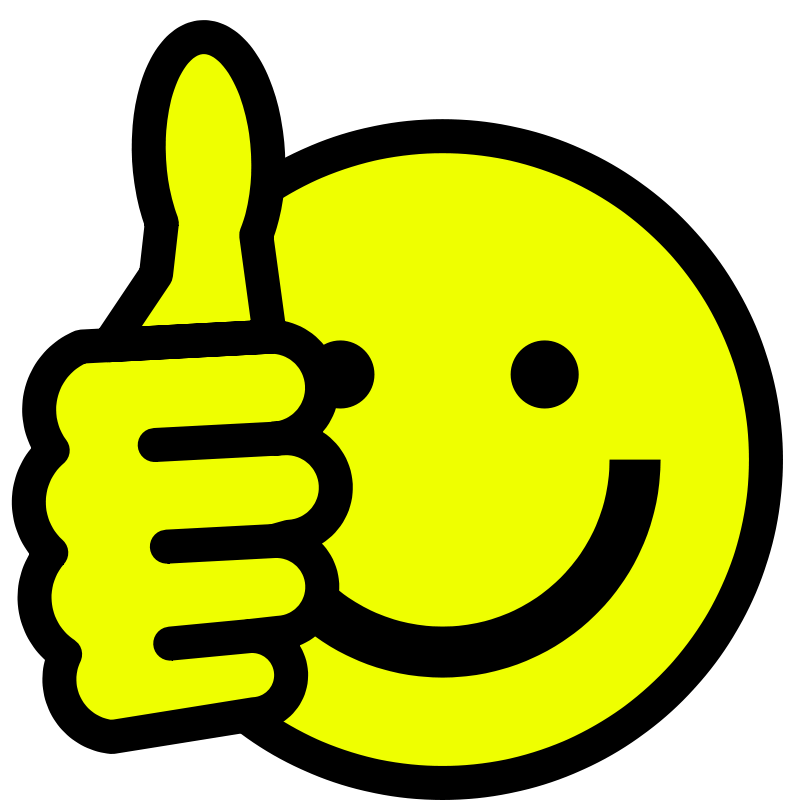 Cycle X Race Team Approved
Cryo Treated Cam Chains
Cryo Info
These chains have gone through our cryogenic treatment, which involves taking the chains down to temperatures of minus 300 degrees Fahrenheit. What this does is rearranges the molecular structure of the item being treated, making them more uniform and evenly spread. Why is this good? Well, after this process is complete the item treated has increased tensile strength and resitance to wear.
In other words it makes stuff stronger and last longer!!!!!
"I used to have to adjust my Yamaha motorcycle chain after the first run because it would stretch. After cryo-treatment, the chains don't stretch at all, and the treatment also keeps cam chains from breaking. I haven't broken a chain since I started cryo-treating all of my parts."
- Customer of Cryotreament
ENV-012A $59.00
It is the sole and exclusive responsibility of the purchaser to determine the suitability of any part, product or work for his or her use.
The purchaser shall assume all legal, personal injury risk and liability and all other obligations, duties and risks therewith.
Cycle X Global Headquarters
US Hwy 51 South
Hazelhurst, WI 54531
Phone: 1-715-356-7346
Email: cyclex@cyclexchange.net