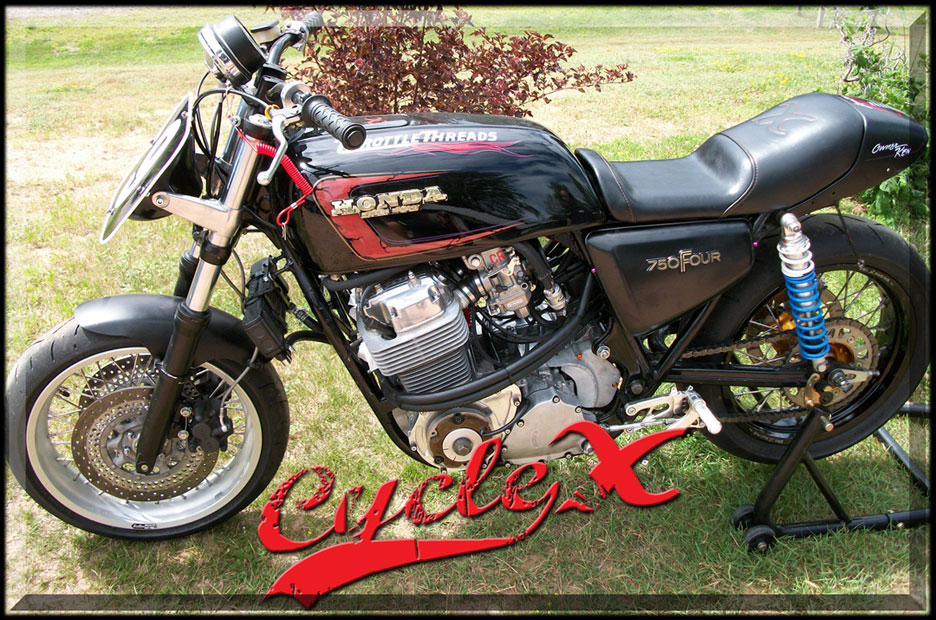 Honda SOHC High Performance Cam Shafts
Camshafts always raise a lot of questions: What kind of performance do you expect? What kind of top end power do you expect?
What kind of riding do you do? What kind of valve relief do your pistons have?
Below are some camshaft profiles you will enjoy with-out the headaches that monster cams can produce with out background and experience behind you.
For Advice Please Call (715) 356-7346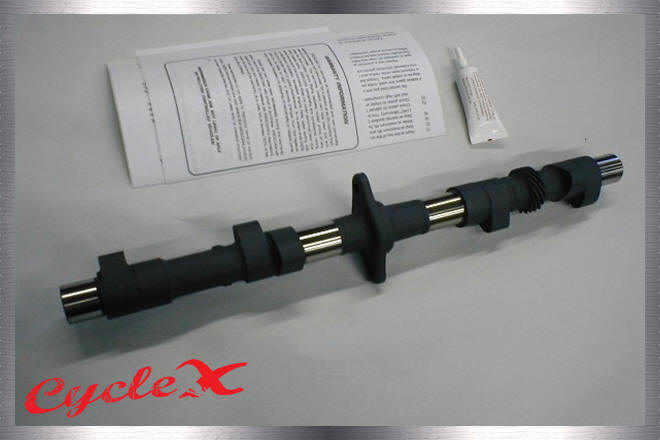 Kenny Harman "D" grind. OK with stock pistons. Use HD springs. Mid-range and some top-end.



KHD CX-1 $227.00

INSTALLATION INFORMATION

ENGINE: Honda CB750 F (75-76) CB750 K (69-78) SOHC 8V

INTAKE EXHAUST


VALVE LASH: .005" .005"
VALVE LIFT: 0.345 0.325
DURATION: 296° 296°
DURATION @ 0.05: 265° 280°
LOBE CENTER: 105.5° 110°

INTAKE OPENS 26° BEFORE TDC EXHAUST OPENS 59° BEFORE BDC

INTAKE OPENS 70° AFTER BDC EXHAUST CLOSES 30° AFTER TDC

VALVE TIMING IS CHECKED WITH ZERO VALVE LASH @ 0.050 INCHES OF VALVE LIFT.

Broad power range. This cam will bolt right in stock engines. You will notice good power increase with this one. This camshaft profile was used on tight road-race tracks. You will like it. Made For Cycle X By Web Cam. Equivalent to their # 41 Cam.


.360 Valve Lift and 270° Duration

CX-1 $227.00

INSTALLATION INFORMATION

ENGINE: Honda CB750 F (75-76) CB750 F2 (77-78) CB750 K (69-78) SOHC 8V

INTAKE EXHAUST
VALVE LASH: .004" .005"
VALVE LIFT: 0.335 0.335
DURATION: 266° 266°
DURATION @ 0.05: 237° 234°
LOBE CENTER: 107.5° 107.5°

INTAKE OPENS 11° BEFORE TDC EXHAUST OPENS 44.5° BEFORE BDC

INTAKE OPENS 46° AFTER BDC EXHAUST CLOSES 9.5° AFTER TDC

VALVE TIMING IS CHECKED WITH ZERO VALVE LASH @ 0.050 INCHES OF VALVE LIFT.

Need a little more power? We have used this camshaft profile in stock displacement motors but check carefully. Works well with 836cc kits. Made for Cycle X By Web Cam . Equivalent to a 41A.

.360 Valve Lift and 280° Duration

CX-2 $227.00

INSTALLATION INFORMATION

ENGINE: Honda CB750 F (75-78) SOHC 8V


INTAKE EXHAUST
VALVE LASH: .004" .005"
VALVE LIFT: 0.335 0.335
DURATION: 275° 275°
DURATION @ 0.05: 242° 239°
LOBE CENTER:

INTAKE OPENS BEFORE TDC EXHAUST OPENS BEFORE BDC

INTAKE OPENS AFTER BDC EXHAUST CLOSES AFTER TDC

VALVE TIMING IS CHECKED WITH ZERO VALVE LASH @ 0.050 INCHES OF VALVE LIFT.

Here is a great cam for your 836cc hot street motor. Springs, big bore kit will be needed to utilize this cams potential. Made for Cycle X By Web Cam. Equivalent to a 63A.

.370 Valve Lift and 282° Duration

CX-3 $227.00

INSTALLATION INFORMATION

ENGINE: Honda CB750 F (75-76) CB750 K (69-78) SOHC 8V

INTAKE EXHAUST
VALVE LASH: .004" .005"
VALVE LIFT: 0.345 0.345
DURATION: 288° 288°
DURATION @ 0.05: 251° 250°
LOBE CENTER: 98° 99°

INTAKE OPENS 27.5° BEFORE TDC EXHAUST OPENS 44° BEFORE BDC

INTAKE OPENS 435° AFTER BDC EXHAUST CLOSES 26° AFTER TDC

VALVE TIMING IS CHECKED WITH ZERO VALVE LASH @ 0.050 INCHES OF VALVE LIFT.

Strong mid and top end power for street-strip. Use with big bore, headers, and valve springs. Made for Cycle X By Web Cam .
Equivalent to a 63B.

.370 Valve Lift and 290° Duration

CX-4 $227.00

INSTALLATION INFORMATION

ENGINE: Honda CB750 F (75-76) CB750 K (69-78) SOHC 8V

INTAKE EXHAUST


VALVE LASH: .004" .005"
VALVE LIFT: 0.345 0.345
DURATION: 296° 296°
DURATION @ 0.05: 257° 260°
LOBE CENTER: 98° 98°

INTAKE OPENS 30.5° BEFORE TDC EXHAUST OPENS 48° BEFORE BDC

INTAKE OPENS 46.5° AFTER BDC EXHAUST CLOSES 32° AFTER TDC

VALVE TIMING IS CHECKED WITH ZERO VALVE LASH @ 0.050 INCHES OF VALVE LIFT.

Similar to the Mega Cycle 125-75 but with 3 more degrees of duration. We found this cam to work well with 915cc kits and above.

CX-7 $227.00
Cycle X Race Team Approved


CLICK HERE: FOR INFO ON DEGREEING AND CAM INSTALLATION



Hardwelded Honda CB750 SOHC Rocker Arms
Hardwelded and precision ground from original equipment cores. These durable and long lasting rocker arms are important with high performance and even stock motor configurations. Many conversations are had with folks trying to make the flat tappet designs survive nowadays. Zinc and other and oil additives are being blended to help make these flat tappet motors live. On the other hand, hardwelded rocker arms are the best option. Recommended for use with all cam profiles, both billet and hardweld.

No core required. Outright sale.

For ALL year model CB750 SOHC 1969-78
ROCKER-ARMS $492.00 (Set of 8)



You will need these cam chain tensioners parts so your Honda SOHC does not sound like a wash machine. These are Factory Replacements direct from Honda.
Cam Chain Roller

ENV-001 $24.95

Cam Chain Roller Assembly

ENV-002 $54.95

Cam Chain Slider

ENV-003 $23.00
Honda had it right the first time (well, almost). Introducing the Cycle X racing cam chain tensioner. The geometry and design of the OEM Honda tensioner is perfect, except for the upper and lower wheels, which can disintegrate during racing applications and father time. Some of the slipper style designs in the past will cause problems with milled heads or cylinders, causing only the very top of the slider to make contact with the cam chain and the cam chain will also hit the lower metal pin (not good). By design, the lower wheel is very significant to keep the chain happy and stabile by applying slight pressure on both sides of the chain in the lower area of the case. Designs that eliminate the lower wheel can and will allow the cam chain to slap, bounce and whip in the worst case scenario. Also, without the use of the lower wheel, 8 inches or 25 chain link pins are unsupported. (In a perfect world, no more than 10 pins should be unsupported) The upper area of the Cycle X design uses a slipper shoe that adds over 2 inches of added support. So, with the combination of Honda's OEM design, Cycle X's battle tested ingenuity, and using the latest zero friction materials that are unaffected by heat, problem solved!
ENV-006 $139.00
On Exchange Basis Only - Call to Order



Cycle X Manual Cam Chain Tensioner
Fine Thread Manual Tensioners and Gasket Combo
ENV-107 Original price $59.00
SALE PRICE $49.99



OEM Adjustable Camshaft Sprockets
(Reconditioned)

We all know why adjustable camshaft sprockets are used in the high performance world. But, stock motor configuration motors can benefit from these also. Have you ever tried to line up the camshaft marks after any sort of motor work or checking a few things? The marks usually never line up perfectly because of many reasons. One of the main reasons on a stock motor with any miles is cam chain stretch. The cam chain is like a rear chain. It stretches. So, install these modified poor man's adjustable OEM cam chain sprockets and realign your cam timing or install your performance cam.

CS-017A $28.95

OEM Adjustable Camshaft Sprocket Combo
(Reconditioned)

Our adjustable camshaft sprocket also comes with a set of shouldered bolts to compliment.

CS-017B $39.95



Cycle X Cam Tower Stabilizers!
Why do people install these cam tower stabilizers? (generally welded)

Well many years ago, high performance Honda people were experiencing broken cam chains. The use of huge cams, OEM chains and 200-plus pounds of spring pressure might have had something to do with it.

Many old-timers thought the broken cam chains were a result of the inner cam shaft journals being .006 smaller than the outer cam shaft journals, resulting in camshaft flex.

Secondly, they thought the cam towers were unstable because they were only relying on the 6mm bolts to hold them down.

Anyway, to modify Honda cb750 valve covers usually consists of drilling the valve cover in the proper location, machining the alloy inserts, jigging and welding the inserts in place. Once the valve cover cooled down, the inserts were drilled and final tapped.

The above mentioned process seemed fine to us, except for the amount of extreme heat during welding and not to mention the machine time involved.

So here's what we came up with.

Our Cycle X modification consists of jigging, drilling, tapping the valve cover and installing our inserts. This cost effective, super strong cure for expensive procedures (without the extreme heat and machining) is available, NOW
If you still doubt us, here's what one of our customers had to say about our modification:
"Once again you guys are right on the money. Welding on aluminum is not only tricky to do right but actually makes the structure weaker. As a retired tool designer in the aircraft industry we use a LOT of aluminum weldments in tooling for weight as well as common expansion factors since the majority of structure we are holding, positioning, etc. are aluminum. Your fix for this old problem is right on the money, and the price isn't bad either." - Leonard Ledoux
He continues:
"You guys are spot on, putting all that heat into the aluminum casting just turns it into butter. I will grant that 42 years ago it was probably a good idea, but we know so much more today about welding aluminum that it really does relegate the welding approach to the dustbin of tried and failed efforts. Even a machined from billet valve cover would suffer if welded up in the manner usually presented. Your approach is far superior."

Includes: Modified valve cover. (8) 6mm allen bolts, washers and nuts.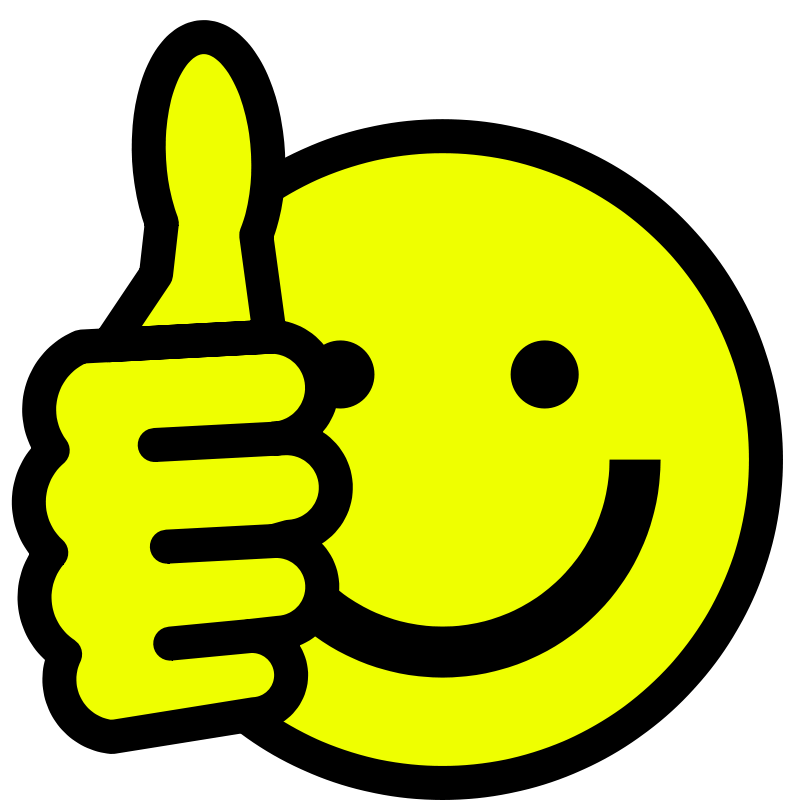 Cycle X Race Team Approved

ENV-CTS $139.95 (with exchange)
ENV-CTS1 $169.95 (without exchange)
If ordering via phone, please also provide the part # of any products you are interested in for faster and more accurate service.
If you encounter a (rare) broken button as you're trying to add parts to your cart (going to PayPal summary instead of your cart or not opening PayPal at all) or anything else of concern, please call us to report it. We'll try to have it fixed for your convenience within the next 5-10 minutes. Afterwards, refresh the page and try again.
It is the sole and exclusive responsibility of the purchaser to determine the suitability of any part, product or work for his or her use.
The purchaser shall assume all legal, personal injury risk and liability and all other obligations, duties and risks therewith. There is no warranty on High Performance products.
Click to go Back to Engine Parts Page
Cycle X
US Hwy 51 South
Hazelhurst, WI
54531
Phone: 1-715-356-7346
Email: cyclex@cyclexchange.net