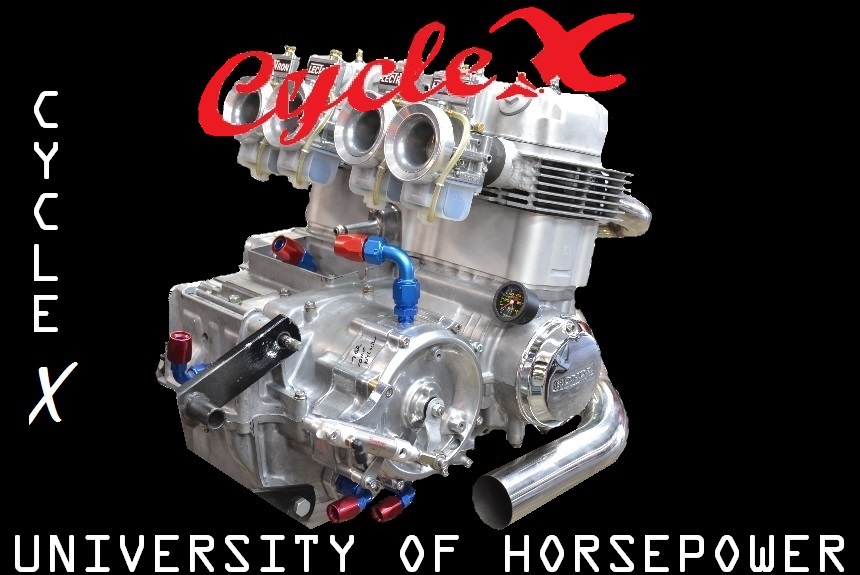 New tech tips page currently under heavy construction! Check it out for the newest updates!
Enter Apparel & Accessories Page

Visit our Australian dealer for you folks down under.
Scott & Danielle are some of the most dedicated and truly an asset to the motorcycle community.

Click their logo above for their website.

Remember Cycle X is on eBay!
Not all our products are on our site!

\

Cycle X Invades the South!


Our Cycle X products will be on display at the world class Barber Motorsports Park race track facility on October 6-8 in Birmingham, Alabama. Rapid fire exhaust systems, exposed charging systems, and our complete line of go-fast innovations will be on display.

Also...

November 17-19 in the South Georgia Motorsports Park (Cecil, Georgia) We are super excited to sponsor the Super Eliminator class at the world finals in the Man Cup Drag Racing association. We will display our Cycle X products at the manufactures midway and race our Honda CB750 drag bike / Honda CB1100F drag bike.
It is the sole and exclusive responsibility of the purchaser to determine the suitability of any part, product or work for his or her use.
The purchaser shall assume all legal, personal injury risk and liability and all other obligations, duties and risks therewith.
There is no warranty on High Performance products.
Cycle X Global Headquarters
6246 US Hwy 51 South
Hazelhurst, WI 54531
Phone: 1-715-356-7346
Email: cyclex@cyclexchange.net

<>