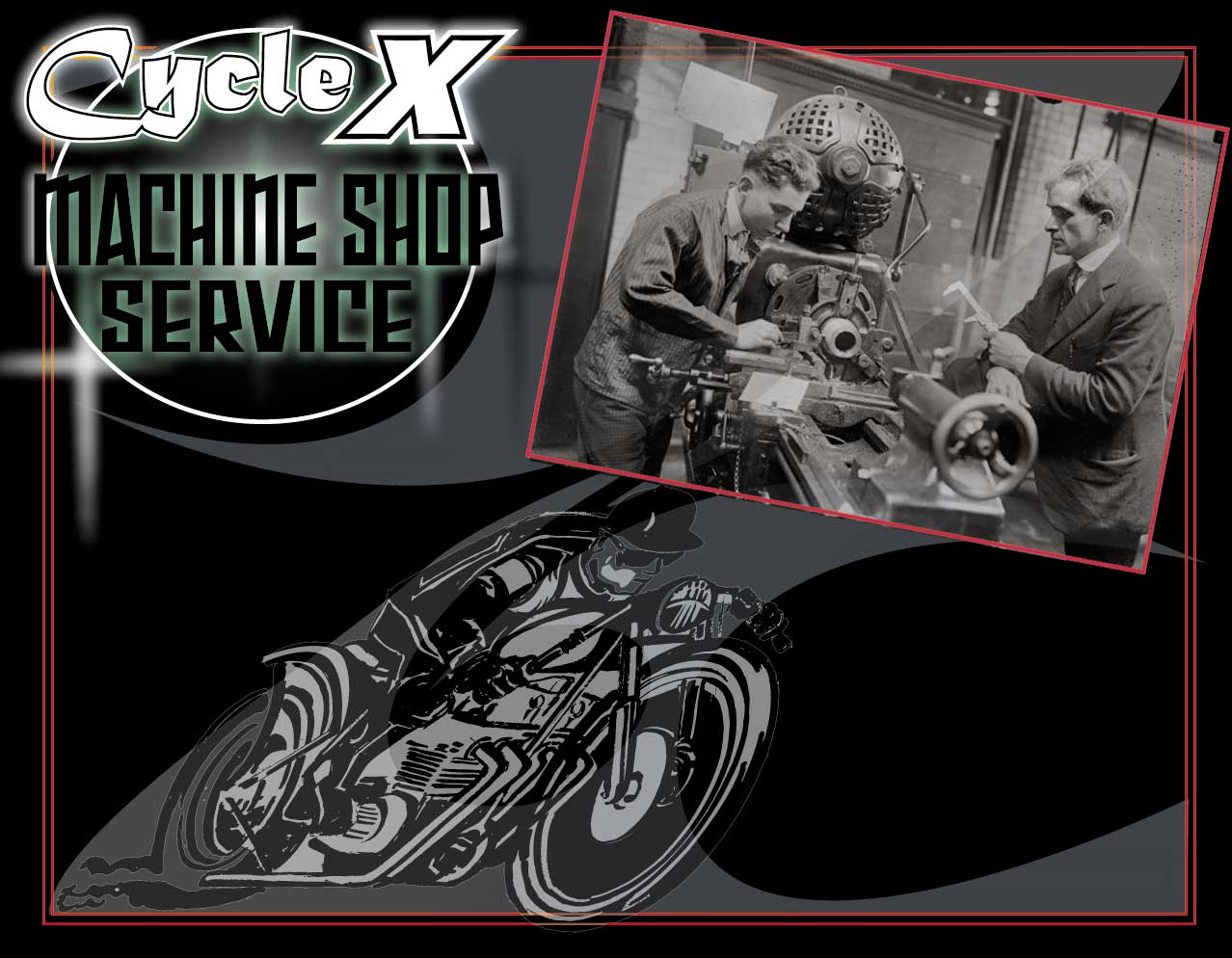 Honda CB500, CB550 Ported Head
This refurbished Honda head has been fitted with Kibblewhite valves and guides.
Street ported, serdi valve job, glass beaded, gasket set, surfaced with the Cycle X straight shot manifolds.
Simply add the springs of your choice and go.
Outright sale. No exchange needed.
RF-25
Retail $1,310.00
Your cost $999.00 ($311 off)
Call to Order
Refurbished, Freshly Machined 970cc Cylinder, Gaskets and Wiseco 970cc Pop-Top Piston Kit (K and 77-78 "F" Models)
These Cycle X designed and Wiseco manufactured pistons are super light and have been coated with the Wiseco armor-glide process.
Depending on your cylinder heads combustion chambers, these pistons will be around the 12 to 1 compression ratio area.
This 12+ compression ratio is a must when selecting higher lift and larger duration camshafts.

Included in the cylinder and piston kit sale are the tested, developed and funded MLS viton coated head gasket and steel viton coated base gasket.

The cylinder has our complete big bore machining process done.
Remove the old cylinder liners.
Glass bead the cylinder block.
Surface (mill) the bottom side and machine "O" ring grooves to prevent oil seepage from the center of the block.
Bore the cylinder block for the larger sleeves. Hone the cylinder block to exact dimensions so the cylinder sleeves install happily.
Note:
Back in the 70's era, machine shops would only bore the cylinder blocks (not final hone). By boring the block only, the finish is not perfect and we found after miles and miles the sleeves can loosen up a bit.
The new sleeves were installed, bored, honed, surfaced and heli-coils were installed.
RF-POPTOP-970
Retail $1,393.00
Your cost $1,193.00 ($200 off)
Call to Order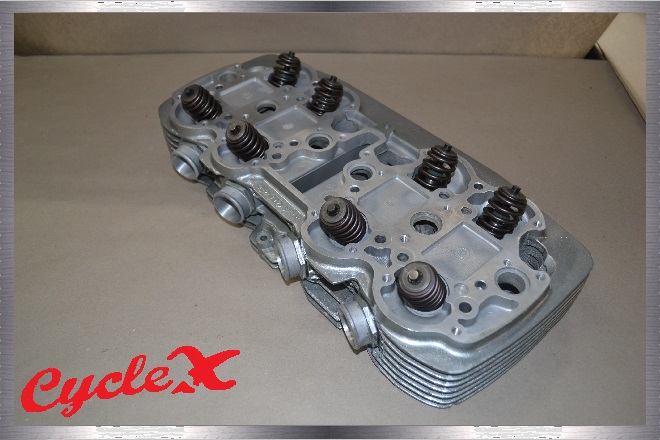 New Valves, Guides, Surfaced, Valve Job with Cycle X Bee-Hive Spring Set
This set up is for hot-street life.


RF-06 Call for pricing and shipping.
Outright sale (No exchange needed), call to order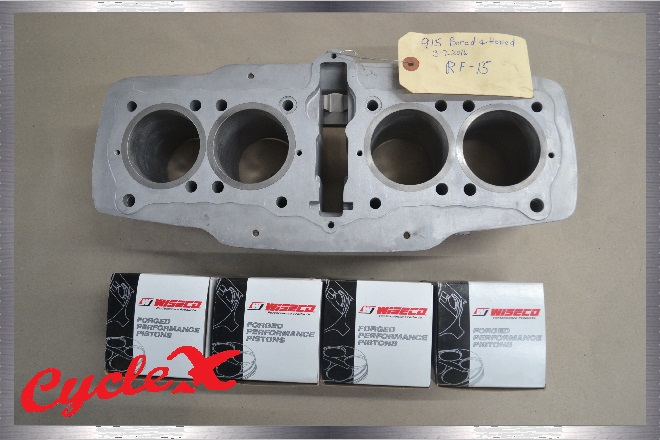 Refurbished 915cc Cylinder and Pistons
This cylinder has been just completed with our 915 sleeves and pistons.
The re-sleeving procedure consists of removing the old sleeves, boring and honing the alloy block to size. Pressing in the new 915 sleeves and surfacing. Boring and honing the sleeves for piston fitment.
Note:
Our sleeves allow the use of "O" rings at the bottom to prevent oil weepage.

The Cycle X designed Wiseco manufactured pistons are our favorite kit.


Note:
People talk about oil weeping upwards and and out the fin area when installing bigger sleeves. Well, we have seen many cylinders that have had this problem and after looking closer at the machine work We can see why. Most of these weeping cylinders have the alloy block bored (not honed afterwards) which leaves a boring bar machine finish allowing the oil to have a easer path upwards and eventually can loosen the interference fit.
Our cylinder alloy blocks are bored then honed to exact clearances with a fine finish before installing the sleeves.

Includes:
Reworked cylinder.
Coated 915 pistons. (Complete kit) rings wrist pins and such.
ONE (1) AVAILABLE!
RF-15 $899.00 + shipping
Outright sale (No exchange needed), call to order
Honda CB750 Lightened and Balanced Crankshaft
Lightened and balanced. Not to much, not to little.
This crankshaft is our most popular.
Micro polished and balanced with our second to none balancing procedure.
Note:
Many crankshaft folks do not remove the ball bearing blind hole plug that will trap 40+ years of sludge. We remove the ball plugs and clean.
RF-18 $349.00 + shipping
Call for availability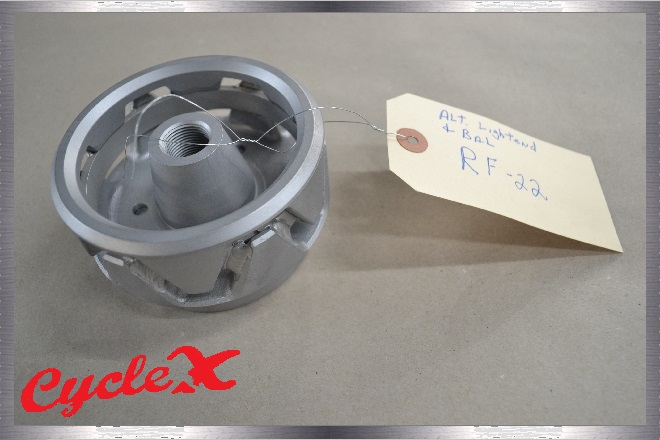 Honda CB750 Lightened and Balanced Rotor
These alternator rotors have been lightened and balanced to perfection. (Not to much. Not to little)
We have seen stock rotors and lightened rotors from the 70's era off as much as 12 to 14 grams.
So, let's say you went to expense and effort to balance your crankshaft and your rotor hanging off the end off your crank is out off balance worse than the crank.
Yes, your charging system will still work.
RF-22 $149.00 + shipping
Outright sale (No exchange needed), call to order
If ordering via phone, please also provide the part # of any products you are interested in for faster and more accurate service.
If you encounter a (rare) broken button as you're trying to add parts to your cart (going to PayPal summary instead of your cart or not opening PayPal at all) or anything else of concern, please call us to report it. We'll try to have it fixed for your convenience within the next 5-10 minutes. Afterwards, refresh the page and try again.
It is the sole and exclusive responsibility of the purchaser to determine the suitability of any part, product or work for his or her use.
The purchaser shall assume all legal, personal injury risk and liability and all other obligations, duties and risks therewith. There is no warranty on High Performance products.
Click to go Back to Honda 750 Index
Cycle X Global Headquarters
6246 US Hwy 51 South
Hazelhurst, WI 54531
Phone: 1-715-356-7346
Email: cyclex@cyclexchange.net