"I just want to thank Ken at Cycle X for all his assistance with my clutch problems. I had a Barnett extra plate clutch, and although it didn't slip, it had jerky and noisy engagement. I tried a different clutch and that engaged smoothly and quietly but slipped in the upper gears. Cycle X 6 spring conversion cured all these problems. I've attached some pictures of my bike. Thank you."
- Turbo Gregg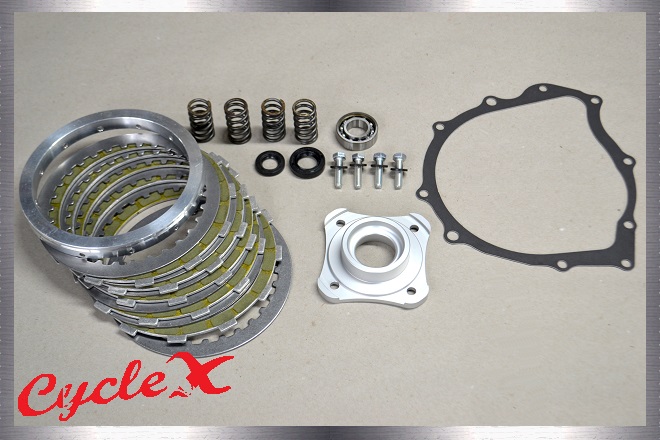 The Ultimate Clutch Kit!
New 5 Plate System
$ 249.00
Why is this the "ultimate" system?
We've corrected some of the problems with the Honda CB750's and included high-end products to complete the kit. We have continued developing the Cycle X system and people are raving about the 5 plate system.
1) Includes a billet lifter plate. You know, the plate that breaks when you are tightening the springs. New lifter plate bearing included.

2) Includes the proper spacer, steels and frictions. This arrangement will keep the friction plates away from the alloy OEM clutch center and pressure plate. No more chattering, grabby, noisy and inconsistent operation.

3) Speaking of high-end products, the kit includes Barnett steel and friction plates.

4) EBC medium pressure springs to keep your left hand happier.

5) Cycle X "no leak" clutch cover gasket. Super quality!

6) Bolts and oil seals. You might need them.
Can't tell if you have an early or late model? These instructions should help you identify.
Early is 1.460 clutch pack thickness. Late is 1.560 clutch pack thickness. (Steels and frictions combined thickness.)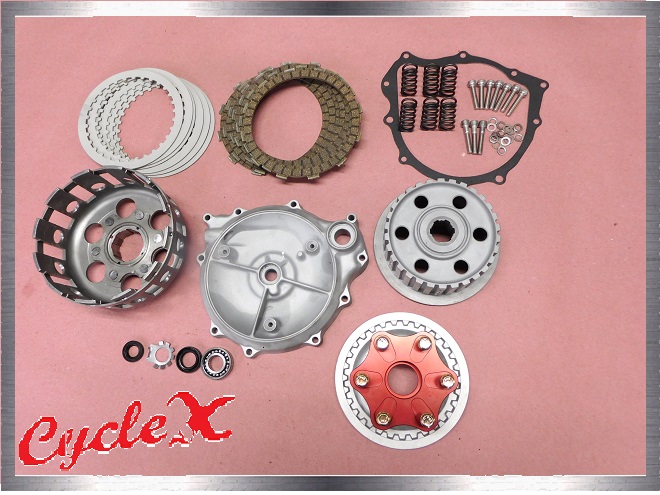 New Six Spring Honda CB750 SOHC Clutch System for High Horsepower Applications.
Includes new Billet lifter plate.

The six spring, seven friction and steel clutch system is a bolt-in upgrade for your Honda CB750 SOHC hot rod. These systems have been around for years and are generally used on 90+ horsepower Hondas or synthetic oiled race bikes. The frictions, steels, and springs are interchangeable with all CB750 SOHC models up to 1978.
Cycle X 6 spring clutch system benefits:
The six springs give a clutch tuner more pressure options. For example: 3 weak springs, 3 strong springs, 6 weak or 6 strong springs.
8 friction plate design will handle the most demanding horsepower applications without using ridiculous spring pressures used on 4 spring designs.
New steels are included to insure the system will work perfectly.
New mild pressure springs are generally perfect for most applications.
Kit includes:
6 spring Billet lifter plate with new bearing.
Inner clutch hub "modified".
Outer steel clutch hub "modified".
bolts, gasket and oil seals.
New clutch springs.
New clutch fibers. (EBC brand)
Honda OEM clutch steels.
New lock tab.
This kit also includes a modified clutch cover because the 6 spring clutch system is 6mm wider than stock.
6 springs. 8 frictions.

Note: This kit consists of new, modified and refurbished Honda parts.
Also,
Consider the easy pull clutch cable for the best Honda cb750 clutch system in the world.

ENL-030 $499.00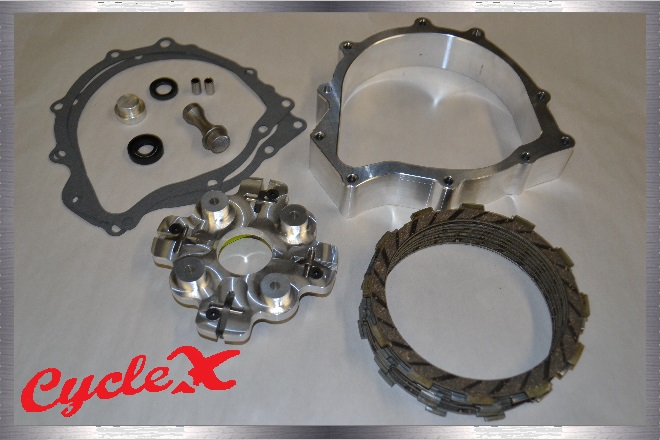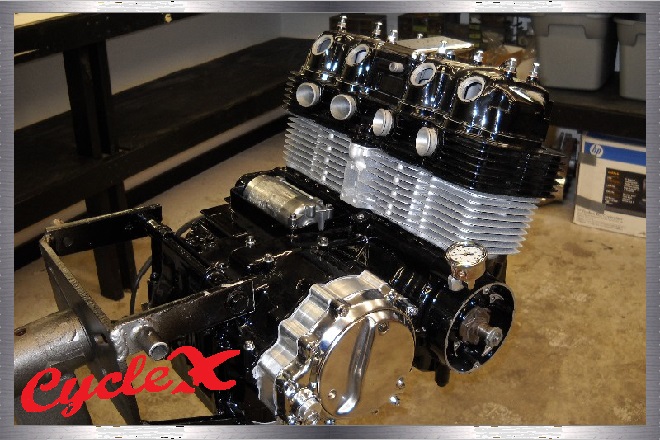 New! Lock Up Clutch (33% Lighter)
Extreme, Extreme Duty

Some high horsepower Honda's have a tendency to have clutch slippage in high gear.
Most people will install heavy duty springs to overcome this problem, but creating a stiff feel at the lever.
Heavy springs can make your clutch lose its nice, easy operation when leaving the stop and go light.

Our lock up clutch will increase pressure with RPM (Guaranteed not to slip)

Lock up clutch kit includes:
Billet spacer plate
Clutch plates
(2) Oil seals
Lock-up Pressure Plate (33% lighter)
(2) Gaskets
(2) Dowell pins
Extended clutch adjustor
Oh yeah, and looks cool

$ 499.00 - CALL OR E-MAIL TO ORDER

Heavy Duty Billet Lifter Plate

Have you ever broke an OEM lifter plate when tightening the clutch springs?
You will some day!

Anyway, here are some heavy-duty billet lifter plates with new bearings installed.
Problem solved.

ENL-036 $63.95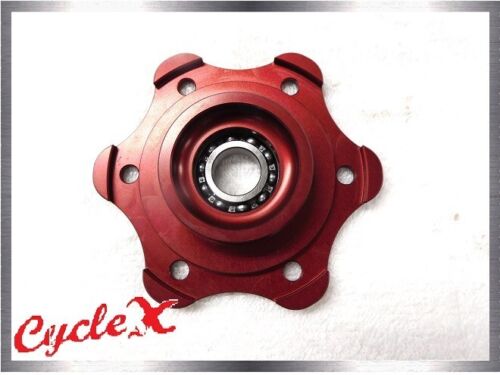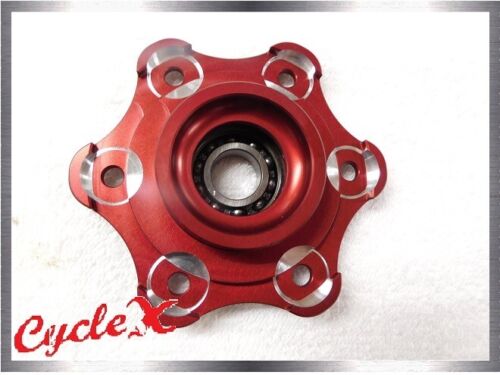 GOLDWING DOHC ( OUT OF STOCK )
These Billet lifter plates are much stronger than the cast OEM plates that seem to crack ... Especially when heavier springs are installed.
The lifter plate on the left fits the Cycle X 6 Spring System and all early Honda GL1000 Goldwings.
The lifter plate on the right fits Honda cb750, 900 and 1100 DOHC models ( 79-83). Comes with bearing.
$ 79.95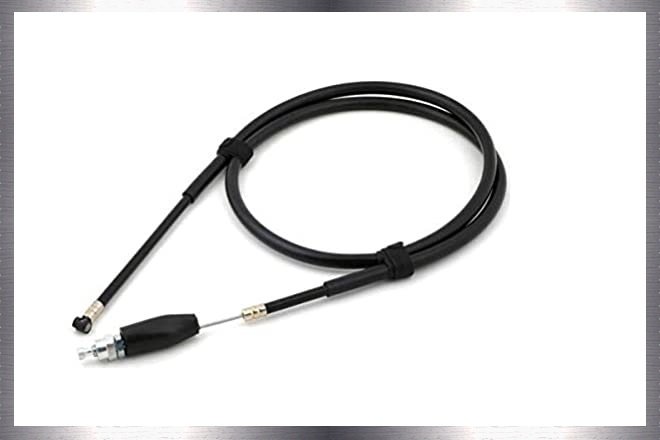 Best Honda CB750 cable in the world!
These clutch cables were made for us and feature heavy duty outer sheath and nylon lined inner tube. Even the internal wire has a bit of nylon incorporated into it. You will never have a smoother clutch cable feel and smoother operating clutch. The cables will be available in standard and minus 3 inch lengths and minus 5 for you clip-on handle bar folks.

Quote from a happy CycleX clutch cable owner:
"Dear CycleX, I had no idea this clutch cable was that smooth.
Big thanks from a arthritis sufferer. "

#CLTC-000 $ 64.95
Note:
Standard length is 48 inches. Available in minus 3 and 5 inches.

Barnett Clutch Plates (69-78) Honda CB750 SOHC

These Barnett clutch plates have been added to our large line-up of clutching options for Honda CB750s from mild to big horsepower applications.
These Barnett clutch plates upgrade for the six spring system.

ENL-034 $88.95

New Steels (Tumbled)


These steels are world class quality and tumbled to remove possible sharp edges.
Same steels used in our 6 spring system.

ENL-032 $9.49 each
Drilled Outer Clutch Hubs

These hubs are accurately drilled to reduce weight and help with additional oiling.
These drilled hubs are a option for the six spring system or for your go-fast project with OEM clutch arrangements.

Can't tell if you have an early or late model? These instructions should help you identify.
Early is 1.460 clutch pack thickness. Late is 1.560 clutch pack thickness. (Steels and frictions combined thickness.)

Call to order. Exchange basis only.
STANDARD BARNETT GOLD CLUTCH SPRING SET
$ 16.99

Clutch Spring Shims

Comes in sets of eight. (8) Great for adjusting pressure to springs.

Note:
Stock clutch springs are generally about 49 lbs of pressure when installed (generally)
Some heavy duty clutch springs can be 110 lbs or more at the installed height. (Overkill, in our opinion)
Here are some clutch shims that will add a few pounds without a painfully hard to pull clutch lever.
1 shim per post will generally add 7-8 lbs
2 shims per post will generally add 15-16 lbs

$12.95 ENL-024
Honda CB750 Clutch Nut Socket


You will need this socket to do your clutch change.


$14.99 ENL-022
A 3.99% customer service charge is applied to all phone orders.
If ordering via phone, please also provide the part # of any products you are interested in for faster and more accurate service.
If you encounter a (rare) broken button as you're trying to add parts to your cart (going to PayPal summary instead of your cart or not opening PayPal at all) or anything else of concern, please call us to report it. We'll try to have it fixed for your convenience within the next 5-10 minutes. Afterwards, refresh the page and try again.
NOTE: As of July 1st, 2018, an extended goods and services tax (GST) has been applied to all Australian consumers buying overseas, charging an extra 10% in taxes to us with each purchase. To ensure that you can continue to purchase from us in Australia and we can provide our parts at our usual lower cost, please
contact us at the email below
if interested in any particular parts so that we can make a special shipping arrangement for you.
It is the sole and exclusive responsibility of the purchaser to determine the suitability of any part, product or work for his or her use.
The purchaser shall assume all legal, personal injury risk and liability and all other obligations, duties and risks therewith. There is no warranty on High Performance products.
Click to go back to Engine Parts page
Cycle X Global Headquarters
6246 US Hwy 51 South
Hazelhurst, WI 54531
Phone: 715-356-7346
Email: hotrodcyclex@gmail.com