Check it out!
Coated steel clutch plates removed from a drag bike with almost 400 runs.
If there was any question whether our coated steels pass the test of time and abuse, click on the photo.





Cycle X 4 Friction Clutch System

Questions:
Is your Honda cb750 making a growling noise when you are letting the clutch out?
Is your Honda cb750 hard to find neutral and getting worse?
Is your Honda cb750 clutch slipping under acceleration?

Here's what we did:
We took a donor high powered Honda cb750 with all the above mentioned problems and installed our Cycle X 4 friction clutch system.
The growling noise was gone and we have never experienced a Honda cb750 with the ease of finding neutral like this bike. And of course, it handled all the power without slipping.

Here is a little history behind the idea of making the 4 plate system.
First: 3 plate systems were used on all Harley police bikes to cure the problems of the poorly designed clutch operation during the Panhead and Shovelhead era which dramatically reduced lurching and banging when put in gear. (Worked great)
The coated steel plates are something we developed and tested during our road racing days in the heavyweight super bike class. (We ran the same clutch for the whole season)
Also, the coated steels were run at the drag strip by a shop friend and he got 400 runs before routine maintenance was required. To make it more demanding on this drag bike clutch, it was an air assisted release that encouraged slippage upon launches.
The friction plates are OEM composition and stock springs are only needed. Ever try to pull in a clutch lever with heavy duty springs? (Annoying)

Note:
Stock clutch springs are generally about 49 lbs of pressure when installed (generally)
Some heavy duty clutch springs can be 110 lbs or more at the installed height. (Overkill, in our opinion)
Here are some clutch shims that will add a few pounds without a painfully hard to pull clutch lever.
1 shim per post will generally add 7-8 lbs
2 shims per post will generally add 15-16 lbs

Kit includes:
4 OEM material friction plates.
5 coated steel plates.
Spacer with added oil delivery.
Gasket.
2 oil seals
8 clutch spring shims
The clutch world is continually changing with different materials, springs and designs.
There are organic, Kevlar, semi-metallic, sintered metals and others.
Springs have different rates and sometimes are very uncomfortable at the clutch lever because they are so stiff.
Lock up clutch designs are a whole other topic.
The one thing that seems to be common with all the fancy kits available is the steels are similar. (Meaning steel)
We'll talk further about the steel in a bit.
Most of the manufactures talk about heat, horsepower and riding applications.
Some designs have the friction plates making contact with aluminum alloy and some with steel.
We've never been fans of the frictions rubbing on aluminum, but on some models this design works fine.

Let's talk about Honda CB750 SOHC bikes. Here's what we did...
Honda frictions make contact with alloy on the inner and outer clutch pack. The reason we brought this up is because some Honda SOHC models make a annoying growling sound and lurching when the clutch is released. Nobody, including Honda in their bulletins have a cure or explanation for this weirdness.
On the other hand, we've seen and heard this on Harley Shovelheads when alloy pressure plates have been installed. (Coincidence?)
We have designed our 4 plate system so the friction plates make contact with metal plates only. On all Honda SOHC bikes
the clutch pack (Frictions and steels) should be about 1.500 thick (1.460 to 1.560)
With 1.500 clutch pack thickness, the installed height of the springs will have approx 45lbs of pressure.
Every 2mm of spring shims or clutch pack thickness will add a few pounds of spring pressure as a general rule.
Some of the high performance clutch springs we have tested have well over 100lbs of installed height pressure.
We would assume that at over 100 lbs of installed height spring pressure, nothing will slip.
Furthermore, did Honda make an attempt to get better clutch separation by designing the outer clutch hub to accept one friction plate with a wider tab? (Like the Goldwing stuff)
We think so. When you disengage the clutch, the one friction with the larger tab stays in the same location yet allowing the other frictions and steels to move allowing for better separation.
Why did Honda install a 5mm steel plate in the clutch pack? We have no clue.

We think everyone would agree that in order to have a good shifting and operating bike, a well thought out clutch arrangement is needed for your application.
For putt-putt people simply going to get a gallon of milk on a Sunday afternoon, the OEM friction plates work fine.
If your steels are warped or burnt, replace as needed with new.
For full blown, big power Hondas, Kawasaki's, Suzuki's and Harley's, lock-up clutch designs are generally needed.

Question:
So what about the super clutch kit and the 4 plate clutch system?
Well, the coated steels are the secret to our clutch kits successes.
Little story...

Many years ago, we had a local dirt bike racer on a big torque thumper that would eat up clutch plates every weekend.
He tried all the fancy space shuttle clutch materials available at that time with the same results.
Right about that period of time we were super curious and experimenting with various coatings for everything that moved.
We started to experiment with coatings on the clutch steels and, long story short, we discovered our clutch steel coating.
We lost touch with that racer, but the last year he raced the clutches lasted a full race season. (True story)
Years later, we decided to try our luck at vintage road racing in the heavy weight super bike class. Of course, people said campaigning a Honda SOHC bike might be a challenge in a class dominated by 4 valve per cylinder dual overhead cam bikes.

With the Honda road racer making some pretty good power and the amount of heat the bike produced, we decided to use synthetic oils. The clutch was not happy. Slipping, lurching, growling and such. After trying many clutch friction offerings without success, we installed our coated steels, OEM frictions and 40 year old OEM springs. The problem was solved and we ran the same clutch for the rest of the season.
Conventional thinking would say that going to a 4 friction system might be a bit suspicious. We feel our 4 plate system is a well rounded and well thought out alternative to some peoples clutch issues.
Will it handle 150 plus horsepower, synthetic oils, air assisted drag bike clutch releases and last forever under these conditions? Probably not.
We are looking forward to even trying a 3 friction system for street life.
So, select a clutch system that suits your needs.

ENL-026 $149.95
Cycle X 2 Plate Clutch System
The Cycle X 4 plate clutch system worked so well that we decided to try, test, and offer a 2 plate clutch system. We wrote a brief article in our tech section about our discoveries on why Honda may have changed clutch arrangements several times. Anyway, our new 2 plate system will make Honda CB750's shift better, finding neutral is a breeze, eliminates clutch chatter and uses the stock clutch springs.

Considerably lighter than stock. How much horsepower will it handle? Not sure. We tried it on a 836cc and a 890cc Honda without slippage.
We also have a YouTube video of this system in action. Check it out.

Kit includes:
Friction plates
Coated steel plates
Spacer plate
Clutch spring shims (if needed)
Oil seals and gasket
Voted: Best clutch system since 1969.
ENL-026B $149.95
Cycle X Clutch Plates (OEM Mild Performance)

* Clutch plates meet or exceed OEM standards.
* Our kit is better than the others. Why?
* We have included a gasket and clutch cover oil seal (Kick shaft) with the kit
* Same clutch used in our vintage race bike.


Note: These Cycle X clutch kits are designed to fit all Honda cb750's (69-78)
We have added all the necessary plates to get the job done (Even if someone changed a clutch basket in the past)
So, there will be an extra plate.

Note: Same friction plates used in our vintage race bike.

Honda had a few different clutch plate amounts and arrangements. Clutch parts can be interchanged from year to year and the customer sometimes will not know if some internals have been changed. So, to make life easy, we add all the years of friction plates to one package. Simply, remove your old friction plates and install the new ones in the same order in which they were removed. These are great friction plates and racers around the world prefer them to all the other friction plates that are offered.


SALE price $49.00 per set ENL-014





Cycle X OEM Steel Clutch Plates
& Cycle X Coated Steel Plates


OEM Steel: ENL-015A $5.99 each or $32.95 a set of 6

Coated Steel: ENL-015B $15.99 each

Call for availability
Cycle X Super Clutch Kit (Extreme duty)

Kit includes:
Cycle X friction plates (We have tried them all, ours are the best)
Gasket (Because you will need this)
Oil seal (Yours is 30+ years old)
Special coated steels,
No more burnt clutch plates
No more slipping (With any high-horsepower motor)
No more heavy pull clutch springs
No more (expensive) extra plate clutch kits.
No more worries about slippage with synthetic oils.
One kit covers all years
Honda had a few different clutch plate amounts and arrangements. Clutch parts can be interchanged from year to year and the customer sometimes will not know if some internals have been changed. So, to make life easy, we add all the years of friction plates to one package. Simply, remove your old friction plates and install the new ones in the same order in which they were removed. These are great friction plates and racers around the world prefer them to all the other friction plates that are offered.


ENL-015 $109.99
Cycle X Race Team Approved
New! Lock Up Clutch (33% Lighter) Extreme, Extreme Duty

Some high horsepower Honda's have a tendency to have clutch slippage in high gear.
Most people will install heavy duty springs to overcome this problem, but creating a stiff feel at the lever.
Heavy springs can make your clutch lose its nice, easy operation when leaving the stop and go light.

Our lock up clutch will increase pressure with RPM (Guaranteed not to slip)

Lock up clutch kit includes:
Billet spacer plate
Clutch plates
(2) Oil seals
Lock-up Pressure Plate (33% lighter)
(2) Gaskets
(2) Dowell pins
Extended clutch adjustor
Oh yeah, and looks cool

NOW IN STOCK!
$449.00 ENL-013
Call to order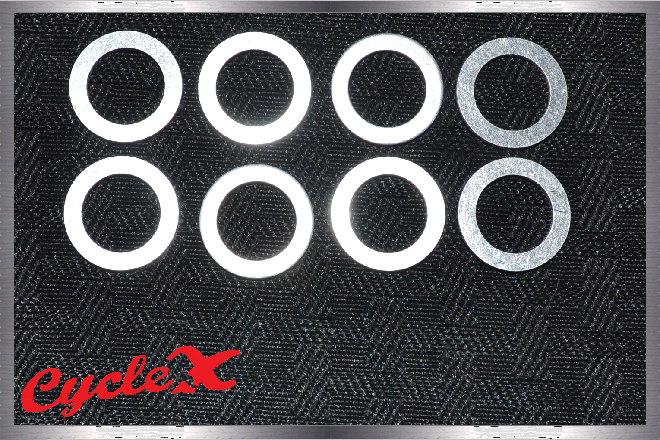 Clutch Spring Shins
Comes in sets of eight. (8) Great for adjusting pressure to springs.

Note:
Stock clutch springs are generally about 49 lbs of pressure when installed (generally)
Some heavy duty clutch springs can be 110 lbs or more at the installed height. (Overkill, in our opinion)
Here are some clutch shims that will add a few pounds without a painfully hard to pull clutch lever.
1 shim per post will generally add 7-8 lbs
2 shims per post will generally add 15-16 lbs
$12.95 ENL-024
Heavy Duty Clutch Springs


$14.00 ENL-021


Honda CB750 Clutch Nut Socket


You will need this socket to do your clutch change.


$14.99 ENL-022