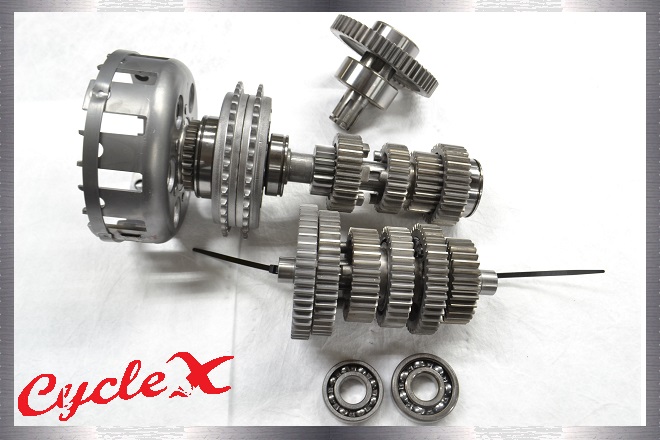 The Highest Level!
These are the most complete motor drive train assemblies ever offered.
Not only are they completely refurbished, they are greatly improved with all the procedures and products mentioned below.

Transmission:
These transmissions are refurbished with tender care. They are reconditioned with our pro-cut gear clusters and ready to go.
Includes:
* Glass bead gear assemblies for inspection. (Also, makes them purdy)
* Magnaflux gears (Generally an additional cost elsewhere, not here)
* Pro-cut undercut gears (A must for Hot-rod Honda SOHC's)
Race proven.


Final drive #1:
Used on high performance 1976 & under engine cases.
This is the preferred final drive shaft because the chain oiler hole has been eliminated from the factory. But, more importantly, the shaft is solid and will not break under extreme horsepower conditions. Inspected, blasted and new bearings have been installed.


Transmission bearing set:
These 7 transmission bearings are Japanese steel bearings .
Note: Notice the larger output bearing (lower right) this bearing is used on later years and preferred by high-performance folks.


World class refurbished chain wheel and balanced clutch hub:
Note: Before we go any further with our explanation of cush drives and rebuilding cush drives, we must mention that Honda has not offered these parts for years. Secondly, most racers and people that are desperate for a fix will use "O" ring material sold in bulk and cut it to size. The trouble with "O" ring material sold in bulk is the fluctuation of the outside diameter and the rubber quality itself.
Note: It is not uncommon for the outside diameter of "O" material to fluctuate .030 or more.
Introducing the Cycle X Nitrile blended molded cush drive rubbers with 85 +/- Durometer hardness.
This addition to our refurbished Honda CB750 section is something that many people are aware of, but sometimes ignore. Meaning, the cush drive rubbers on the inside of the hub that are disintegrated about 50% of the time. Call it father time or they just lead a hard life.

So here is what we do...

We disassemble the cush drive and glass bead for inspection. The inner portion of the hub is drilled and tapped for screws to replace the long rivets installed by Honda to hold the drive together.

Before installing the new cush drive rubbers, we measure the amount of deflection or wobble the two sprockets have. Most hubs have different measurements. But, they generally deflect or wobble over 2mm measured by the outer tooth area, relying on the cush rubbers to keep things somewhat stable.

With that said, we surface the outer plates and machine the inner portion to reduce this deflection and wobble.

Before we install the specific length and material cush drive rubbers, we remove and install (2) new needle bearings on the inside.
The cush drive is now assembled and ready to go.

By the way...
Like crankshafts and alternator rotors, the cush drives and outer steel clutch hubs are not balanced.

As an option, we are also offering balancing the cush drive and outer steel clutch hub as a unit.

Because real life story's are sometimes better than written words. Our Honda cb750 vintage heavyweight super-bike road-racer had this same cush drive process done to it in 2012 and the motor is still together and running strong after all these years. The bike was sold and is still racing in Ireland.

$799.00
In stock, call to order.
If you're in need of tech help, refer to our transmission tech tips page.