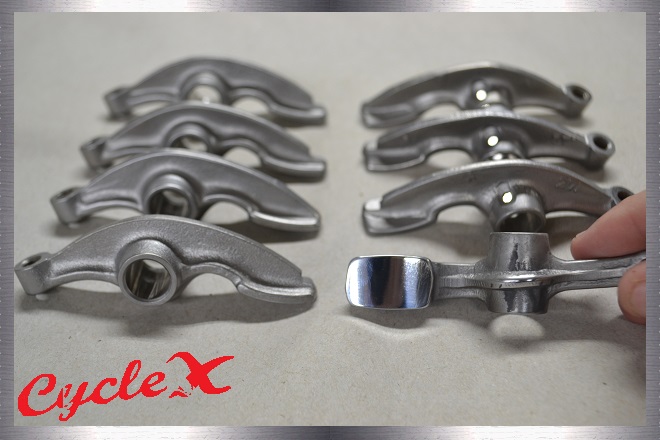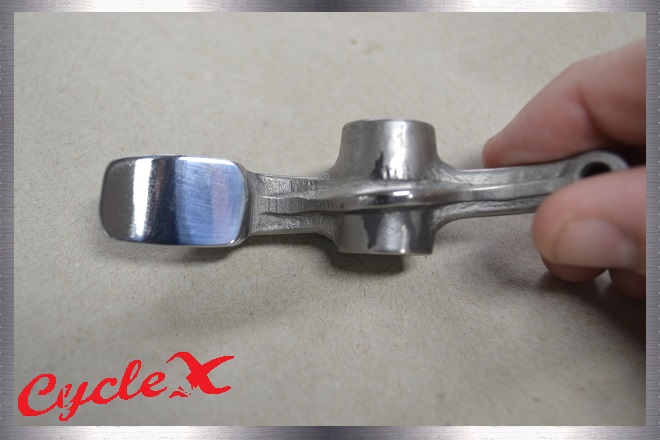 "Great" Refurbished Rocker Arms
Rocker arms lead a hard life and when people buy them from eBay and such, they never seem to be perfect or even usable.
These refurbished rocker arms have been inspected both visually and with our optical comparator for accuracy.
After we are satisfied with our inspections, the rocker arms are polished to a mirror finish with our rocker arm buffing machine and technique.
RA-001 $119.00 (8 rocker arms)
Price includes rocker arms and labor to refurbished.
No exchange needed. Outright sale.
Generally in stock. Call or email to order.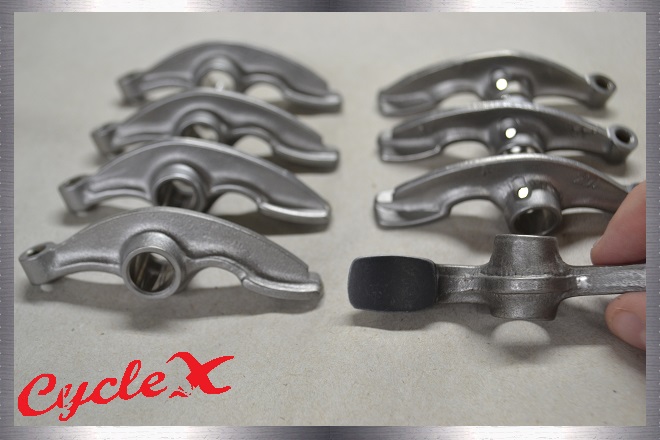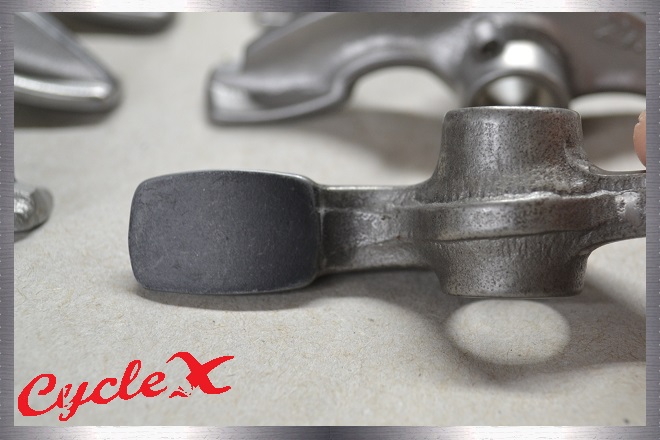 "Greater" Refurbished Coated Rocker Arms
These rocker arms follow the same rigorous inspections as mentioned in the above description.
These inspected and coated rocker arms have proven themselves in TQ midget racing, road racing, and drag racing for decades.
RA-002 $155.95 (Set of 8)
No exchange.
Price is for 8 rocker arms and coating.
OUT OF STOCK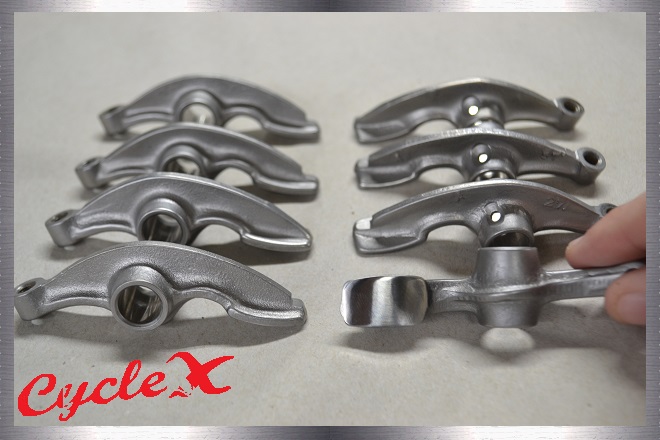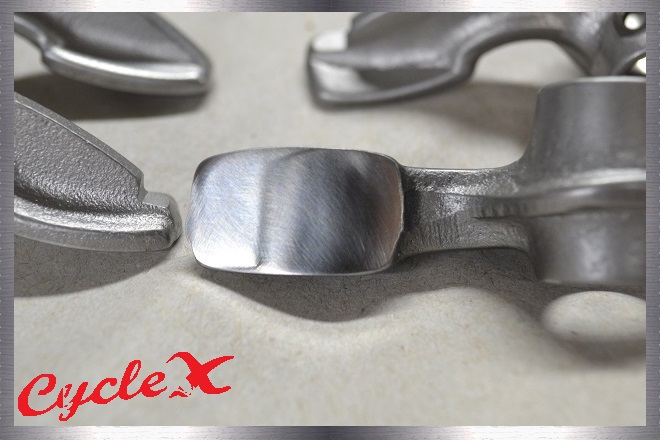 "Greatest" Refurbished Hardwelded Rocker Arms
Hardwelded and precision ground from original equipment cores. These durable and long lasting rocker arms are important with high performance and even stock motor configurations. Many conversations are had with folks trying to make the flat tappet designs survive nowadays. Zinc and other and oil additives are being blended to help make these flat tappet motors live. On the other hand, hardwelded rocker arms are the best option. Recommended for use with all cam profiles, both billet and hardweld.

No core required. Outright sale.

For ALL year model CB750 SOHC 1969-78
RA-003 $492.00 (set of 8)
Outright sale (no exchange)
Call or email to order.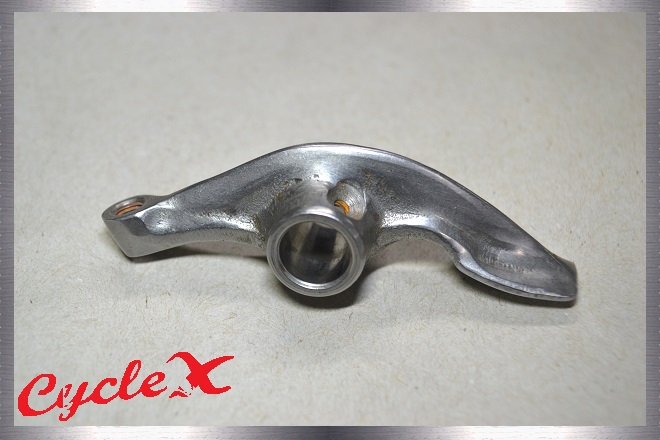 Lightened Rocker Arms Service
Lightweight and friction free valve trains are a good thing for happy performance motors.
Bee-hive springs, lightened rocker arms, titanium locking nuts and 5mm valve kits are a great idea for higher revving and also when sensible spring pressures are used.
It is $ 119.00 for the Machine Shop Lightening Service, rocker arms are a seperate purchase.
Note: Extreme spring pressures are horsepower robbery.
RA-004 $119.00
Allow one week for lightening. Call or email to order.


Titanium Rocker Arm Jam Nut Set
These Titanium rocker arm jam nuts were used on our Vintage heavyweight Super Bike.
They are now available for your go-fast Honda CB750 SOHC project. (69-78) 1.2 grams per nut.
ENV-321 $79.00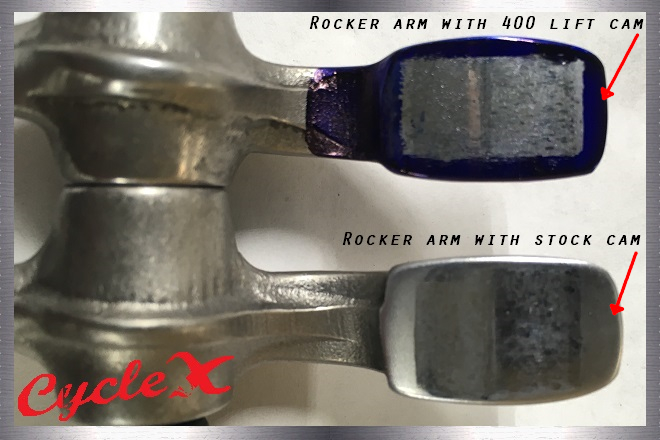 Tech tip:
Lighter valve trains can be super beneficial for performance increases when "combined" with 5mm valve kits, bee-hive springs,
titanium jam nuts and lightened rocker arms.
The above photo shows the excess material that can be removed to get the full benefits of lighter weight valve trains.
Lightening the rocker arms near the pivot shaft would be a waste of time. Your goal is to lighten as far out as possible.
A 3.99% customer service charge is applied to all phone orders.
If ordering via phone, please also provide the part # of any products you are interested in for faster and more accurate service.
If you encounter a (rare) broken button as you're trying to add parts to your cart (going to PayPal summary instead of your cart or not opening PayPal at all) or anything else of concern, please call us to report it. We'll try to have it fixed for your convenience within the next 5-10 minutes. Afterwards, refresh the page and try again.
It is the sole and exclusive responsibility of the purchaser to determine the suitability of any part, product or work for his or her use.
The purchaser shall assume all legal, personal injury risk and liability and all other obligations, duties and risks therewith. There is no warranty on High Performance products.
Click to go back to our home page
Cycle X Global Headquarters
6246 US Hwy 51 South
Hazelhurst, WI 54531
Phone: 715-356-7346
Email: hotrodcyclex@gmail.com