If you're in need of tech help, refer to our gasket tech tips page.
Gasket Identification:
Read before purchasing our MLS gaskets or any gasket set.
When purchasing Honda CB750 head gaskets, a couple of questions should be to be asked. Early or late? Big drain holes or small?
The above left photo shows an early Honda CB750 cylinder and the arrows show the drain holes from the top end. We call them small for obvious reasons.
The above right photo shows a later Honda CB750 and the arrows show the drain holes from the top end. We are calling them large for obvious reasons. The later cylinder and head gaskets have larger holes because Honda installed 8 dowel pins and 8 tall "O" rings to try to correct head gasket weepage issues.
When using MLS gaskets, our testing showed the 8 dowels and 8 tall "O" rings are not needed because the MLS gaskets work so well. On the other hand, many people were telling us "Well, if Honda did it, it must be right". So, we offer the later head gaskets so people can sleep better at night.
Note: When installing big bore sleeves, early cylinders are always used because the larger sleeves leave little to no room for the 8 tall "O" rings.
With that said, you will not see a "big hole" later model MLS head gasket in 890cc and above cylinders.

Honda CB750 Super Gasket Set (Race Proven)
"New Version"
Now featuring an oil filter, oil pump stopper spring, pressure relief spring, oil stopper rubber and oil filter "O" rings. (At no additional cost!)
Cycle X super gasket sets are a premium quality cure for age old problems concerning chrome covers, untrue surfaces, re-torquing
and the need to run to the hardware store for miscellaneous "O" rings.
Cycle X was the first to put effort, expense and test these modern gaskets on Honda cb750s.

Head Gaskets: MLS head gaskets have been around for years. They feature great rebound and are layered steel with a Viton coating.
Base Gaskets: Steel with Viton coating.
Side Cover Gaskets: Alloy with Foamet coating is the same combination used to stop old Harleys from leaking.
Oil seals and every "O" ring in the motor that most kits do not include.

Super Gasket Set Includes:
MLS head gasket available in most bore sizes
(no re-torquing needed)

Base gasket available in .010 and .014 thickness

Valve cover gasket. (no leak alloy foamet coated)

Dyno cover gasket (alloy foamet)

Trans cover gasket (alloy foamet)

Clutch cover gasket (alloy foamet)

Sump cover gasket (alloy foamet)

Cam chain gasket (alloy foamet)

Oil pump gasket (alloy foamet)

(4) Cylinder liner "O" rings

(8) Valve inspection "O" rings

(4) Oil feed "O" rings (inner intake cylinder studs)

(4) Cam tower "O" rings (under the cam towers)

(2) Oil line "O" rings (oil lines bolt to the motor)

(3) Oil pump "O" rings (oil pump bolts to the case)

(1) Case "O" ring (between case halves in the front)

(4) exhaust gaskets

(6) nickel plugs (under the cam tower)

(8) valve seals

(3) galley plug "O" rings (oil pressure gauge and galley plugs under the motor)

Oil seal set (69-76 with 77-78 counter-shaft seal optional)

Points, starter and breather cover gaskets
Note: Specify STD, 836, 849, 915 or 1000cc for head MLS head gasket.

Cycle X super gasket kits are race proven and are the best money can buy.
ENG-001 $218.95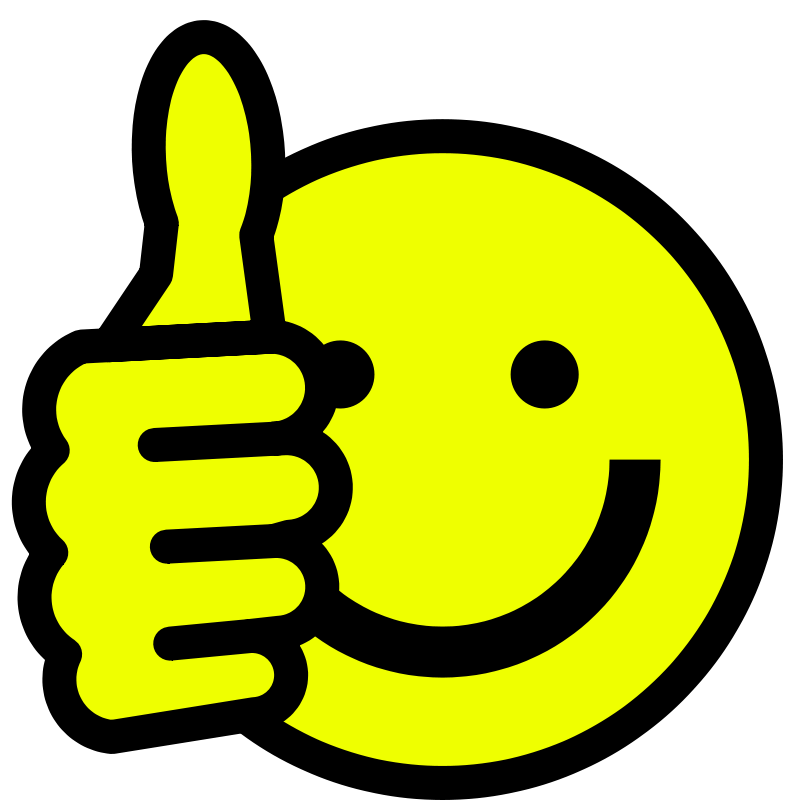 Cycle X Race Team Approved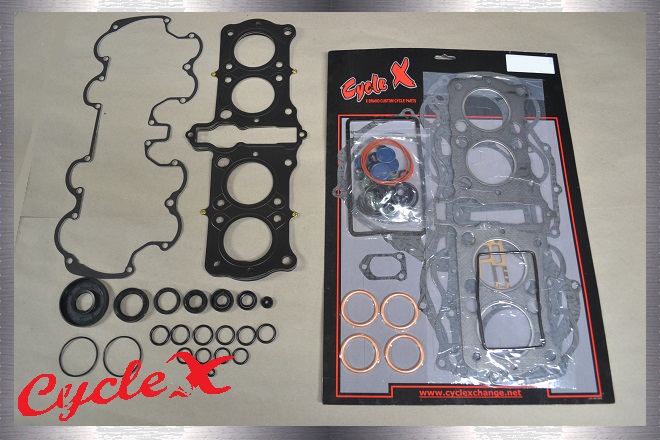 Super Gasket Set "Budget Version"
There are many different brands and prices for conventional gasket sets.
Many of these kits are missing items and a few of the gaskets included in these kits should be upgraded.
We have made a "super budget" gasket set, because we do not have a problem with many of the side cover gaskets and "O" rings. On the other hand, we do have a problem with head gaskets and valve cover gaskets offered in conventional gasket kits. We have done extensive testing on all the Honda CB750 SOHC conventional head gaskets to diagnose why Honda CB750's have head gasket seepage. The testing concluded that conventional head gaskets need to be re-torqued.
To re-torque a Honda CB750 head gasket is a major job, and in many cases the motor needs to be removed. Included in our "super budget" gasket set is a modern MLS head gasket and amf valve cover gasket to avoid the heartbreak of a seeping head gasket. We have also added oil seals and miscellaneous "O" rings to complete the kit.
Note: For 77-78 K and F models you will need a different counter shaft seal. (Call to order, let us know.)
ENG-074 $158.00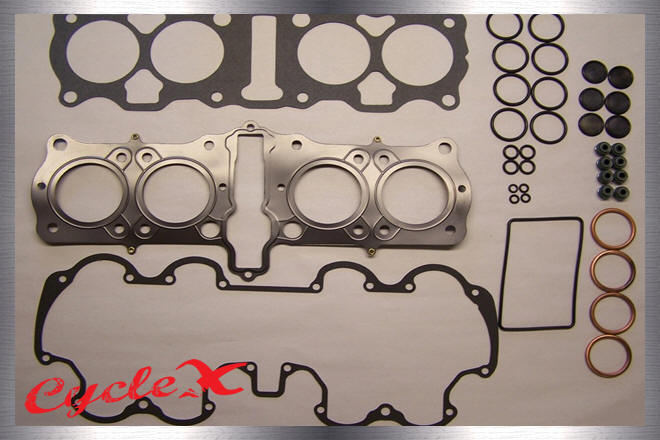 Super Gasket Top End Kit
Same super quality as the Super Gasket Set, but Top End ONLY!
Super Gasket Top End Kit Includes:
MLS Head Gasket (specify bore size)
No-Leak Valve Cover Gasket
Steel Viton Coated Base Gasket
Breather Cover Gasket
(4) Exhaust Gaskets
(6) Cam Tower Nickels
(8) Valve Guide Seals
(4) Cylinder Stud Oil Feed O-Rings
(4) Cam Tower O-Rings

ENG-001A $128.95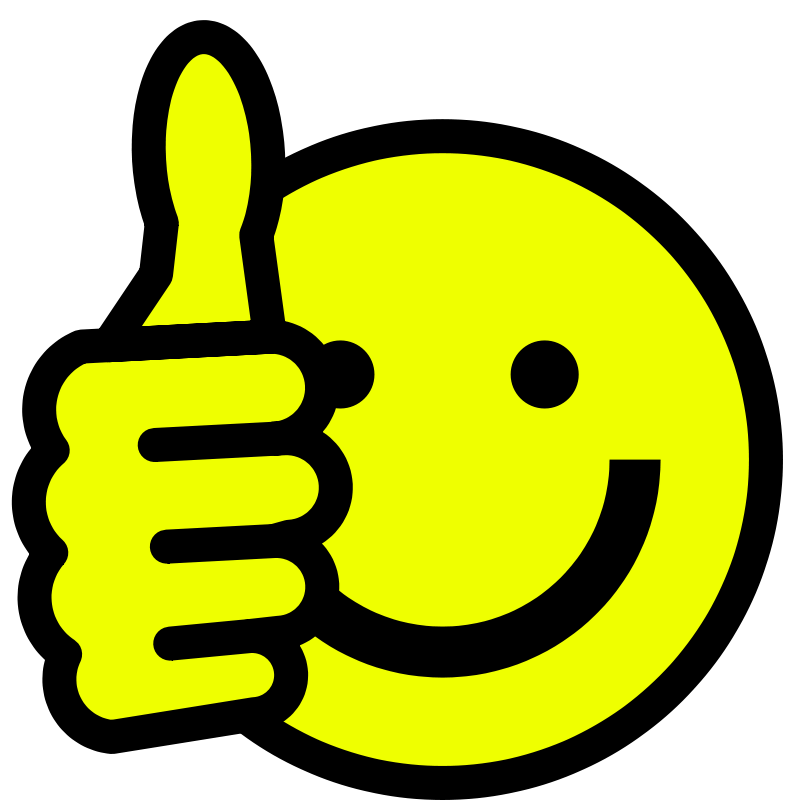 Cycle X Race Team Approved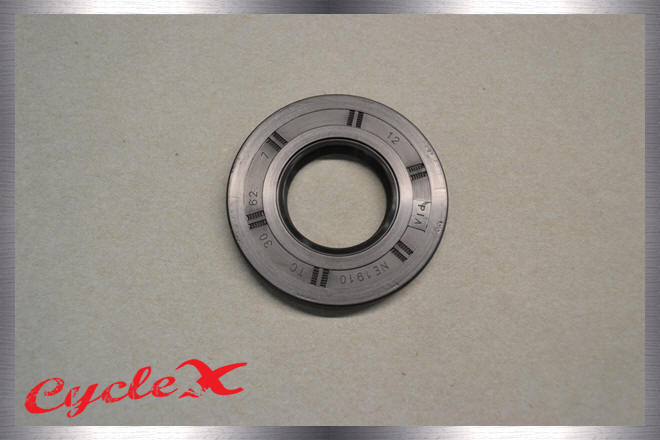 Honda 77-78 CB750 Oil Seal
1977-78 Honda use this bigger seal around the counter shaft.
You will need this seal if you have a 77-78.

OL-006 $13.99 (Each)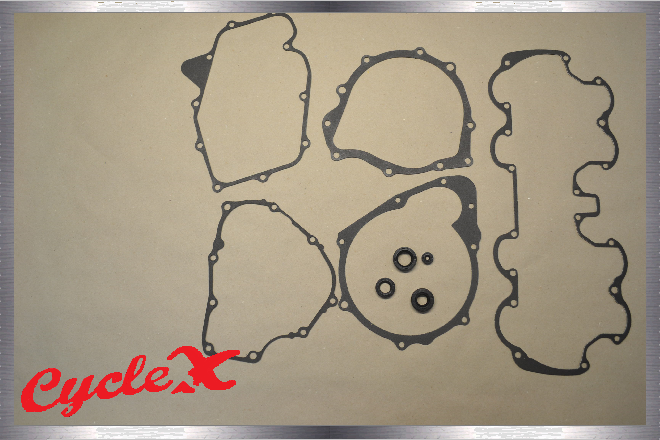 Honda CB750 Super Side Cover Kit
This Super side cover kit is for you folks that have chromed, polished or powder coated your engine side covers and do not need a complete gasket kit.
On the other hand, you want the best gaskets money can buy.
These gaskets are alloy with a AFM coating applied. No sealer or shifting the gaskets to get them in place, they fit perfect.

Kit includes:
Dyno gasket
Trans gasket
Clutch gasket
Valve cover gasket
Sump gasket
Oil seals for the above mentioned covers


Retail cost would be over $110.00
ENG-001B $89.00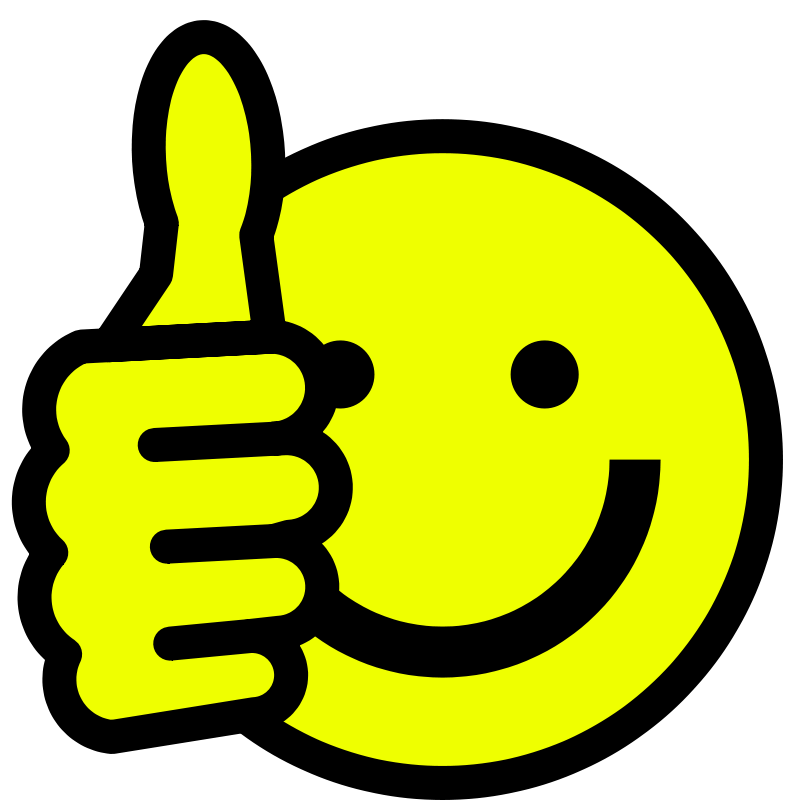 Cycle X Race Team Approved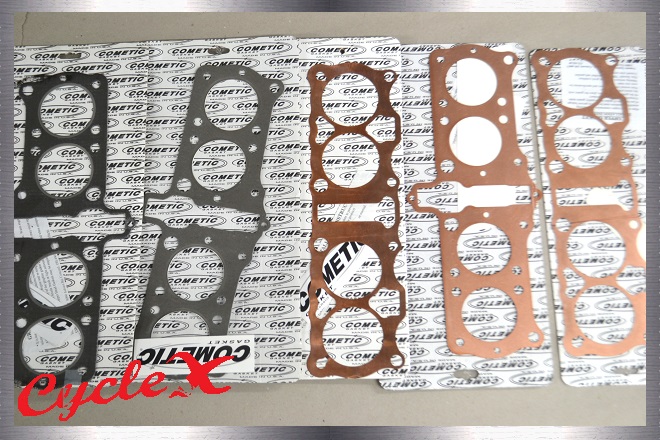 Cometic Gaskets, Limited Quantities
These Cometic base and head gaskets were purchased in a race shop buyout. Most head gaskets are 65mm 836cc bore sizes.
Anyway, here's what we have available:

65mm copper .043 thick head gaskets $49.00 each
2.79 bore .005 thick copper base gaskets $49.00 each
.020 copper base gaskets $49.00 each

Cycle X High Performance Individual Gaskets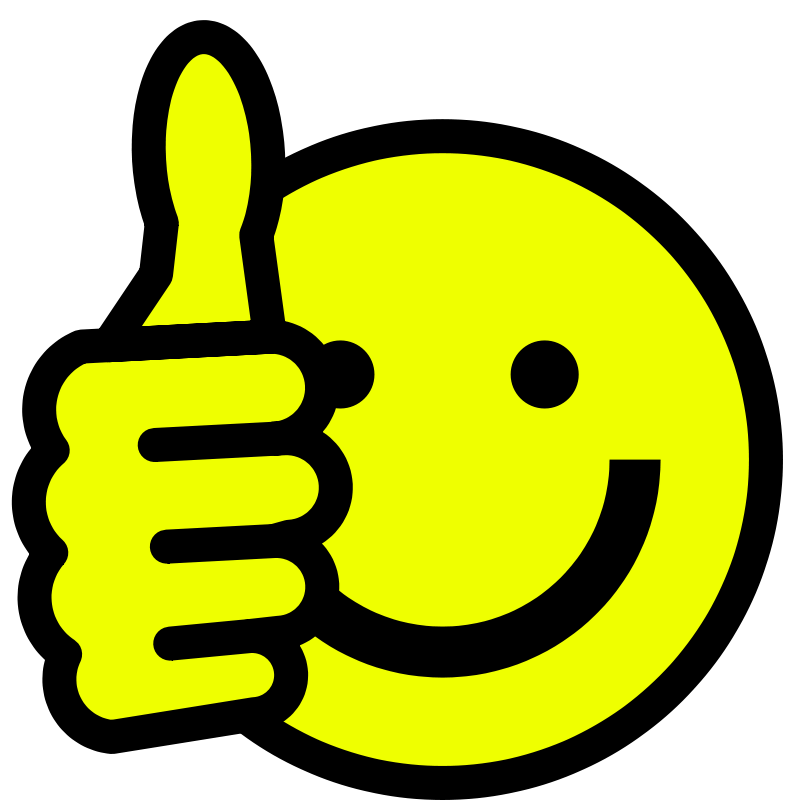 Cycle X Race Team Approved
Cycle X high performance "no leak" and MLS gaskets were financed, tested and designed for people who want the best money can buy.
Alloy gaskets with foamet coating (no sealer needed).
Gaskets for 69-78' SOHC CB750
What is MLS?
MLS stands for Multi-Layer Steel. MLS head gaskets are comprised of three layers of stainless steel.
The outer layers are an embossed viton coated stainless steel providing a superior seal with excellent rebound characteristics and are corrosive resistant.
MLS head gaskets reduce bore distortion and withstand extreme cylinder pressures.
No Leak Oil Pump Gasket

ENG-002 $9.95

No Leak Cam Chain Tensioner Gasket

ENG-003 $7.95

No Leak Transmission Gasket

ENG-004 $19.95

No Leak Dyno Gasket

ENG-005 $16.95

No Leak Sump Gasket

ENG-006 $19.95

No Leak Clutch Gasket

ENG-007 $19.95

No Leak Valve Cover Gasket

ENG-008 $24.95

No Leak Viton Base Gasket

ENG-009 $59.95
MLS Later Model Honda CB750 SOHC Head Gasket (69-78)

These later model head gaskets have the bigger holes for the (8) dowel and tall rubber "o" rings for oil drainage from the top end. In our opinion, Honda knew they had a problem with weeping or leaking head gaskets. So they installed these dowels and rubbers to slow the leakage.
These dowels and rubbers are generally not needed with MLS head gaskets, but they have been requested by a few customers. These head gaskets come in all bore sizes and thicknesses.

NOTE: 8 rubbers in picture are sold separately

ENG-010LATE $69.95

No Leak MLS Steel Head Gaskets

These MLS (multi-layered steel) head gaskets for Honda CB750 SOHC models were tested, raced and Cycle X initiated the cost of tooling expenses by placing massive orders. These head gaskets, combined with heavy duty studs and nuts, are the solution for weeping head gaskets.

ENG-010 $69.95


Honda CB750 F2/F3 head gasket note:

These 77-78 F combustion chambers are oval shaped and regular K model head gaskets that are sold will not work.
There are a few standard OEM Honda 77-78 F floating around on eBay and other places. If you want to run a MLS head gasket, you can use a 65mm or bigger bore without a problem.
Conventional Type OEM Gaskets
Cometic Base Gasket

Great quality at a great price.

ENG-011 $19.00


Starter Cover Combo Gaskets

We have combined the starter cover and breather cover gaskets.

ENG-012 $8.50

Cam Tower Rubber Nickels

ENG-013 $10.00

Valve Inspection Cap O-Rings

ENG-014 $8.50

Cylinder Base O-Ring
Combo Kit

We have combined the cylinder sleeve "O" rings and oil drain rubbers for you.

ENG-015 $8.50

Dyno Cover Gasket

ENG-016 $8.50

Transmission Gasket

ENG-017 $8.50

Or, get 4 for $12.00! ($3 each)

Sump Gasket

ENG-018 $8.50

Valve Cover Gasket

ENG-019 $8.50

Clutch Cover Gasket

ENG-020 $8.50

Head Gasket

ENG-021 $8.50

Valve Guide Seals

Here's a great deal...8 valve guide seals for $10.

ENG-022 $10.00
Honda CB750 Motor Builder Kit

This kit is used everyday in the shop.

Includes:

✓

Starter cover gasket


✓

Breather cover gasket


✓

Honda CB750 oil seal kit


✓

11 small side cover dowels
(Honda part # 94301-08140)


✓

2 case dowels
(Honda part # 94301-10160)


✓

3 oil pump dowels
(Honda part # 15155-300-000)


✓

4 cylinder to head, case to cylinder dowels
(Honda part # 94301-12180)


✓

8 red viton Kibblewhite valve stem seals


✓

Spark advancer shaft viton o-ring


✓

Neutral switch viton o-ring


✓

Crankcase half viton o-ring


✓

6 oil line & oil pump viton o-rings


✓

Countershaft bearing holder viton o-ring


✓

2 clutch adjusting screw viton o-rings


✓

5 top/bottom cylinder & dyno plug viton o-rings


✓

3 large crankshaft plug viton o-rings


✓

8 tapped cover viton o-rings


✓

4 cylinder sleeve viton o-rings


✓

4 camshaft tower viton o-rings


✓

Upper case from plug viton o-ring

ENG-027 $109.00

Dowel Pin Kit for Motor Rebuilds

When rebuilding portions of your Honda CB750 dowel pins are generally rusted, stuck and deformed after 4 plus decades.
Here are dowel pin kits that we use on all motor rebuilds.

Small side cover dowels: Qty 11 (Honda part # 94301-08140)

Case dowels: Qty 2 (Honda part # 94301-10160)

Oil pump dowels: Qty 3 (Honda part # 15155-300-000)

Cylinder to head, case to cylinder dowels: Qty 4 (Honda part # 94301-12180)

Note: The front case dowel #15326-300-00 is no longer available. Not a big deal because they are never stuck in the cases and are always in good condition.
The 8 dowels #12116-300-000 are late model drain hole dowels between the cylinder and head and are not included because they are never bad and many people do not use them.

ENG-026 $35.95 (All 20)
Red Viton Kibblewhite Valve
Stem

Seals, 69-77

KPMI® Red 100% Viton valve stem seals are designed to have optimum fitment, allow , maximum lift, and to give maximum life. KPMI® Red valve stem seals are resistant to high temperatures, petroleum products and the corrosive gasses that are the by-products of combustion. These seals retain their ability to seal in situations where other materials could harden and allow oil to enter the combustion chamber causing detonation, carbon build up and a loss of power. The Red Ones are truly the racers choice.

ENV-VSS $19.

99

High Temperature Viton Valve
Guide Seals

These seals were made for us and feature extreme temperature viton materials.
We bought these seals by the thousands so they are a little cheaper.

Note: These are not the blue seals found on eBay, these are exclusively ours.

ENV-BVGS $18.99
A 3.99% customer service charge is applied to all phone orders.
If ordering via phone, please also provide the part # of any products you are interested in for faster and more accurate service.
If you encounter a (rare) broken button as you're trying to add parts to your cart (going to PayPal summary instead of your cart or not opening PayPal at all) or anything else of concern, please call us to report it. We'll try to have it fixed for your convenience within the next 5-10 minutes. Afterwards, refresh the page and try again.
NOTE: As of July 1st, 2018, an extended goods and services tax (GST) has been applied to all Australian consumers buying overseas, charging an extra 10% in taxes to us with each purchase. To ensure that you can continue to purchase from us in Australia and we can provide our parts at our usual lower cost, please
contact us at the email below
if interested in any particular parts so that we can make a special shipping arrangement for you.
It is the sole and exclusive responsibility of the purchaser to determine the suitability of any part, product or work for his or her use.
The purchaser shall assume all legal, personal injury risk and liability and all other obligations, duties and risks therewith. There is no warranty on High Performance products.
Click to go back to Engine Parts page
Cycle X Global Headquarters
6246 US Hwy 51 South
Hazelhurst, WI 54531
Phone: 715-356-7346
Email: hotrodcyclex@gmail.com