CHAINS & ACCESSORIES PAGE
Cryo Info
As most of you know OEM primary chains can fail at 8,000 to 10,000 miles on any kind of a high performance motor, that is why we now offer our primary chains cryo treated. These chains have gone through a cryogenic treatment, which involves taking the chains down to temperatures of minus 300 degrees Fahrenheit. What this does is rearranges the molecular structure of the item being treated, making them more uniform and evenly spread. Why is this good? Well, after this process is complete the item treated has increased tensile strength and resistance to wear.

In other words it makes stuff stronger and last longer!

"I used to have to adjust my Yamaha motorcycle chain after the first run because it would stretch. After cryo-treatment, the chains don't stretch at all, and the treatment also keeps cam chains from breaking. I haven't broken a chain since I started cryo-treating all of my parts."
- Customer of Cryotreament
Step #2: Chain Treatment

Years ago, we always wondered what lubricants were used on the inside of the chains when being made. We also wondered how long it would take for oil to penetrate through the side plates to lubricate chain rollers and pins.

After cutting and inspecting the inside of new and pre-owned chains, we have developed a procedure that will double or triple chain life. The chains are Cryo treated and followed up by putting them in vibrator tub for days with break-in oil to penetrate the links.

It works great.
RK Cryogenically Treated OEM Primary Chains
These endless chains are made by Honda (RK) and you need them.
This is not a area to cut expenses on your motor project.
We have these chains Cryogenically treated for approx. four times the life expectancy.
Race proven.
$119.95 for a pair! ENV-004A

Non-Cryo OEM Primary chains made by RK
Great chains at a great price. Same as above, not cryo treated
# RK-Non $ 79.00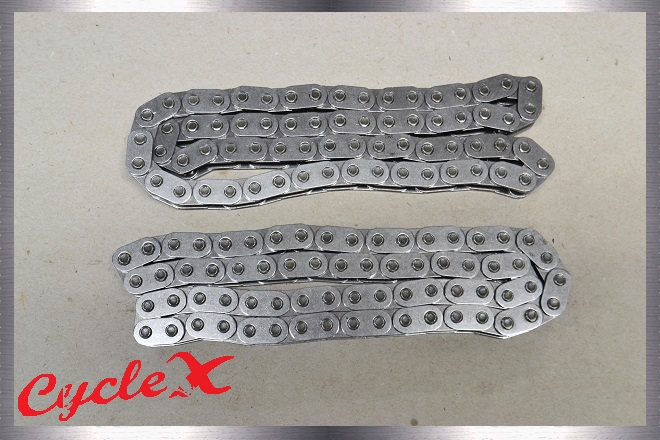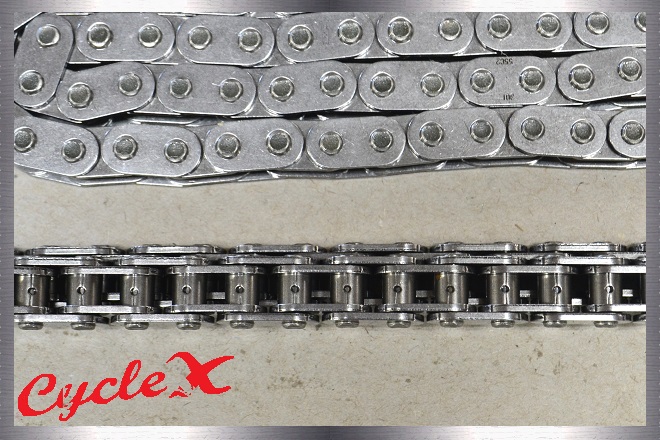 Cycle X Cryo Treated High Performance Primary Chains
Quote:
"We've tried every chain on the market for the past 4+ decades. These chains are the best."
Quote:
(E-mail) "What ever happened to the Cryo performance chains on the website? We need them for a few builds."

We have been receiving phone calls and emails from performance minded people wanting our performance primary chains again. Some people are willing to wait to assemble their motor until the chains are officially back in stock.

The chains are being cryo treated and should be done in a week or two. It's worth the wait!
$179.00 for a pair! ENV-012

Tsubaki Cam Chains

Tsubaki cam chains have been known to be the best for decades.
Tsubaki has discontinued making these chains and many engine builders were freaking out. Well, no need to panic. We have a limited supply of these chains and we will also offer them in a cryo treated version. These cryo treated Tsubaki chains will clearly be the best chains ever offered to the Honda CB750 community.
Straight side plates.

ENG-TSUBAKI $89.00




Cryogenically Treated Tsubaki
Cam Chains

These Tsubaki cam chains have been the best available for years and years, now that they have been Cryogenically treated with this proven process, they are truly the best available. No stretching, no resetting cam timing, and there has never been a reported failure even without the cryo treatments.

A Cycle X exclusive product!

ENG-TSUBAKICRYO $113.25
Cryo Info
These chains have gone through our cryogenic treatment, which involves taking the chains down to temperatures of minus 300 degrees Fahrenheit. What this does is rearranges the molecular structure of the item being treated, making them more uniform and evenly spread. Why is this good? Well, after this process is complete the item treated has increased tensile strength and resistance to wear.
In other words it makes stuff stronger and last longer!
"I used to have to adjust my Yamaha motorcycle chain after the first run because it would stretch. After cryo-treatment, the chains don't stretch at all, and the treatment also keeps cam chains from breaking. I haven't broken a chain since I started cryo-treating all of my parts."
- Customer of Cryotreament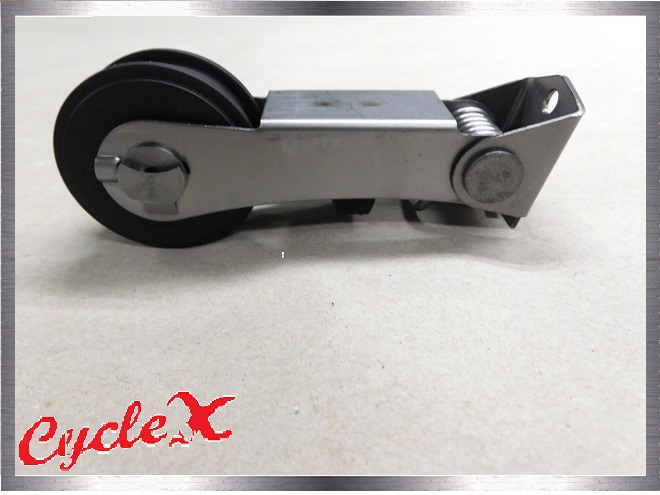 CycleX

P

rimary

C

hain

T

ensioner

U

pgrade

Honda OEM primary tensioners are proven to be a good design except for when the chains stretch a bit. We have noticed when a Honda cb750 is driven aggressively the chains begin to reach the wear limits as soon as 8000 miles.

Most of us have heard that rattling noise at idle ... It's the chains.

Introducing the Honda OEM quality tensioners with an 8% stronger spring. Problem solved.

# ENG-555 $ 169.00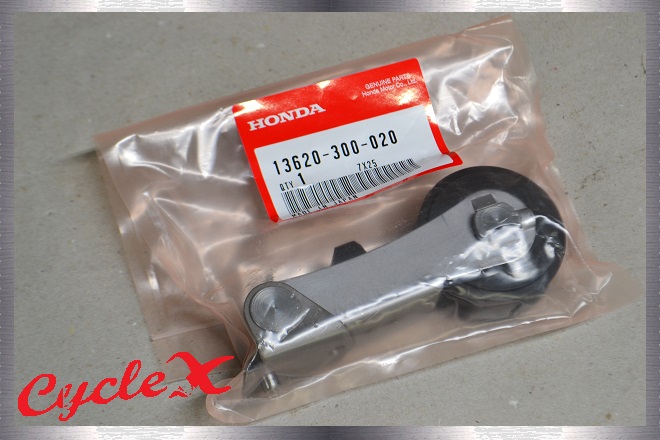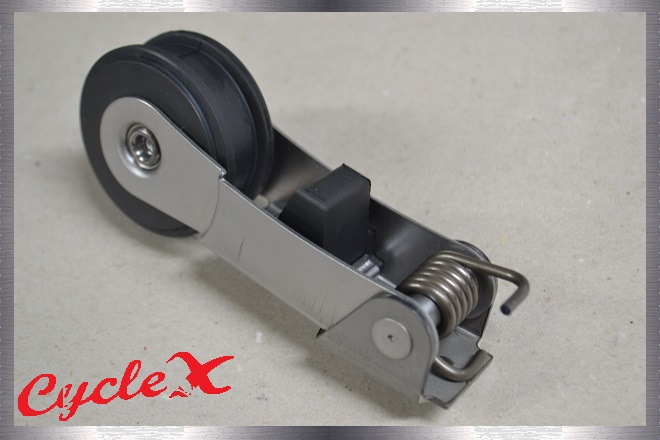 Honda CB750 SOHC OEM Primary Chain Tensioners
There is nothing wrong with the OEM primary chain tensioners. We use them all the time!
ENV-005B $139.95

Cam Chain Roller

ENV-001 $24.95





Cam Chain Roller Assembly

ENV-002 $79.95


Cam Chain Slider

ENV-003 $25.00

OEM Adjustable Camshaft Sprockets

We all know why adjustable camshaft sprockets are used in the high performance world. But, stock motor configuration motors can benefit from these also. Have you ever tried to line up the camshaft marks after any sort of motor work or checking a few things? The marks usually never line up perfectly because of many reasons. One of the main reasons on a stock motor with any miles is cam chain stretch. The cam chain is like a rear chain. It stretches. So, install these modified poor man's adjustable OEM cam chain sprockets and realign your cam timing or install your performance cam.

CS-017A $49.95


OEM Adjustable Camshaft Sprocket Combo

Our adjustable camshaft sprocket also comes with a set of shouldered bolts to compliment.

Note: These shouldered bolts are a great upgrade and a little insurance that the camshaft bolts do not move or slip when using higher spring pressures.
The shank area of these bolts can be a slightly bigger than the OEM bolt (about .010 only in most cases), so make sure the bolts fit nicely into the sprocket of your choice and camshaft of your choice before final tightening and torque is applied.


CS-017B $59.95


Falicon Slotted Cam Chain Sprocket and Honda
OEM Shouldered Bolts (New)

These Falicon slotted cam chain sprockets are new and preferred by many engine builders around the world.
Equally as important, these kits come with Honda OEM shouldered bolts.
Introductory priced at $45.99 per set.

Note: These kits are not just for high performance applications.
Why?

When cam chains stretch, cam chain rollers wear a bit, thinner head gaskets are used and heads/cylinders are milled you will need to adjust your cam timing marks to the original positions. By using these adjustable sprocket kits, the cam timing can be "bumped" back to the original position.

OUT OF STOCK




Remanufactured (Slotted) Camshaft Sprockets

For the budget minded.
Slotted OEM camshaft sprockets.

While supplies last.

CS-017D $39.95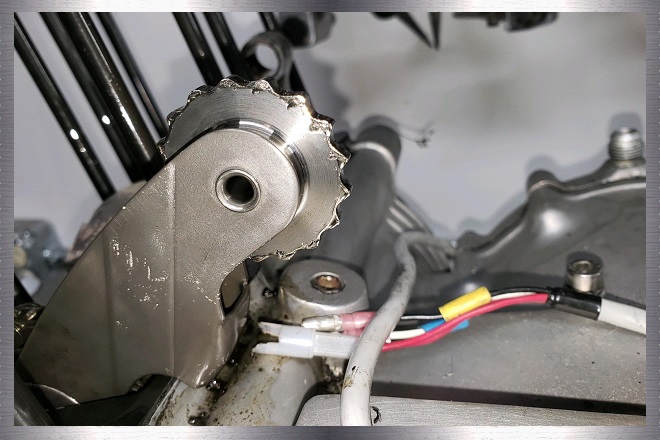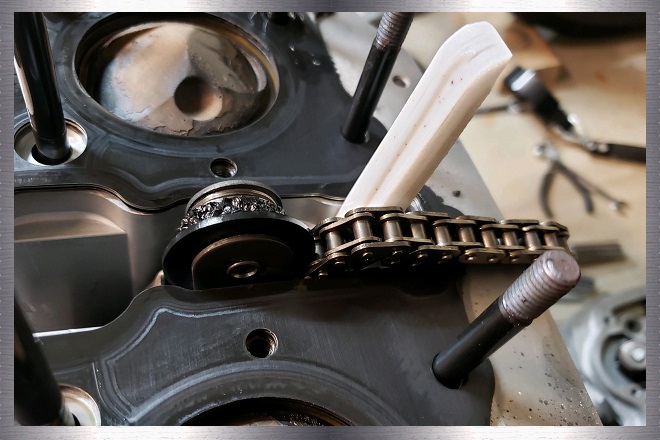 Cam Chain Tensioners...Here is the Problem!
The above photos show an OEM Honda tensioner and an unidentified aftermarket tensioner. These photos were from an AHRMA vintage roadracer's bike (thanks Matt Esterline #237) and clearly show the problem. The OEM tensioner lasted approx. 3 weekend races and the aftermarket tensioner approx. 10 weekend races. These types of product malfunctions are exaggerated when racing is involved, but racing makes for a good test because these results happen in street bikes as well.
Note: Matt's bike is using an OEM stock cam chain tensioner rather than a manual tensioner that has been overadjusted.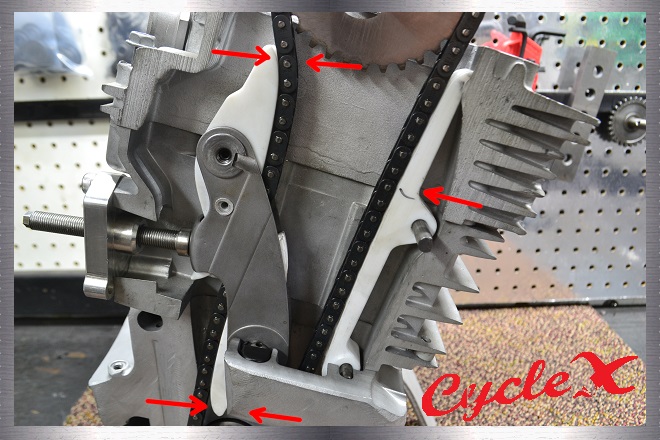 Above photo is for reference only...not actual parts!
Full Floating, Self Compensating Cam Chain Tensioner
These cam chain tensioners are designed to float and compensate for milled heads, thinner gaskets, worn/stretched cam chains and hard deceleration which destroys OEM tensioners. The arrows show how the sliders can move a few degrees to compensate for the above mentioned problems.

Features:
✓
Proven XPA 46 slider material.

✓
Floating/compensating design.

✓
No more than four chain links unsupported.

✓
Front slider is longer with a gentle curve.

✓
Stock length cam chains, peanut or straight side plates are fine.
Note: Fixed slider designs shift the pressure points upward and only make contact at the very top when thinner gaskets, milling and stretched chains.
This project presented several obstacles that needed the expertise of a world class machine shop in the great state of Texas. With a combination of 3D imaging, motor cut-a-ways and proven XPA-46 materials, no expense was spared. This floating/self compensating design and highly accurate machining processes surely makes this a candidate for product of the decade (we like saying that).
NOTE: ITEM IS NO LONGER AS PICTURED. NOW COMES WITH A STOCK SLIPPER
ENG-108 $349.00
OUT OF STOCK - APPROX. ETA LATE 2023
A 3.99% customer service charge is applied to all phone orders.
If ordering via phone, please also provide the part # of any products you are interested in for faster and more accurate service.
If you encounter a (rare) broken button as you're trying to add parts to your cart (going to PayPal summary instead of your cart or not opening PayPal at all) or anything else of concern, please call us to report it. We'll try to have it fixed for your convenience within the next 5-10 minutes. Afterwards, refresh the page and try again.
NOTE: As of July 1st, 2018, an extended goods and services tax (GST) has been applied to all Australian consumers buying overseas, charging an extra 10% in taxes to us with each purchase. To ensure that you can continue to purchase from us in Australia and we can provide our parts at our usual lower cost, please
contact us at the email below
if interested in any particular parts so that we can make a special shipping arrangement for you.
It is the sole and exclusive responsibility of the purchaser to determine the suitability of any part, product or work for his or her use.
The purchaser shall assume all legal, personal injury risk and liability and all other obligations, duties and risks therewith. There is no warranty on High Performance products.
Click to go back to Engine Parts page
Cycle X Global Headquarters
6246 US Hwy 51 South
Hazelhurst, WI 54531
Phone: 715-356-7346
Email: hotrodcyclex@gmail.com