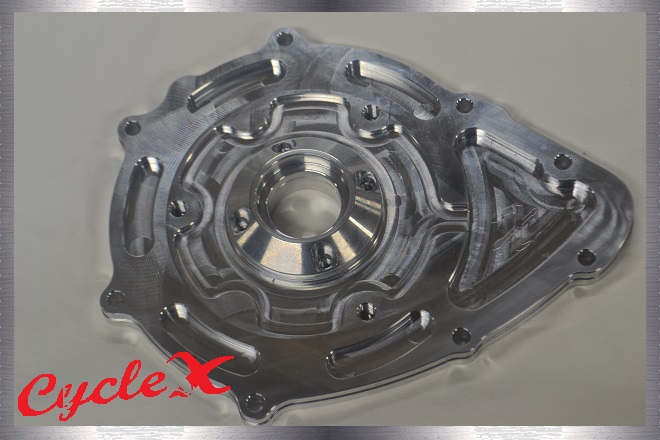 Honda CB750 SOHC Stator Block Off Plate
Stator block-off plate for you drag and road race folks. Cycle X block-off plates are nice and thick as opposed to the plates from the 70's era.
Oil seal and gasket included.
Honda CB750 SOHC 69-78.
$199.00 ENL-023
Cycle X Lightened Alternator Package
Quote: "Those Honda CB750s are really smooth running."
Quote: "I installed an RC engineering lightened rotor for more rev capability (love that old performance stuff)"

Well, the second photo shows an early (6.9 lbs), late (5.7 lbs) and a Cycle X alternator (4.66 lbs)

Before we go any further!

Our balancer shows stock Honda CB750 crankshafts and alternator rotors out of balance. This may be due to mass production or just 70's technology.

So, lets say your crankshaft is out of balance 6 grams (we have seen this). Let's say your rotor is out of balance 5 grams (we have seen that also)
Lets say you reassemble your motor with heavy side of the crankshaft and heavy side of the rotor on the same side. (Do the math) Smooth running and happy?

The third photo shows an old RC lightened rotor that is out of balance 6.846 grams (More math)

Introducing the Cycle X Lightened Alternator package:
- Lightened and balanced to perfection rotor.
- Puller to remove you old, heavy and out of balance rotor
- Oil seal for your starter ring gear.
- Cycle X exclusive no leak gasket (No sealer needed)

Note: The Cycle X balancer measures inch grams, making our crankshafts and rotors the best in the industry and history.
40+ years later, you now say, "Those Honda CB750s are really smooth running."

For 1969-78 Only
Note: Exchange basis only (Send yours and we'll send you a lightened alternator)
ENL-020A $146.95
Call to order.
Cycle X Honda CB/CL 450 Charging System (Kick only)
We have noticed for years that Honda CB/CL 450 models have charging system problems. We have a bike in the shop that has all the new rewound stator and regulator upgrades and it still has problems.
Anyway, we have adapted our 3 phase charging system to the Honda 450's. Problem solved.
Fits Honda CB/CL 450 models (67-74)

Kit includes:
3 phase stator
Light weight magnetic rotor
Regulator/rectifier
Billet adaptor for stator
Starter motor plug
Misc hardware and instructions
Note: Use with lead acid batteries only!
EL-450 $399.00
Call for availability.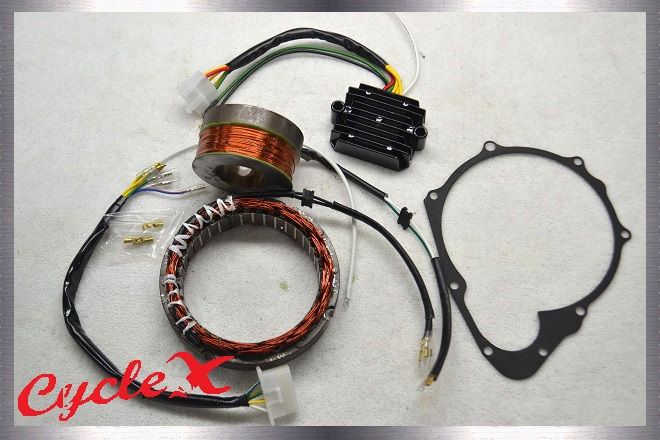 Honda CB750 (69-78) Rick's Electrics Complete Refurbished Charging Systems
These Rick's Electrics refurbished, rewound stators and field coils should solve your charging problems for good. Fresh wires and exit rubbers with make your assembling procedure a breeze.
Also included is a Rick's solid state voltage regulator.
Also comes with a gasket (not pictured).
RF-64 $499.00