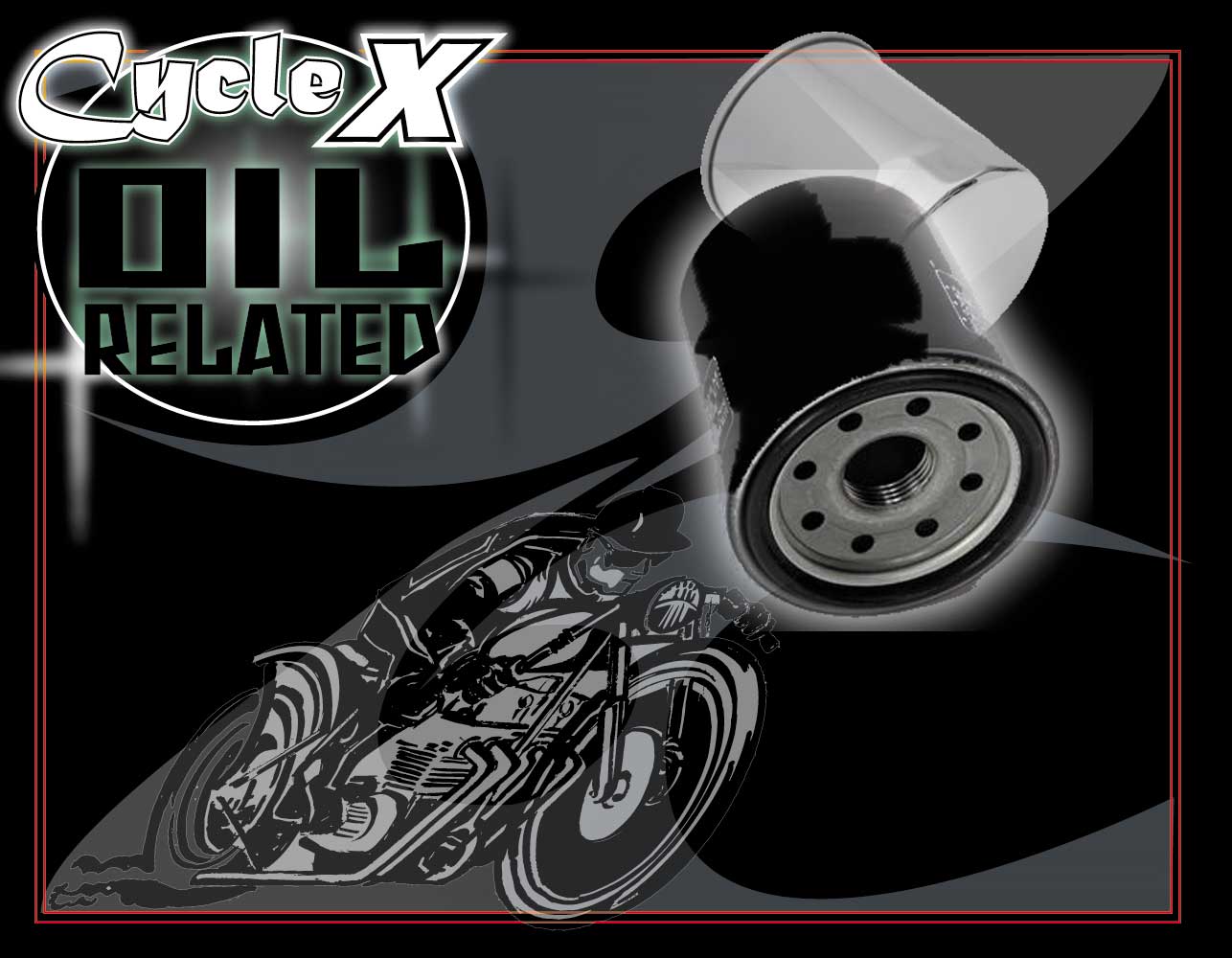 If you're in need of tech help, refer to our oil tech tips page.
Oil Filter Eliminator Block-Off Plate

Race bikes can be super demanding on motors. Even on stock Honda CB750's it is best to filter and cool the oil off the front of the motor.

After oil is cooled and filtered, it goes directly to the vital parts of the motor (crank, top end, etc.)

With this block-off plate oil is pumped to a cooler and remote spin-on oil filter and back to the motor.

We found this to work great on race bikes and bikes in hot climates.

(This is for only the block-off plate and o-ring)

Cycle X Race Team Approved

OL-BOP $89.95

Remote Oil Filter Kit

Cycle X universal mount spin-on oil filter housing is a hit with custom and race folks!

The benefit: After the oil is cooled and filtered it goes directly to the vital parts of the motor (crank, top end, etc.)

With this block-off plate, oil is pumped to a cooler and remote spin-on oil filter, and back to the motor.

Here's what you get:

The Cycle X Oil Filter Eliminator Block-off Plate

(complete with o-rings and brass fittings)

5 feet of 1/2" oil hose

Hose Clamps

Cycle X Remote Oil Filter Bracket and Fittings

Cycle X Universal Mount Spin-On Oil Filter

Cycle X Race Team Approved

OL-011 $169.00
Oil Filter and Cooler Combo

Question:
Want to keep that engine temp down and extend oil durability?
Answer: Cool your oil.
This Cycle X oil filter and cooler combo is different from the rest.
Why? Check it out.

Features:
Alloy adaptor will allow you to run chrome or black high level filters.
Alloy adaptor will allow you to use a oil cooler.

Special feature:
Our alloy adaptor has a built in block off system.
By changing fittings you have the choice of using a cooler
or not using the cooler.

Kit Includes:
Alloy Oil Cooler adaptor.
Oil Filter
O-Ring
Oil coolers mounted from this location are optimum.
The oil is cooled and goes straight to all the vital parts of the motor.

Filter now also available in chrome!



OL-002 $99.95

Cycle X Oil Line Adaptors

These oil line adaptors were designed to replace the stock fittings on your motor.
They feature 1/4 NPT tapped holes for many options of oil line configurations.

OL-003 $46.95 (Pair)
Honda CB750 SOHC Reconditioned OEM Oil Pumps
Cleaned, checked, new "O" rings, gasket and shimmed pressure relief valve for added and consistent pressure.
Available on a exchange or outright purchase basis.
We took 63 oil pumps apart, inspected and reconditioned only the best survivors from the olden days.
These oil pumps were fitted with all new rubber parts, gasket and springs.


OL-086 $86.95
Exchange basis only - Call to order
Oil Pressure Gauge

Curvy alloy adapter.
Chrome elbow
100lb gauge (Black face)
"O" ring

OL-014 $59.95

Not breaking news, but here is our Honda CB750 "A" Automatic Oil Pressure Gauge

Kinda funky, kinda cool oil pressure gauge for Honda autos.

OL-019 $79.95


Magnetic Oil Drain Plug
OL-017 $23.95




Cycle X (OEM) Braided Oil Lines

Our Cycle X OEM braided oil lines are reconditioned using the best oil resistant, high pressure oil line available.
By the way, K model hoses are different from F model hoses.


OL-015K $159.00 (Pair)

Call for availability

OL-015F $159.00 (Pair)

Call for availability
Oil Line and Chrome Clamps

Now that you have a modern high performance or stock custom Honda SOHC motorcycle, you will need some oil lines to complete your high level project.

Honda SOHC's have larger oil lines. After you grind or cut the ugly OEM clamps off, you can install this oil line and chrome clamps. Give your motor the oil volume it needs. 1/2 ".

Oil Line: OL-004 $4.25 (Per foot)
Chrome Clamps: OL-005 $15.95 (Each)
Honda CB750 Oil Seal Kit
Honda cb750 (69-76)

OL-007 Sale Price: $27.95

Honda CB750 Oil Seal

1977-78 Honda use this bigger seal around the counter shaft.
You will need this seal if you have a 77-78.

OL-006 $13.99 (Each)
If ordering via phone, please also provide the part # of any products you are interested in for faster and more accurate service.
If you encounter a (rare) broken button as you're trying to add parts to your cart (going to PayPal summary instead of your cart or not opening PayPal at all) or anything else of concern, please call us to report it. We'll try to have it fixed for your convenience within the next 5-10 minutes. Afterwards, refresh the page and try again.
NOTE: As of July 1st, 2018, an extended goods and services tax (GST) has been applied to all Australian consumers buying overseas, charging an extra 10% in taxes to us with each purchase. To ensure that you can continue to purchase from us in Australia and we can provide our parts at our usual lower cost, please
contact us at the email below
if interested in any particular parts so that we can make a special shipping arrangement for you.
It is the sole and exclusive responsibility of the purchaser to determine the suitability of any part, product or work for his or her use.
The purchaser shall assume all legal, personal injury risk and liability and all other obligations, duties and risks therewith. There is no warranty on High Performance products.
Click to go back to our home page
Cycle X Global Headquarters
6246 US Hwy 51 South
Hazelhurst, WI 54531
Phone: 715-356-7346
Email: hotrodcyclex@gmail.com