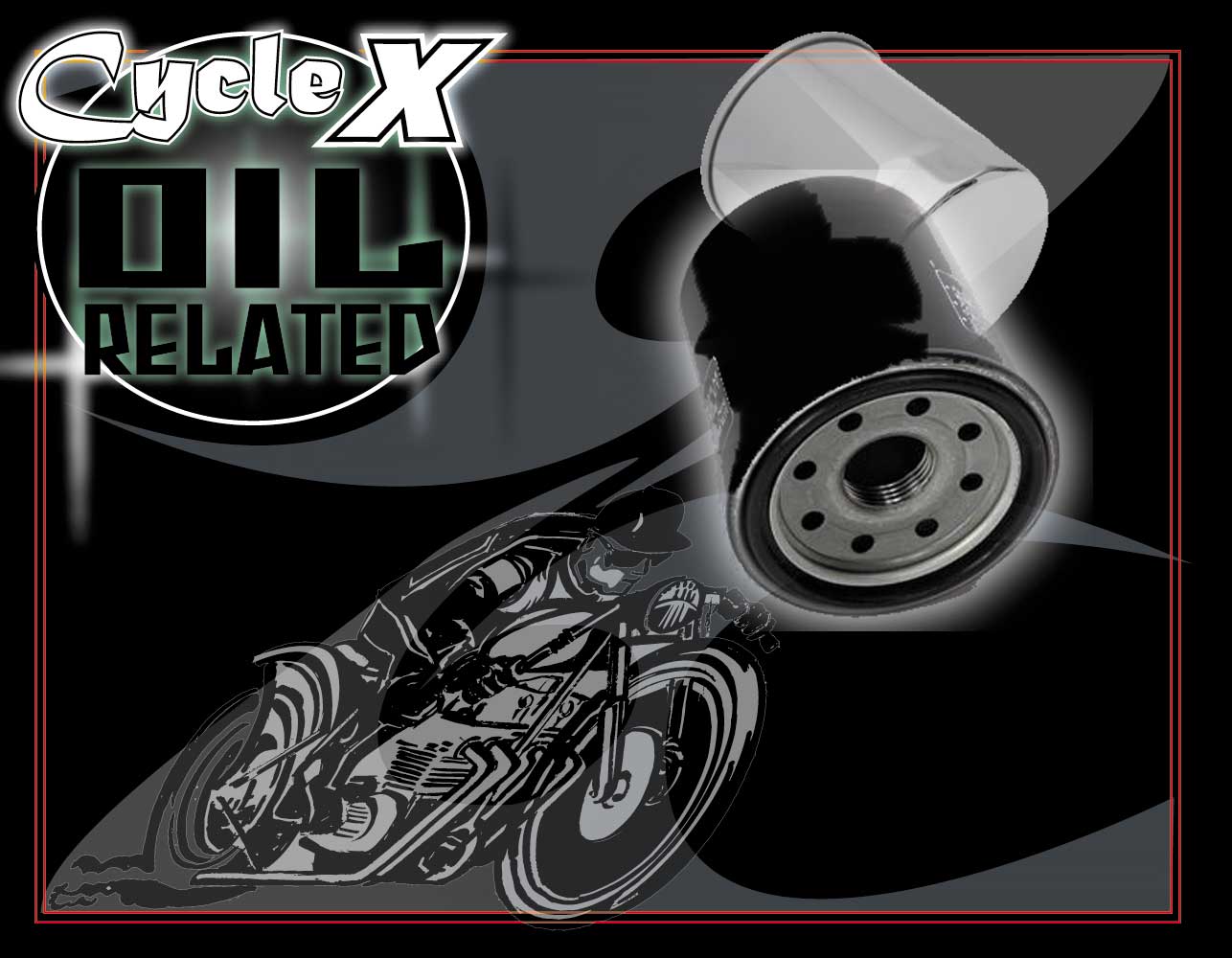 If you're in need of tech help, refer to our oil tech tips page.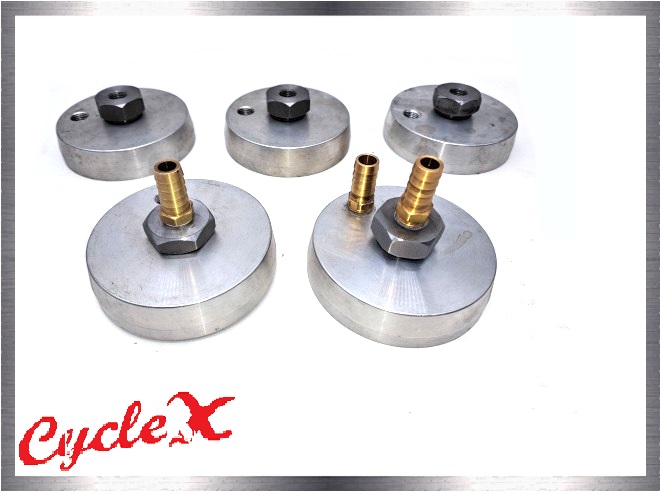 Honda CB750 SOHC Remote Oil Filter/Cooler Adapter
These kits are meant to relocate your oil filter elsewhere. Simple oil in-out adapter plate mounts to the front of your motor.
Very limited supply.

$139.00 # OL-002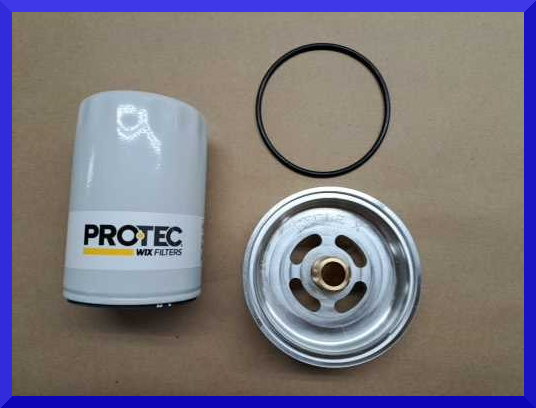 Honda cb750 Spin-On Oil Filter Adapter.
Honda spin-on filters are not new to market and claims are often made saying changing oil is less messy.... That is correct.
But, there is more to this topic.

The Bad:
Honda cb750 oil filters have a very small surface area and oil filter blockage can happen relatively fast.
Stock filters have an unknown gallons per minute flow through the oil filter .... Heavier oils might not flow correctly.
Stock oil filter bolts have a built-in by-pass that has an un-known pound rating when they open ... Could be a problem.
With high RPM motors and heavier oils ..... The OEM filter cannot flow fast enough and the by-pass could open ..... Feeding your motor un-filtered oil.

The Cure:
These oil filter adapters use spin-on oil filters with a 13/16 thread size.
The number of different sizes, shapes and features in oil filters are numerous.
Huge surface areas options
High flow rate options
Higher or no by-pass is an option.
Anti-drain back option. Meant to keep the oil in the filter when turning the motor off.

Question:
Have you ever wondered why debris is found in your cam oiler jets and ruined your cam ?
The debris bypassed the filter as described above.

By the way,
WIX filters are the best.

CycleX oil filter adapter and your first oil filter included.
IN STOCK! # OL-001 $ 89.00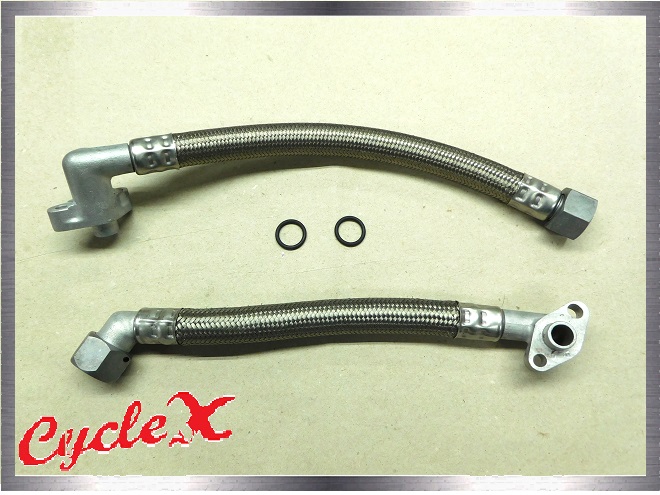 These steel braided refurbished Honda cb750 oil lines are a must for "higher level" bike builds.
High quality braided, durable oil line and stainless steel furrules have been used on these lines.
K model Honda cb750,s and F model Honda cb750,s have different oil line configerations.
Specify K or F models.
This is an Outright Sale. If you want , call us to refurb your lines for $ 149.00.
TEMPORARILY OUT OF STOCK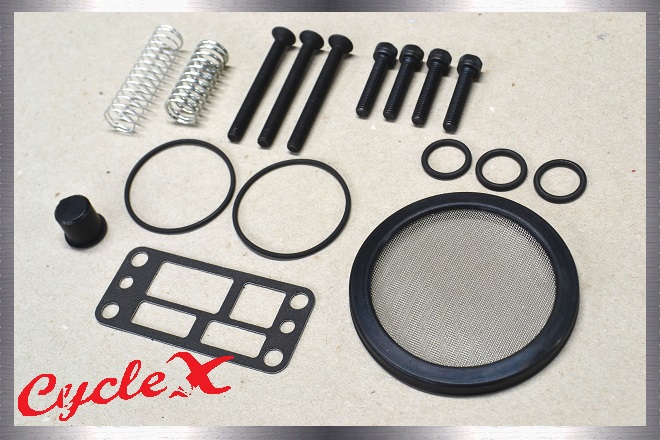 The Oil Pump Rebuild Kit, Complete.
Who has the best oil pump kits?
Cycle X has the best kits!
These oil pump kits are endorsed and used by top engine builders worldwide.
Note: Stock pressure relief springs are known to dump oil too soon and show low pressures when springs get old and in racing applications.
Many people would add shims to the springs and boost the pressures a bit when needed.
Our Cycle X kits are the most complete kit in the industry and also have 8% stronger pressure relief springs.
Our kits also have the discontinued OEM center oil seal that the other kits are missing.

Kit includes:
✓
Oil pump rubber stopper.
Prevents oil from entering the motor from the oil tank when not running.

✓
Oil pump stopper spring.
New is good.

✓
Pressure relief spring.
Important to keep oil pressure up instead of dumping off into the crankcase.

✓
Oil pump screen.
Hard not to damage these screens when disassembling the pump.

✓
Oil pump o-rings.
✓
Oil pump mounting o-rings.
✓
Oil pump screws.
Nice and new for reassembly.

✓
Oil pump center oil seal.
Honda OEM seal, not pictured.
OL-020 $199.00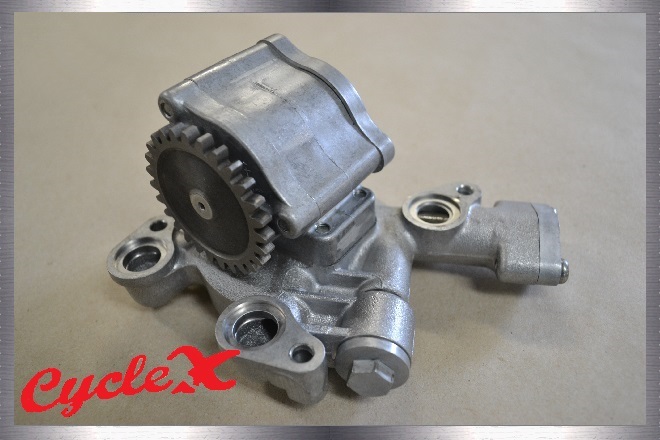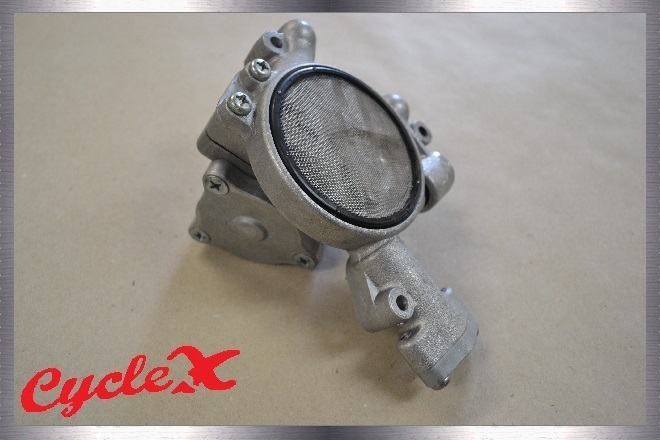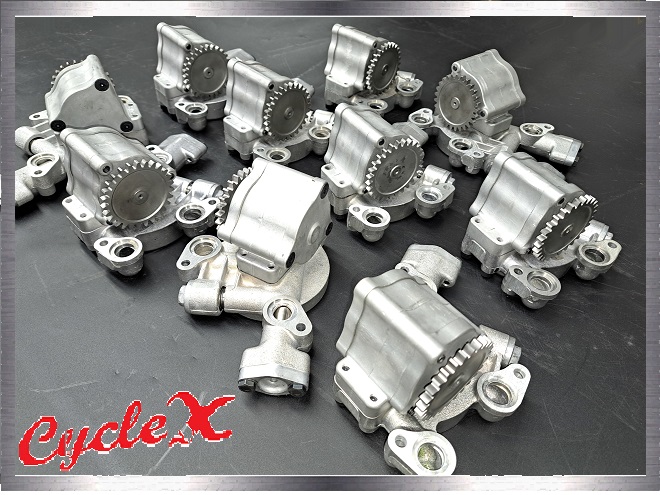 Honda CB750 SOHC Reconditioned OEM Oil Pumps
Cleaned, inspected, new "O" rings, gasket, center oil seal, new rubber stopper and spring, new 8% stronger
pressure relief spring with (1) shim added.
These oil pumps are used in all of our refurbished and "hot-rod" motor builds.
Approx. 70 to 80 lb pressures in most motors.


OL-086 $249.00
Exchange basis only - Call Or Email to order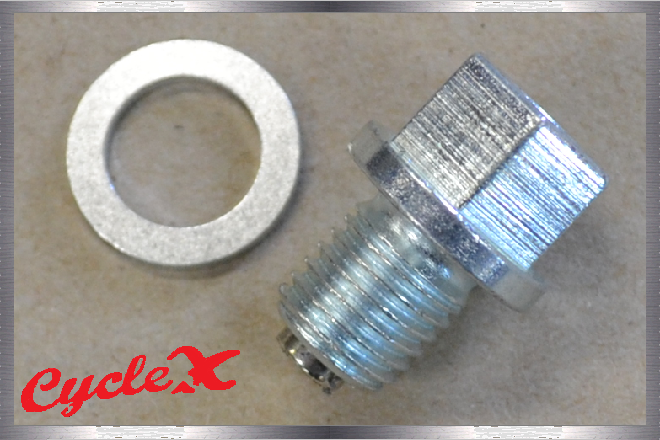 Magnetic Oil Drain Plug
OL-017 $23.95

Oil Line and Chrome Clamps

Now that you have a modern high performance or stock custom Honda SOHC motorcycle, you will need some oil lines to complete your high level project.

Honda SOHC's have larger oil lines. After you grind or cut the ugly OEM clamps off, you can install this oil line and chrome clamps. Give your motor the oil volume it needs. 1/2 ".

Oil Line: OL-004 $4.25 (Per foot)

Chrome Clamps: OL-005 $15.95 (Each)
Honda CB750 Oil Seal Kit
Honda CB750 (69-76)

OL-007 Sale Price: $27.95

Honda CB750 77-78 Oil Seal

1977-78 Honda use this bigger seal around the counter shaft.
You will need this seal if you have a 77-78.

OL-006 $13.99 (Each)

A 3.99% customer service charge is applied to all phone orders.
It is the sole and exclusive responsibility of the purchaser to determine the suitability of any part, product or work for his or her use.
The purchaser shall assume all legal, personal injury risk and liability and all other obligations, duties and risks therewith. There is no warranty on High Performance products.
Click to go back to our home page
Cycle X Global Headquarters
6246 US Hwy 51 South
Hazelhurst, WI 54531
Phone: 715-356-7346
Email: hotrodcyclex@gmail.com