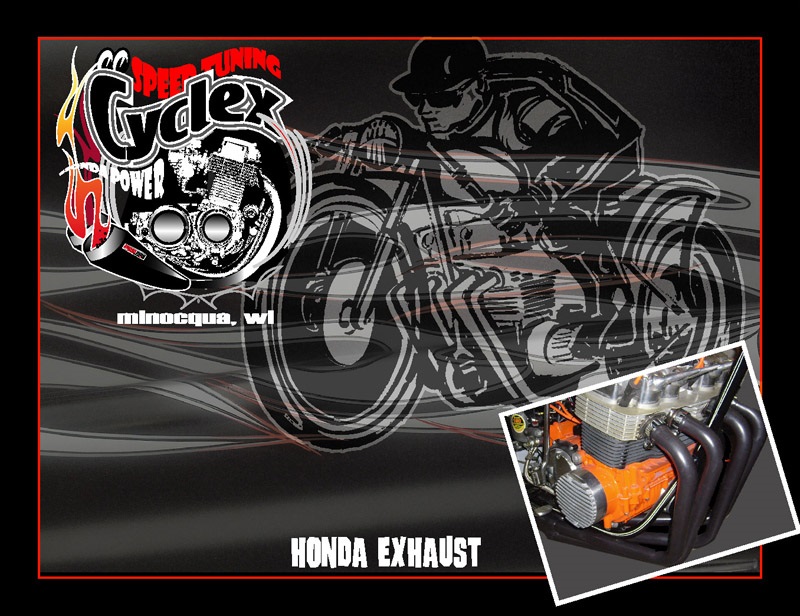 Rather than call this a tech page, lets call this a useful "tid-bits" page.
We do not see any reason to talk about Hondas timelines and changes they made unless its useful.
We do not see any reason to copy and paste a bunch of tech articles about theories that do not pertain to the Honda cb750 engine.

Exhaust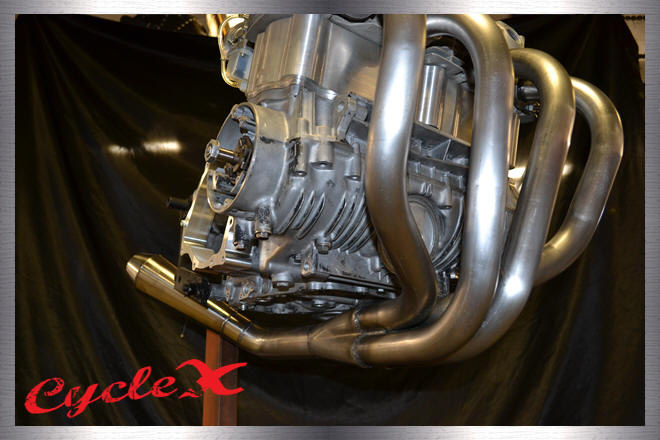 To be continued. (Time to expose bad production exhausts.)


A story first.
Years and years ago, we were running a big bore bike on a Dyno (a customer brought to us)
He said it didn't have the power he expected and he had all the good stuff in the motor.
Turns out he had a bad piston, but that's not the point we are about to make.
With cylinder head temperature gauges, exhaust temperature gauges and fuel and air gauges we noticed it was lean and the gauges were reading nuclear hot.

After jetting up a bunch, some power was starting to be seen. But, the temp gauges were reading extremely hot. (Ignition timing was good)
Scratching our heads a bit, we started looking at the exhaust system. We were fooled a bit by the appearance of the exhaust. It was a double wall system with a very small inside diameter (for the bore size), and was hard to see from the outside.
Anyway, we changed the exhaust system to a larger (proven size) inside diameter system. The power jumped, cylinder head temp and exhaust temp dropped tremendously.

We suspect this same observation could happen with ill designed baffles.




Check this out

The photographs show examples of a few production exhaust merge collectors. We went in our salvage yards and cut up about 12 exhaust systems for you to see what some "BIG" name exhaust systems look like on the inside.
You might be a little surprised by the names and the unimpressive quality we are showing you. It might be a little impolite to mention names of some of these manufactures. But, oh well.
Muzzy, Kerker, Jardine, Yosimura copies, Vance & Hines and others are examples we have cut-up or probed to see the workmanship.
Many exhaust suppliers sell merge collectors that are more refined than the above mentioned manufactures. But, most of them do not offer the correct length we have mathematically calculated and tested.
Our Cycle X merge collectors and exhaust systems are built in house.
| | |
| --- | --- |
| Muzzy | Kerker |
| | |
| --- | --- |
| Jardine | Delikevic |





Check this out (Cycle X merge collector)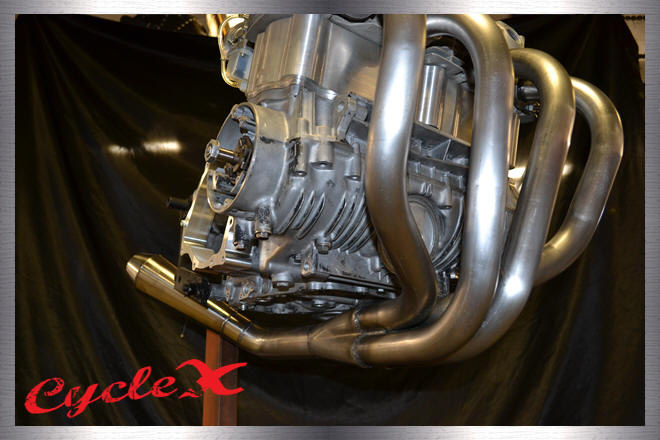 When choosing a production exhaust system for your Honda CB750, many people are only concerned with looks and money (that's cool, we get it)
As far as performance, they are the same to a certain extent.

Not ours, our Rapid fire exhaust system is pure perfection.



Our new Rapid Fire exhaust systems were derived, spawned, inspired, and forged from our Honda heavy weight vintage road-racer.
The primary tube length, exhaust exit diameter, length of the merge collector and refinement of the inside are crucial in the world of performance.
Sound? None better.

The systems are also built with the best turning ground clearances in the industry.
The Rapid Fire systems will be sold in stainless steel and fully tig welded together for an exact fitment.
More importantly, we've purchased a truck load of stainless tubing to keep the exhaust system price wallet friendly.

So, sell your current exhaust to your buddy and get the Cycle X Rapid Fire system.
QUOTES FROM RAPID FIRE CUSTOMERS:
"The CYCLE X RAPID FIRE EXHAUST in my opinion is a quality made product made here in the good old USA, I am amazed how clean and well built this pipe is. If you are tired of rusty chrome peeling garbage then this is the pipe for you! Well worth the price. I didn't go wrong."
-Michael (Valparaiso, Indiana)
"THE VELOCITY AND SOUND THE CYCLE X RAPID FIRE EXHAUST EMITS REMINDS ME OF THE CHICAGO TYPEWRITER (THOMPSON SUBMACHINE GUN). ITS SLEEK APPEARANCE AND PRECISION BENDS GIVE IT AN AGGRESSIVE STYLING THAT PUTS IT AT THE TOP OF IT'S CLASS. ACCOMPANIED BY UNRIVALED PERFORMANCE THROUGHOUT THE POWER BAND AND HORSEPOWER GAINS YOU CAN FEEL!!!"
-BIG TONY (Chicago, Illinois)
I think we have tried every exhaust system made for the Hondas as the years have gone by. Seems like every exhaust system has about the same performance or sometimes less than expected. Not the Rapid fire system. This system has noticeable performance gains the minute it was bolted on. Thanks Cycle X.
-Ralph (Pratt, Kansas)
My fiancÚ wanted a diamond ring for Christmas and I wanted a Rapid fire exhaust system. After seeing and hearing the Rapid fire exhaust, I should have NOT gone to Jared's.
-Caleb (Amarillo, Texas)
"The clean cut difference is noticeable right out of the gate. Nice rumble, and having solid clearance for sure helps too. This is the kind of exhaust that, if you're not using it yourself, you're missing out. Great stuff!"
-Anthony (Fort Dodge, Iowa)
A 3.99% customer service charge is applied to all phone orders.
If ordering via phone, please also provide the part # of any products you are interested in for faster and more accurate service.
If you encounter a (rare) broken button as you're trying to add parts to your cart (going to PayPal summary instead of your cart or not opening PayPal at all) or anything else of concern, please call us to report it. We'll try to have it fixed for your convenience within the next 5-10 minutes. Afterwards, refresh the page and try again.
NOTE: As of July 1st, 2018, an extended goods and services tax (GST) has been applied to all Australian consumers buying overseas, charging an extra 10% in taxes to us with each purchase. To ensure that you can continue to purchase from us in Australia and we can provide our parts at our usual lower cost, please
contact us at the email below
if interested in any particular parts so that we can make a special shipping arrangement for you.
It is the sole and exclusive responsibility of the purchaser to determine the suitability of any part, product or work for his or her use.
The purchaser shall assume all legal, personal injury risk and liability and all other obligations, duties and risks therewith. There is no warranty on High Performance products.
Click to go back to our home page
Cycle X Global Headquarters
6246 US Hwy 51 South
Hazelhurst, WI 54531
Phone: 715-356-7346
Email: hotrodcyclex@gmail.com