High Performance Valve Springs
(K & F models)

These Kibblewhite valve springs are the most common valve springs used by Honda CB750 SOHC (69-78) owners for years and years.

Stock valve spring installed height (1.455 ish) spring pressures with these Kibblewhite ENV-008 springs are:
40lbs (no shims)
51lbs (.060 copper shims)

1.455 ish installed.
Stock springs are 50lbs.


Kit includes:
(8) .060 shims
(16) .015 shims

ENV-008 $69.95



High Performance Valve Springs for Large Camshafts (K & F models)

These Cycle X, Kibblewhite valve springs are the favorite around here and with many pros world wide.
They are used exclusively when high-lift cams require valve sinking for valve to valve clearances.
The reason these springs are used is they will not require piles of spring shims to get desired pressures.

So, stock valve spring installed height (1.455 ish) spring pressures with Cycle X, Kibblewhite ENV-009 springs are:
62lbs (no shims)
85lbs (.060 shim)


Kit includes:
(8) .060 shims
(16) .015 shims

ENV-009 $109.00
The Highest Level Bee-Hive Valve Springs

These bee hive spring sets are manufactured by Kibblewhite for Cycle X years ago and are installed in some of the fastest Hondas worldwide. Combined with titanium rocker arm adjustor jam nuts and lightened rocker arms. You will have the best current valve train combination available.
Well, combine the 5mm valve kit to have the ultimate combination.
Installed height: 1.455 ish
Seat pressure: 70lbs
.060 shim: 80lbs
Max lift: 0.460.
Specify "K" or "F" model.

ENV-010K for "K" models $239.00


ENV-010F for 77-78 "F" models $239.00


ENV-010-5MM for Kibblewhite 5mm kits $239.00
(77-78) Honda CB750 F2, F3 Valve Spring and Retainer Combo

These Cycle X, Kibblewhite valve springs are the favorite around here and with many pros worldwide. They are used exclusively when high-lift cams require valve sinking for valve to valve clearances. The reason these springs are used is they will not require piles of spring shims to get desired pressures. So, stock valve spring installed height (1.455ish) spring pressures with Cycle X, Kibblewhite ENV-009 springs are:
85lbs (no shims)
90lbs (.015 shim)
105lbs (.060 shim)
75lbs with .030 sunken valves (K & F models)

Caution:
Honda CB750 77-78 K's and especially F2's have the potential of the keepers pulling through the top spring retainers and dropping the valve into the motor. Many people have felt this heartbreak for the past 30+ years. Honda's later model spring retainers are stamped steel, combined with a steep keeper angle, has only been addressed by complete spring kits costing hundreds of dollars, until now.

We have been working with Kibblewhite and have developed these top retainers to cure this problem once and for all at a reduced cost. Heat is a problem in the F2 valve tranes, these new lightweight top spring retainers feature 8 holes on the top of the retainer. The purpose for these holes is to allow oil to drip down the springs to help with heat dispersion. Keep in mind, oil lubricates, picks up heat and carries it away to coolers and such. People in NASCAR use the same technique and it helps keep the valves well lubricated for longer life. These retainers are made from heat treated carbon steel for durability and strength. 11.25 grams per retainer!

ENV-011 Combo - $210.00

ENV-F2R Retainers only - $119.00
Budget High Performance F2, F3 Spring and Top Retainer Combo

This high performance combo kit is similar to above, but a budget version. This kit includes ENV-008 and ENV-011.

Kit includes:
(8) .060 shims
(16) .015 shims

ENV-013 $178.00
OTHER RELATED HIGH PERFORMANCE TOP END PARTS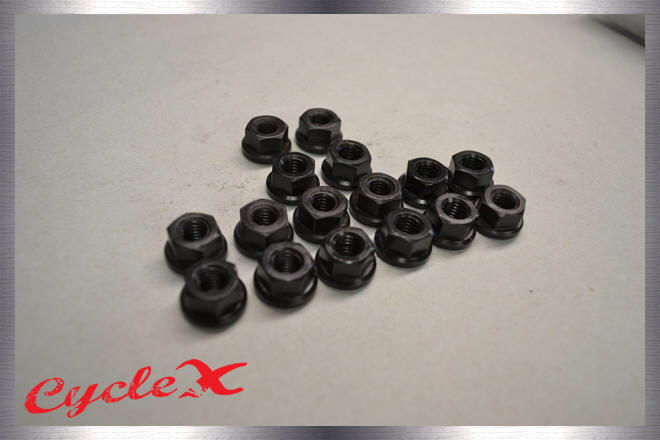 Heavy Duty Cylinder Stud Nuts
Heavy Duty Cylinder Stud Nuts are designed and machined by Cycle X and Kibblewhite for your high performance or stock Honda CB750 (69-78).
Grade 8 High Tensile Steel, Heat Treated for Strength and Black Oxided for corrosion resistance.
ENV-CXSN $75.95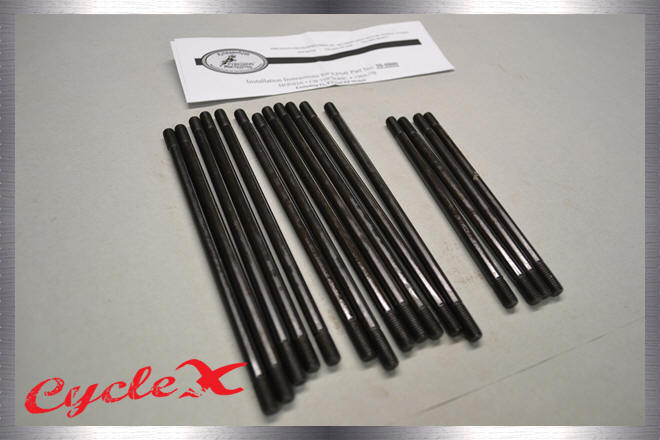 Cycle X Super Studs
We have been working with Will Kibblewhite for a while on these heavy duty cylinder studs and finally, they're ready for the masses!
Click Here for the Full Story
$ 119.95
ENV-CXSS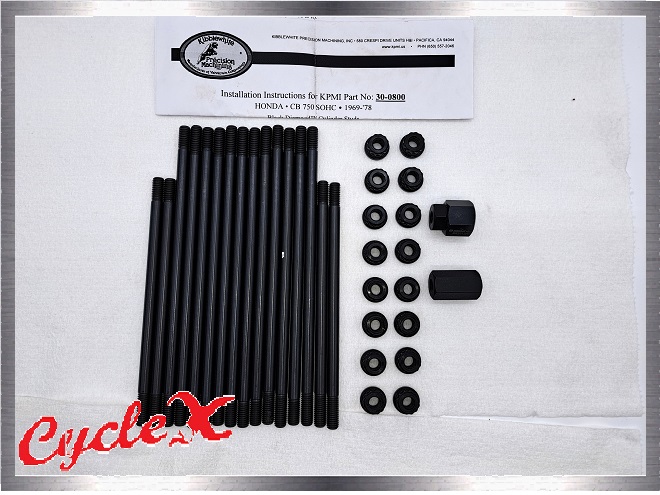 Super Stud, Heavy Duty Stud Nut & Tool Combo
Ever wonder what it would be like if Superman and Batman teamed up? Neither have we, but we did wonder what it would be like if our Super Studs and our new Heavy Duty Cylinder Stud Nuts teamed up. Also comes with a removal and installing tool.
The outcome is a combo that takes strength and performance to a new level.
Regular Price: $195.95
Sale Price: $172.95
Titanium Rocker Arm Jam Nut Set
These Titanium rocker arm jam nuts were used on our Vintage heavyweight Super Bike.
They are now available for your go-fast Honda CB750 SOHC project. (69-78) 1.2 grams per nut.
ENV-321 $79.00
A 3.99% customer service charge is applied to all phone orders.
If ordering via phone, please also provide the part # of any products you are interested in for faster and more accurate service.
If you encounter a (rare) broken button as you're trying to add parts to your cart (going to PayPal summary instead of your cart or not opening PayPal at all) or anything else of concern, please call us to report it. We'll try to have it fixed for your convenience within the next 5-10 minutes. Afterwards, refresh the page and try again.
It is the sole and exclusive responsibility of the purchaser to determine the suitability of any part, product or work for his or her use.
The purchaser shall assume all legal, personal injury risk and liability and all other obligations, duties and risks therewith. There is no warranty on High Performance products.
Click to go back to our home page
Cycle X Global Headquarters
6246 US Hwy 51 South
Hazelhurst, WI 54531
Phone: 715-356-7346
Email: hotrodcyclex@gmail.com