Crank Work
Crank (Stock Weight) Balancing
(Deluxe Version)

Balanced with journal oil holes relieved, soda blasted, micro polished and oil hole ball bearings are removed and tapped for socket style plugs. Cleaned and ready to go.

Exchange: $199.95
No Exchange: $239.95
Lightened and Balanced (Most Popular)

Lighted, balanced, deburred, journal oil holes relieved, soda blasted, micro polished and oil hole ball bearings are removed and tapped for socket style plugs. Cleaned and ready to go.

Exchange: $289.95
No Exchange: $329.95

Lightened and Balanced (Race Version)

Lightened, balanced, deburred, journal oil holes relieved, soda blasted, micro polished and oil hole ball bearings are removed and tapped for socket style plugs.
Balance holes are welded to reduce air and oil windage (turbulence).
This modification will allow your high revving motor to spin happy and free. Cleaned and ready to go.

Exchange: $389.95
No Exchange: $429.95
Cycle X (Pork Chop) Super Crank

This super crank is for you serious race folks.
Cycle X super cranks weigh about 15.8 lbs (stock is 22.8. Although stock cranks vary in weight a bit).
Lighted, balanced, deburred, journal oil holes relieved, soda blasted, micro polished and oil hole ball bearings are removed and tapped for socket style plugs. Cleaned and ready to go.

Exchange: $389.95
No Exchange: $429.95

Cycle X (Pork Chop) Super Duper Race Crank

This super crank is for you serious race folks.
Cycle X super cranks weigh about 15.8 lbs (stock is 22.8, although stock cranks vary in weight a bit).
Lighted, balanced, deburred, journal oil holes relieved, soda blasted , micro polished and oil hole ball bearings are removed and tapped for socket style plugs. Balance holes are welded to reduce air and oil windage (turbulence).
This modification will allow your high revving motor to spin happy and free. Cleaned and ready to go.

Exchange: $499.95
No Exchange: $539.95
Alternator Balance Only

We have seen alternators out of balance up to 4 grams. Add an out of balance crankshaft and...well, you know.

Exchange: $59.00
No Exchange: $99.00

Lightened and Balanced Alternator

We have seen alternators out of balance up to 4 grams. Add an out of balance crankshaft and...well, you know.

Exchange: $149.00
No Exchange: $189.00
Modified Alternators

These modified alternators are used by all types of racers that want to use their electric starter, but don't need the weight of the OEM heavy alternators.

By the way...
Early alternators weight approx. 6.85 lbs.
Later alternators weight approx. 5.55 lbs.
Cycle X modified alternators weight approx. 2.5 lbs.

Good Exchange: $85.00
No Exchange: $125.00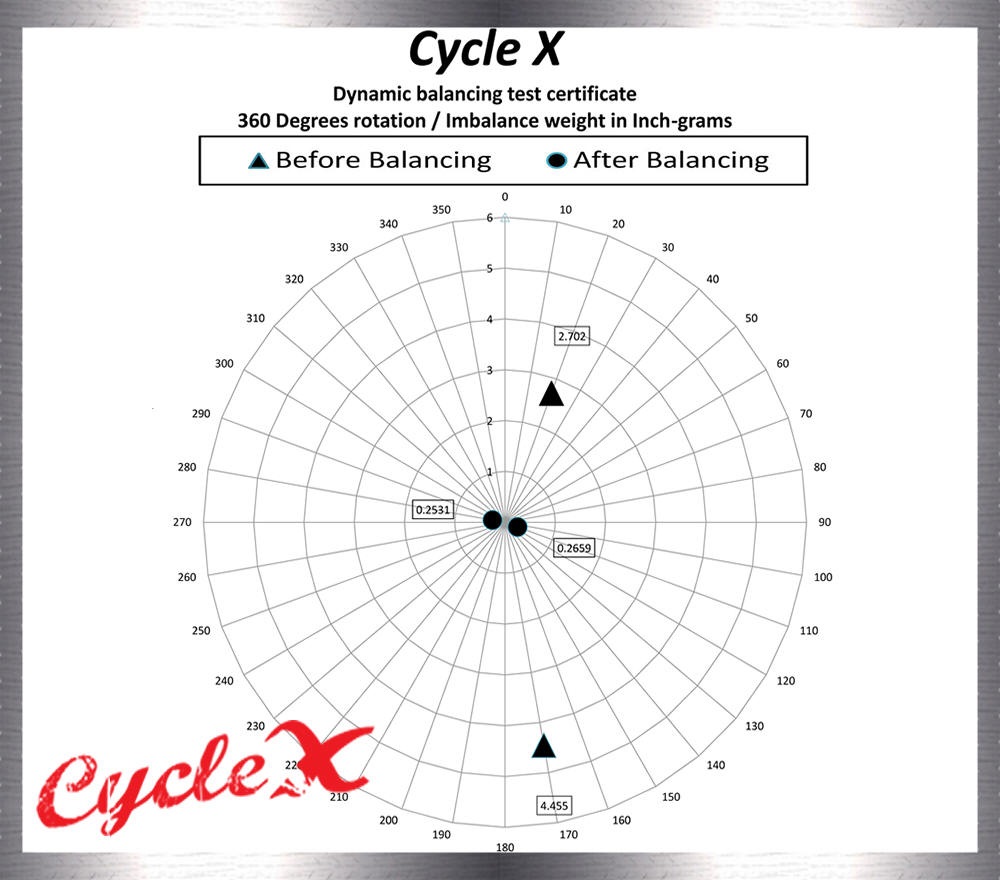 This is our Cycle X crankshaft balancing chart to show how our crankshaft balancing is second to none. Check it out
Performance Notice: PVD coating process (NANO technologies) is one of secrets of the Cycle X vintage road racer.
This coating is used on rod bearings, main bearings, roller bearings, needle bearings, valve stems and anything that moves.
Sputtering this Moly disulfide coating will hold oils on the part, reduce friction, reduce heat and is great for long period sittings and cold startups.
This YouTube video shows how smooth a well balanced Honda CB750 can be. This particular motor had the crankshaft, alternator and clutch hub/chain wheel balanced.
Engine Case Main Bearing Alignment Repair


Ever notice Honda CB750 main crankshaft bearings have rub marks here and there in a random manner? Ever wonder why Eraldo Ferracci suggested to tighten the main bearing bolts in 2 lb increments checking for a binding crankshaft and recording the torque figure at bind?

We applied blue dye to the engine case main bearing bores to exaggerate our observations years ago for photo purposes.

After applying the blue dye for photo purposes, we inserted our special machined alignment tool, torqued the main bearing bolts and rotated the tool. This procedure exposed tight areas, barely visible nicks in the main bearing area and possibly slight warpage.


Due to the fact that Honda main bearing clearances are generally in the .0015 to .002 range and Plastigage gauge measuring is a crude form of measuring in many circles. This sends up a few red flags about crankshaft alignments. Line boring the cases is not an option because of oversize bearing availability.

The 2nd photo (hard to see) shows these random rub marks with .002 Plastiguage clearances. To help with this potential problem is to remove the high spots, nicks and such ONLY with our special tool and procedure. After the crankshaft is reinserted in the cases and torqued, the crankshaft spins noticeably easier.

Happy motor!


Send engine cases and case bolts (Clean would be appreciated)

Call to order

$85.00
Refurbished Chain Wheel Cush Drives and Balancing

Note: Before we go any further with our explanation of cush drives and rebuilding cush drives, we must mention that Honda has not offered these parts for years. Secondly, most racers and people that are desperate for a fix will use "O" ring material sold in bulk and cut it to size. The trouble with "O" ring material sold in bulk is the fluctuation of the outside diameter and the rubber quality itself.

Note: It is not uncommon for the outside diameter of "O" material to fluctuate .030 or more. Introducing the Cycle X Nitrile blended molded cush drive rubbers with 85 +/- Durometer hardness.

This addition to our refurbished Honda CB750 section is something that many people are aware of, but sometimes ignore. Meaning, the cush drive rubbers on the inside of the hub that are disintegrated about 50% of the time. Call it father time or they just lead a hard life.

So here is what we do...

We disassemble the cush drive and glass bead for inspection. The inner portion of the hub is drilled and tapped for screws to replace the long rivets installed by Honda to hold the drive together.

Before installing the new cush drive rubbers, we measure the amount of deflection or wobble the two sprockets have. Most hubs have different measurements. But, they generally deflect or wobble over 2mm measured by the outer tooth area, relying on the cush rubbers to keep things somewhat stable.

With that said, we surface the outer plates and machine the inner portion to reduce this deflection and wobble.

Before we install the specific length and material cush drive rubbers, we remove and install (2) new needle bearings on the inside.
The cush drive is now assembled and ready to go.

By the way...
Like crankshafts and alternator rotors, the cush drives and outer steel clutch hubs are not balanced.

As an option, we are also offering balancing the cush drive and outer steel clutch hub as a unit.

Because real life story's are sometimes better than written words. Our Honda CB750 vintage heavyweight super-bike road-racer had this same cush drive process done to it in 2012 and the motor is still together and running strong after all these years. The bike was sold and is still racing in Ireland.


Exchange basis:
Send your cush drive chain wheel (estimated time for repair is 24 to 48 hrs)
Parts and labor

Balancing cush drive and outer steel clutch hub.

Exchange basis only - Call to order (for labor to rebuild or for balancing)

$175 parts and labor to rebuild your cush drive hub.
$125.00 for parts. (Cycle X cush rubbers and screws)
$75.00 for balancing.
Drilled Outer Clutch Hubs

These hubs are accurately drilled to reduce weight and help with additional oiling.
These drilled hubs are a option for the six spring system or for your go-fast project with OEM clutch arrangements.

ENL-033 $49.95

Can't tell if you have an early or late model? These instructions should help you identify.
Early is 1.460 clutch pack thickness. Late is 1.560 clutch pack thickness. (Steels and frictions combined thickness.)

Call to order. Exchange basis only.
Transmission
Cycle X Race Transmissions

Includes:
* Glass bead gear assemblies for inspection. (Also, makes them purdy)
* Magnaflux gears (Generally an additional cost elsewhere, not here)
* Undercut gears (A must for Hot-rod Honda SOHC's)

Note:
Send us your transmission. We will inspect it and send you back one of these race prepared transmissions.
If your transmission is bad, don't worry.
We have race transmissions in stock, ready to go.


$385.00 ENL-011-PRO (Pro cut)
Your transmission redone on exchange.


CALL TO ORDER

Cycle X Race Team Approved
Cycle X Race Cut Transmission Gear Clusters

OK...now there is no reason not to update your anciently designed Honda CB750 transmission with our Cycle X race cut transmission gear clusters.

These 2nd, 3rd and forth race-cut gear clusters are in stock and ready for assembly by the customer. (1st and 5th gears do not need race cutting) If you are uneasy with the assembly procedure, we will do it for you.

Note: Honda transmissions can be interchanged from year to year. So, send us your old gears for identification purposes and we will send you the race proven, race cut transmission clusters. Or see identification information below.

On Exchange Basis


Call To Order

ENL-RCTG-PRO $289.00 (Pro cut)
Cycle X Individual Race Gears
* Individual gear clusters
* Glass bead gear assemblies for inspection.
* Magnaflux gears
* Undercut gears
* Send yours for exchange
2ND

$139.00 (Pro cut)

3RD

$139.00 (Pro cut)

4TH

$139.00 (Pro cut)
CALL TO ORDER
ENL-012-PRO (Pro cut)
Note:
2nd and 3rd gear clusters are the non-dropout bushing style. Bushing is part of the female gear.
During the production years, Honda changed the tooth count on the 2nd and 4th gears.
Click on GEAR IDENTIFICATION to see if yours is an early or late 2nd and/or 4th gears.
On Exchange Basis
** Click For Gear Identification **
Cryogenically Treated Transmissions

These transmissions include Cryogenically treated main shaft, counter shaft and gears.

Our Cycle X Pro-cut, Cryo treated and super finished transmissions are used by many top racers and considered to be the best available.

$129.00

Call to order.
Cryogenically Treated Kick
Starter Shafts

The stock (OEM) kick starter shafts have been known to twist when kick starting high compression motors. Many customers have great results using these treated kick shafts.

$39.00
Coated Transmissions

Slick shifting, super smooth anti-friction coated transmissions.
These transmissions are for you people that want every advantage in acceleration over the competition.
Kit includes:
Shift shaft
Shift drum
Shift forks
Main shaft
Counter shaft
All the gears as shown

Exchange basis
Call for more information and to order!

$295.00
Thermo Barrier Coating

We are reintroducing or reminding the public about thermo barrier coatings for pistons and combustion chambers. This is the same coating used on our vintage heavyweight super bike (AHRMA) which had remarkable long intervals between tear-downs.

Here's one of my favorite tests from years ago...

The dome coatings in particular were tested on a hot rod v-twin motor (Harley) that started when the owner was super skeptical about the claims of thermo barrier coatings.

Here's what he did...

The front cylinder piston was uncoated. The rear cylinder piston was coated with the above mentioned process. During the running process, the heat sensors showed the rear cylinder 65 degrees cooler. True story. We have noticed the benefits of these coatings many, many years ago and have decided to stock thermo barrier pistons and cylinder heads for the performance minded.

Piston coating: $139.00

Combustion chamber coating: $139.00

Call to order.
A 3.99% customer service charge is applied to all phone orders.
If ordering via phone, please also provide the part # of any products you are interested in for faster and more accurate service.
If you encounter a (rare) broken button as you're trying to add parts to your cart (going to PayPal summary instead of your cart or not opening PayPal at all) or anything else of concern, please call us to report it. We'll try to have it fixed for your convenience within the next 5-10 minutes. Afterwards, refresh the page and try again.
NOTE: As of July 1st, 2018, an extended goods and services tax (GST) has been applied to all Australian consumers buying overseas, charging an extra 10% in taxes to us with each purchase. To ensure that you can continue to purchase from us in Australia and we can provide our parts at our usual lower cost, please
contact us at the email below
if interested in any particular parts so that we can make a special shipping arrangement for you.
It is the sole and exclusive responsibility of the purchaser to determine the suitability of any part, product or work for his or her use.
The purchaser shall assume all legal, personal injury risk and liability and all other obligations, duties and risks therewith. There is no warranty on High Performance products.
Click to go back to our home page
Cycle X Global Headquarters
6246 US Hwy 51 South
Hazelhurst, WI 54531
Phone: 715-356-7346
Email: hotrodcyclex@gmail.com