Note:
All frames are built in house to ensure quality control.
All frames are new and improved with Cycle X Style!
For availability and ordering, contact us! (715) 356-7346
"Save the choppers!!"
"This is not fake news!"
Cycle X introduces the new boxer drop seat frame.
Boxer Drop Seat Frame
These bobber style frames have always been a favorite look of ours. They have a 50's, 60's, 70's look. These no frills looking bikes are quick steering and feature a "don't mess with me" look.
Features:
- Hard Tail
- Stock front geometry (use stock front ends) save money
- 6 inches of ground clearance. (Plenty of room for our roadsters)
We mocked up a bike so you can see what a bike could look like.
Install a Streetfighter motor in your boxer and go look for a fight!
Honda 750 SOHC (69-78) - Also fits 79-82 DOHC.
FR-001-DROPSEAT $799.95
Call for availability.
The Boxer Frame
These bobber style frames have always been a favorite look of ours. They have a 50's, 60's, 70's look. These no frills looking bikes are quick steering and feature a "Don't mess with me look."
Fits Honda CB750 SOHC (69-78), Honda CB750 DOHC models (79-82), Honda CB900F (81-82), and Honda CB1100F (83).

Features:
- Hard Tail
33 degrees rake (stock is 27)
Approx 7 inches longer from the motor back.
Best steel money can buy.
Tig welded.

Note:
When using stock Honda CB750 (69-78) front ends, our Honda neck cups will need to be used. If you want to switch to a Harley front end someday, simply remove the Honda neck cups and install Harley neck cups. (nice and simple and universal)
FR-001 $799.95
Call for availability.
New Trike Frame (Honda CB750)
The photos of completed trikes show two versions of our trike frames.
We combined the old Boxer and Drop seat frames and developed this awesome new frame.
Fits Honda SOHC (69-78) and Honda CB750, 900 DOHC models.
TRK-002 $999.00
SALE PRICE! $849.95 (While supplies last.)
In stock! Call to order.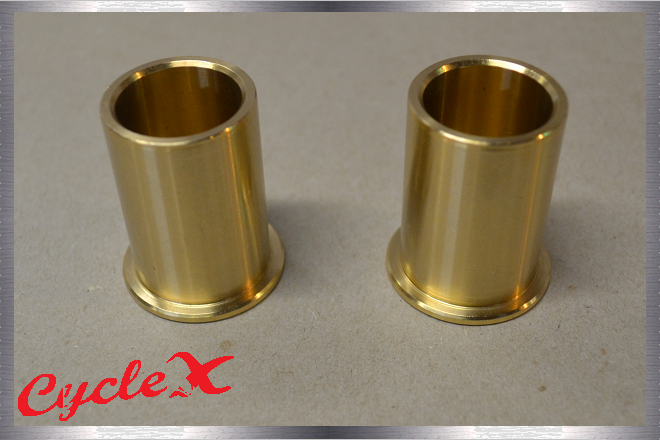 Cycle X Kibblewhite Swing Arm Bushing Kit
Fits Honda CB750 SOHC (69-78) and CBX models.
Best materials and most accurate swing arm bushings on the market.
FR-SWINGARM $39.95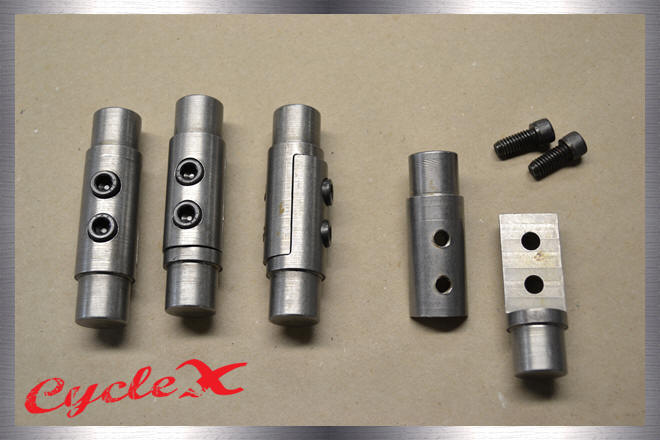 Frame Splice Kit
Meant for stock framed Honda's.
These splice kits are designed to cut the lower back-bone frame tubes to make top-end maintenance easy.
You will not need to remove the motor to do top ends.
Cut lower tubes and weld in our splice kits.
FR-040 $139.95
Call for availability.
Neck Cups Honda SOHC

Boxer frames are the most universal frames in the industry. We can use HD neck bearing cups for Springer's or wide glides. We can also use these special neck bearing cups to use stock Honda front ends.
Note: If you have a custom frame from the 70's that had a Springer, you can switch neck cups and now use a Honda front end.
Note: Neck needs to be 5 5/8's long, 1 5/16 ID measurement for the cups to work (raw metal).

FR-033 $59.95

Call for availability.

Harley Neck Cups and Bearings

Neck cups and bearings for HD front ends.

FR-035 $89.95

Call for availability.


Honda CB750 Neck Bearings

Safety is just as important as looks. Ever drive a bike with bad neck bearings? Not fun! This tapered neck bearing set will give you support that OEM ball bearings never had. With people changing neck angles, this bearing set is even more important!
Fits 1969-1978 SOHC

FR-034 $39.95

Call for availability.


Honda DOHC Neck Bearings

Fits 1979-1982

FR-034B $39.95



Rear Chain Tensioner

Ever watch a bike chain while its driving down the road? Ever notice those chain marks on the bottom of your expensive oil tank? Ever get tired of adjusting your chain and there is a gap in your fender location? We love these super high level chain tensioners because they will eliminate chain whip, chain noise, vibration, reduce chain and sprocket wear. Sealed bearings and chrome plates.
Note: Because choppers have longer chains, these chain tensioners, we feel, are a MUST! Highly recommended on our Boxer and Pro Street (cry baby) Frames.

CS-004 $79.00

Universal Custom Kickstand

FR-038 $74.95

Call for availability.



Natural Position Foot Pegs (Simple as it gets)
These combination foot peg motor mount nuts will make your life easy.
Alloy foot pegs available in 2 lengths, 9 in. and 7 in.


Install the foot pegs and tighten (done).
FR-028 $99.95
Amen Savior 20mm Rear Axle
Made for use with your Amen Savior Frame. May fit other frames.
15" Overall length with 1 5/16" of threads on each end.
20mm Diameter
3/4-16 Threads
WH-086 $89.95
Call for availability.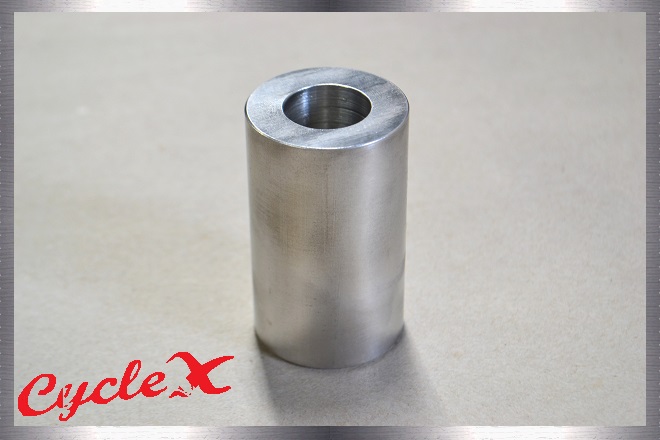 Rear Axle Spacer for Custom Applications
20mm ID, 32mm OD. 2 1/2 or 4 inches long.
Cut as needed for your custom project.
4 in. spacers temporarily out of stock.
WH-087 $12.00
A 3.99% customer service charge is applied to all phone orders.
If ordering via phone, please also provide the part # of any products you are interested in for faster and more accurate service.
If you encounter a (rare) broken button as you're trying to add parts to your cart (going to PayPal summary instead of your cart or not opening PayPal at all) or anything else of concern, please call us to report it. We'll try to have it fixed for your convenience within the next 5-10 minutes. Afterwards, refresh the page and try again.
NOTE: As of July 1st, 2018, an extended goods and services tax (GST) has been applied to all Australian consumers buying overseas, charging an extra 10% in taxes to us with each purchase. To ensure that you can continue to purchase from us in Australia and we can provide our parts at our usual lower cost, please
contact us at the email below
if interested in any particular parts so that we can make a special shipping arrangement for you.
It is the sole and exclusive responsibility of the purchaser to determine the suitability of any part, product or work for his or her use.
The purchaser shall assume all legal, personal injury risk and liability and all other obligations, duties and risks therewith. There is no warranty on High Performance products.
Click to go back to our home page
Cycle X Global Headquarters
6246 US Hwy 51 South
Hazelhurst, WI 54531
Phone: 715-356-7346
Email: hotrodcyclex@gmail.com