Voted:
Best parts in the universe.
(Judged by Cycle X)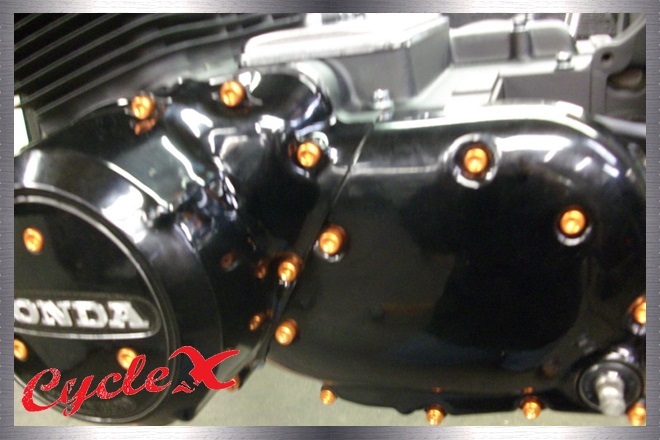 Cycle X Complete Bolt Kits (Engine Side Covers)
Includes: Valve Cover, Breather Cover, Dyno Cover, Transmission Cover, Clutch Cover, Sprocket Cover.
Colors Include: Blue - Gold - Orange - Purple
Red - Black

Manufacturing Process: Head: Cold Formed - Shank: Thread Rolled
Anodizing: Chemically brightened and color anodized to between 8 and 12 microns thick. Weight: 60% lighter than steel, 40% lighter than Titanium. Corrosion: Saltwater, road film or mild acids do not affect anodized aluminum.

NOTE: Blue, gold, purple, and black temporarily unavailable.
MD-003 $89.95
"Save the choppers!"
In memory of the olden days when choppers and wild custom bikes were built, we have reintroduced the Cycle X assassin valve cover spikes!
ENG-SPIKES $162.95
If ordering via phone, please also provide the part # of any products you are interested in for faster and more accurate service.
If you encounter a (rare) broken button as you're trying to add parts to your cart (going to PayPal summary instead of your cart or not opening PayPal at all) or anything else of concern, please call us to report it. We'll try to have it fixed for your convenience within the next 5-10 minutes. Afterwards, refresh the page and try again.
It is the sole and exclusive responsibility of the purchaser to determine the suitability of any part, product or work for his or her use.
The purchaser shall assume all legal, personal injury risk and liability and all other obligations, duties and risks therewith. There is no warranty on High Performance products.
Click to go Back to Engine Parts Page
Cycle X Global Headquarters
6246 US Hwy 51 South
Hazelhurst, WI 54531
Phone: 1-715-356-7346
Email: cyclex@cyclexchange.net