On All Frames Call for Availability and Ordering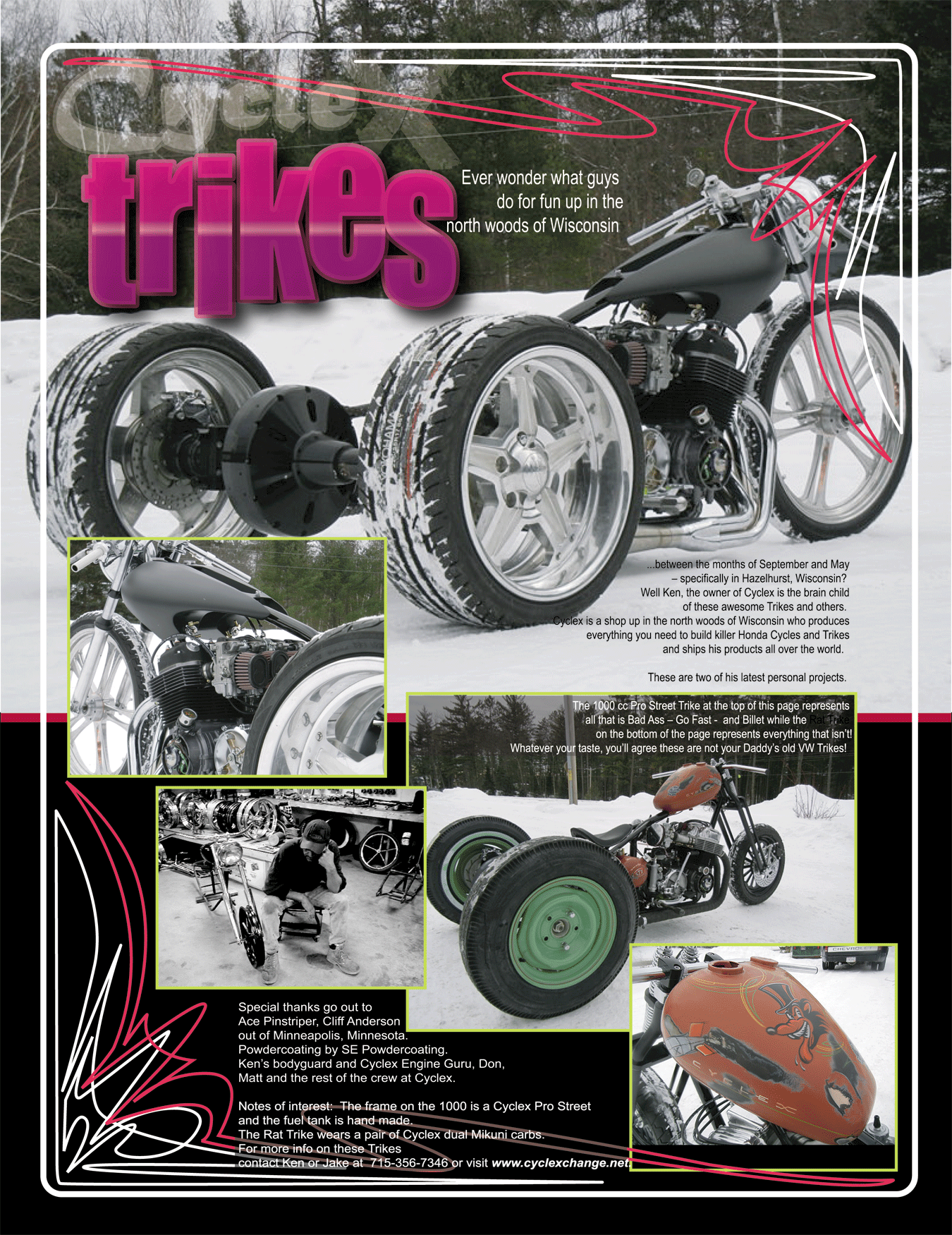 Voted:
Coolest trikes since the big wheel!



Social life stagnant?
Git' a Cycle X Trike.

Do you hate it when...
...people approach you, look at your cool bike?
...girls constantly ask you for a ride?
...cops pull you over to get a closer look at your custom project?
If so...the Cycle X Trike might not be for you.

Cycle X Trike (frame and rear end) features:
Boxer style front section or Pro street front section. (Your choice)
7 inches longer than stock rear length.
Honda or HD neck cups for multiple choices of front ends.
Positive traction.
Slip differential.
Disc brake calipers (Both sides)
51 tooth for 530 chain.
Heavy duty bearings.
40 inch width.
Uses GM 5-4.75 bolt pattern.
Optional oil tank and battery tray. (Yes, a tick more money)
And of course, Cycle X style.


Frame and Rear End Price: Call for Price and Availability
New Trike Frame (Honda CB750)
The photos of completed trikes show two versions of our trike frames.
We combined the old Boxer and Drop seat frames and developed this awesome new frame.
Fits Honda SOHC (69-78) and Honda CB750, 900 DOHC models.
TRK-002 $999.00
Call to order
Cycle X Trike Frames and Rear-Ends

Cycle X Trike Rear-End:

Cycle X rear ends now feature:
Black powder coated assembly.
Vented pumpkin.
Drilled rotors.
2 piston calipers (per side)

TRK-001 $1,449.95

Call for ordering and a shipping quote today!
UNDER CONSTRUCTION! STAY TUNED FOR MORE PRODUCTS, PICTURES, AND MODELS

New Contact Info:

This email is for general questions.
How is my order? How do we order? Is a part in stock?
Stuff like that.
If ordering via phone, please also provide the part # of any products you are interested in for faster and more accurate service.
If you encounter a (rare) broken button as you're trying to add parts to your cart (going to PayPal summary instead of your cart or not opening PayPal at all) or anything else of concern, please call us to report it. We'll try to have it fixed for your convenience within the next 5-10 minutes. Afterwards, refresh the page and try again.
It is the sole and exclusive responsibility of the purchaser to determine the suitability of any part, product or work for his or her use.
The purchaser shall assume all legal, personal injury risk and liability and all other obligations, duties and risks therewith. There is no warranty on High Performance products.
Click to go Back to Honda 750 Index
Cycle X Global Headquarters
US Hwy 51 South
Hazelhurst, WI 54531
Phone: 1-715-356-7346
Email: cyclex@cyclexchange.net