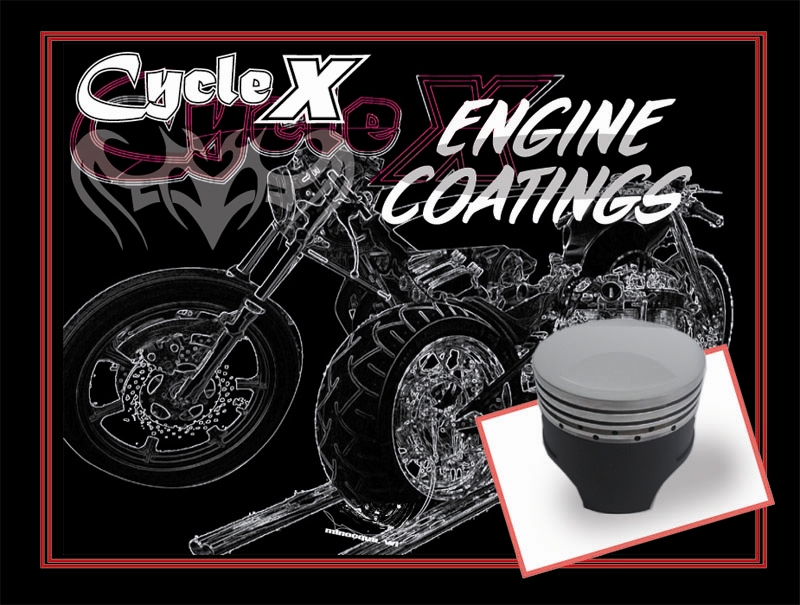 For conversation sake...
Let's say you're trying to extract every bit of horse power and acceleration.
Reducing friction is huge.

Why?
Rather than a bunch of technical stuff.
Here's a story... (True story)
A ford mustang enthusiast decided to rebuild his 351 motor. Before he disassembled his motor he removed the spark plugs and recorded how much torque it needed to turn the motor over.
After the motor was disassembled the entire inside of the motor was coated with various anti-friction coatings.
When the motor was reassembled (New rings and bearings, of course) the amount of torque needed to turn the motor over was cut in half.

For conversion sake...
Let's say you're not looking for horse power and acceleration. You are interested in a smooth happy running motor.
Here's a story (True story)
Tests show (On a Harley) that cylinder head temperatures can be reduced up to 65 degrees with a heat barrier and skirt coating applied to the pistons.

This high performance coating section will get our full attention and will provide every type of space shuttle coatings needed to help your bike run faster, cooler and happier.
Pistons, rocker arms and shafts, transmissions, steel clutch plates and every other moving part.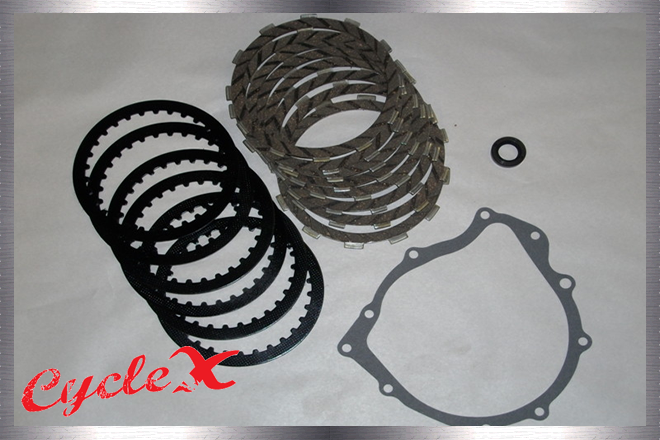 Cycle X Super Clutch Kit (Extreme duty)

Kit includes:
Cycle X friction plates (We have tried them all, ours are the best)
Gasket (Because you will need this)
Oil seal (Yours is 30+ years old)
Special coated steels,
No more burnt clutch plates
No more slipping (With any high-horsepower motor)
No more heavy pull clutch springs
No more (expensive) extra plate clutch kits.
No more worries about slippage with synthetic oils.
One kit covers all years
Honda had a few different clutch plate amounts and arrangements. Clutch parts can be interchanged from year to year and the customer sometimes will not know if some internals have been changed. So, to make life easy, we add all the years of friction plates to one package. Simply, remove your old friction plates and install the new ones in the same order in which they were removed. These are great friction plates and racers around the world prefer them to all the other friction plates that are offered.



ENL-015 $109.99
Cycle X Race Team Approved
Call for availability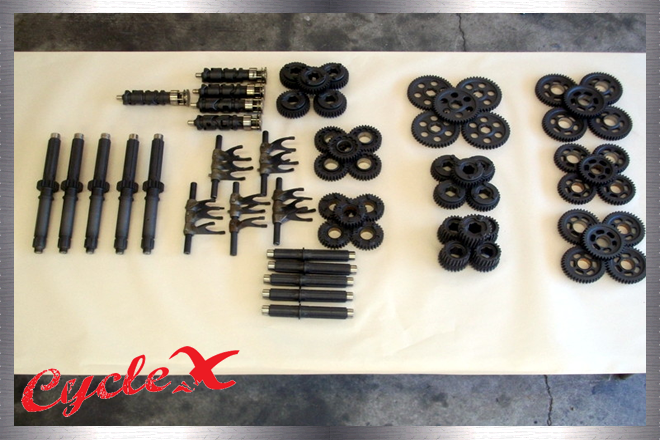 Coated Transmissions

Slick shifting, super smooth anti-friction coated transmissions.
These transmissions are for you people that want every advantage in acceleration over the competition.
Kit includes:
Shift shaft
Shift drum
Shift forks
Main shaft
Counter shaft
All the gears as shown

Exchange basis
Call for more information and to order!

$295.00 ENC-002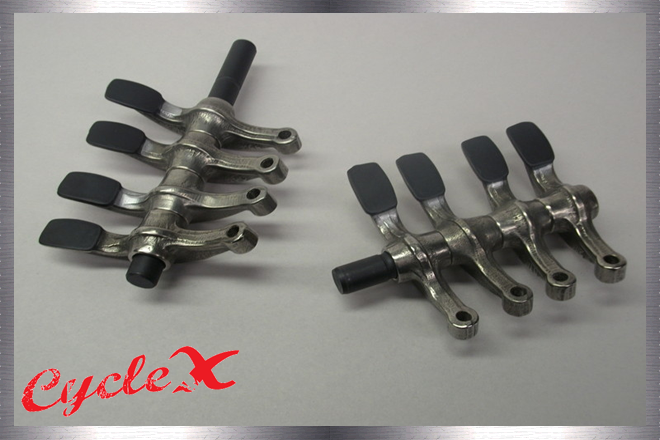 High-Performance Coated Rocker Arms and Shafts

Rocker arms and shafts are etch prepped and coated with a Flora-Polymer that can withstand over 150 thousand PSI of load.
Greatly reduced friction will increase horsepower and reduce heat.
Flora-Polymer coatings will also retain oils for better lubrication.
Note: Minor scuffing to rocker arm surfaces which were normally not acceptable are now usable with this process.
$99.00 for complete valve train (4 shafts and 8 rocker arms) exchange.

Speaking of coatings!

Our piston skirt coatings will almost eliminate friction.
Our piston top heat barrier will reduce your cylinder head temperature up to 65 degrees.
Note:
During the testing process a Harley V-twin front piston was uncoated and the rear piston was coated.
Heat sensors showed a heat reduction of 65 degrees.
$129.00 for set of 4 pistons (Cast or forged)

Speaking of heat coatings!
Cylinder combustion chambers will benefit greatly.
Cycle X Big Bore Kit (High Performance Version)

Our 849cc pistons are now coated for you high-performance folks.
Some piston coatings are better than others, ours is the best.
Dyno tests show noticeable gains with this combination of coatings.

The piston skirt has a super slippery coating that will virtually eliminate piston skirt wear.
The piston top has a heat coating that will virtually eliminate alloy softening under extreme conditions (Forged or cast pistons)

Here is my favorite test:
These coatings were tested on a Hot-rod v-twin motor (Harley)
The front cylinder piston was uncoated.
The rear cylinder piston was coated with the above mentioned process.
During the running process the heat sensors showed the rear cylinder 65 degrees cooler.

Piston kit includes:
High-performance 849cc permanent mold cast pistons (Coated)
Wrist pins and clips.
Rings
Head gasket.

$379.00 ENC-004
Combustion chamber heat barrier coating will compliment your coated pistons. Cylinder head temperatures will be reduced even more. Same process used on our vintage road racer.

Note: Valve job will be done after the combustion coating procedure.
PVD coating process (NANO technologies) is one of secrets of the Cycle X vintage road racer.
This coating is used on rod bearings, main bearings, roller bearings, needle bearings, valve stems and anything that moves.
Sputtering this Moly disulfide coating will hold oils on the part, reduce friction, reduce heat and is great for long period sittings and cold start-ups.
Piston Coating (Dome and skirt) ............. $129.00 (Set of 4)
Rocker Shafts and Rocker Arms ............. $99.00 (4 shafts 8 rockers)
Super Coated Clutch Kit ........................ $109.95 (Race proven)
Coated Transmission ............................. $295.95 (Complete with trans, forks, shaft and drum)
PVD Coated Main and Rod Bearings ...... $5.00 per half shell
PYD Coated Bearings ............................ $15.00 per bearing (Ball or needle bearing)
PVD Coated Valve Stem ........................ $10.00 per valve
Combustion Chamber Coating ............... $129.00
If ordering via phone, please also provide the part # of any products you are interested in for faster and more accurate service.
If you encounter a (rare) broken button as you're trying to add parts to your cart (going to PayPal summary instead of your cart or not opening PayPal at all) or anything else of concern, please call us to report it. We'll try to have it fixed for your convenience within the next 5-10 minutes. Afterwards, refresh the page and try again.
NOTE: As of July 1st, 2018, an extended goods and services tax (GST) has been applied to all Australian consumers buying overseas, charging an extra 10% in taxes to us with each purchase. To ensure that you can continue to purchase from us in Australia and we can provide our parts at our usual lower cost, please
contact us at the email below
if interested in any particular parts so that we can make a special shipping arrangement for you.
It is the sole and exclusive responsibility of the purchaser to determine the suitability of any part, product or work for his or her use.
The purchaser shall assume all legal, personal injury risk and liability and all other obligations, duties and risks therewith. There is no warranty on High Performance products.
Click to go back to Engine Parts page
Cycle X Global Headquarters
6246 US Hwy 51 South
Hazelhurst, WI 54531
Phone: 715-356-7346
Email: hotrodcyclex@gmail.com