Cycle X Rebuilt Carb Program
NOTE: Currently not accepting rebuild requests at this time. Sorry for the inconvenience.

Basic Rebuild
Disassemble to inspect. Ultrasonic cleaned. Reassemble using new float components and gaskets.
Bench sync'd
Early (69-76) $250.00
Late (77-78) $285.00


Rebuild with Jetting Modifications
Many folks are using modified air boxes, free flowing individual air filters and such. Due to the fact that jet kits are unavailable for these bikes, we
needed to develop our own modifications to make these bikes run well. Simply....tell us motor mods, air cleaner selection, exhaust choice and
we will adjust your carburetors accordingly. Disassemble to inspect. Ultrasonic cleaned. Reassemble using new float
components and gaskets. Bench sync'd and jetting modifications.
Early (69-76) $280.00
Late (77-78) $295.00


DOHC Carbs
Starting at $300.00, Call for estimate.
Note:
In some cases it could be very difficult to jet or modify carbs for spot-on performance when alterations are made, other than stock.
(Turning screws, raising or lowering needle clip positions or possible jet changes might be needed.)

DOHC Carbs
Call for Pricing
Air cut out valves are $20.00 Each.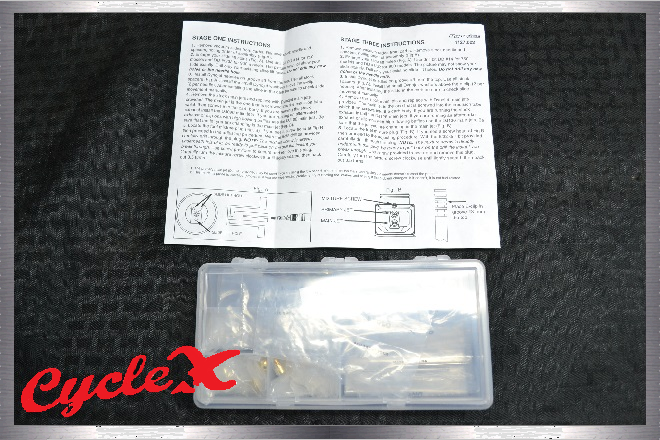 Honda DOHC Carb Jet Kit
Honda CB750, 900 DOHC carburetors can be a pain if air filter pods or exhaust system changes are made.
Here is a jet kit to help with your Honda project bike. Many people try jetting their bikes by just changing main or pilot jets with know real progress. These kits have plenty of jets, but the needles are the science and cover a wide range of throttle positions.
JET-001 $125.00
500/550 Carbs
Ultra Sonic Cleaning, New Gaskets, Replace Float Needle.
Basic Rebuild - $260
Rebuild w/ Jetting Modifications - $275
If ordering via phone, please also provide the part # of any products you are interested in for faster and more accurate service.
If you encounter a (rare) broken button as you're trying to add parts to your cart (going to PayPal summary instead of your cart or not opening PayPal at all) or anything else of concern, please call us to report it. We'll try to have it fixed for your convenience within the next 5-10 minutes. Afterwards, refresh the page and try again.
NOTE: As of July 1st, 2018, an extended goods and services tax (GST) has been applied to all Australian consumers buying overseas, charging an extra 10% in taxes to us with each purchase. To ensure that you can continue to purchase from us in Australia and we can provide our parts at our usual lower cost, please
contact us at either email below
if interested in any particular parts so that we can make a special shipping arrangement for you.
It is the sole and exclusive responsibility of the purchaser to determine the suitability of any part, product or work for his or her use.
The purchaser shall assume all legal, personal injury risk and liability and all other obligations, duties and risks therewith.
Click to go Back to Carb System Index
Cycle X Global Headquarters
6246 US Hwy 51 South
Hazelhurst, WI 54531
Phone: 715-356-7346
Email: hotrodcyclex@gmail.com