We would like to start this carburetor section with these polished to perfection bowls, tops and carburetor bodies. The detail of the polishing is stunning and is the best we have ever seen.

CA-043 $79.95 (float bowls and tops)
CA-044 $340.95 (4 carburetor bodies)
Exchange basis only - Call to order


Honda CB750 (69-76) 39mm velocity stacks from the 70's era.
We really like these made in Japan velocity stacks because they have an unmistakable 70's appearance. They are also a bit heavier with a built-in fine brass screen.
Here's the best part. Not made in China.
Also fits CB500K 1971-74, CB550F/K 1974-78.
CA-045 $46.95
These velocity stacks are the same as above. High quality 50mm Japanese stacks for Honda CB350, Honda CB360, Honda CB450, Honda CB500T.
CA-046 $31.95
Bored Honda CB750 Carburetor Bodies
More air + More fuel = More power.
These services will be done on a exchange basis. Send us your stripped carburetor bodies and the carbs will be precisely bored.


CA-047 $145.00 (set of 4)
Exchange basis only - Call to order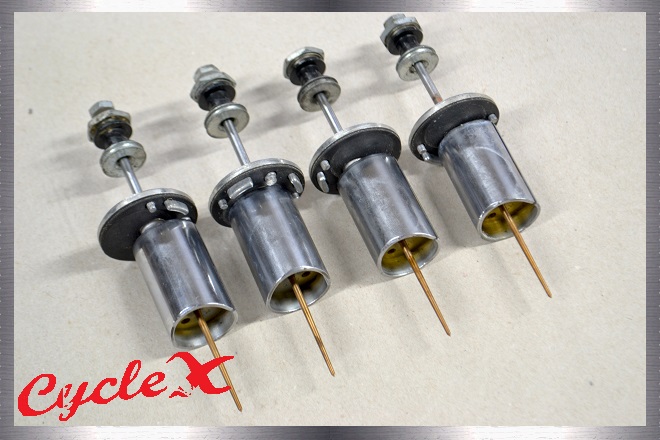 Modified Cut Slides
This modification will "bridge the gap" between the pilot jet circuitry and needle/clip positions.
We remove a desired amount from the bottom of the slide for instant throttle response. This modification generally requires smaller pilot jets and needle clip position near the middle.


CA-048 $40.00 (set of 4)
Exchange basis only - Call to order
This carburetor program will focus on high performance hybrid rebuilt carburetor systems.
Our experience in the performance world will be on full display with our bored, jetted and tricks-of-the-trade carburetor upgrades.

Oh yeah...stock carbs with OEM air boxes also. Give us a call if you have any questions.
This page is currently under construction. Check back soon for updates.
A 3.99% customer service charge is applied to all phone orders.
If ordering via phone, please also provide the part # of any products you are interested in for faster and more accurate service.
If you encounter a (rare) broken button as you're trying to add parts to your cart (going to PayPal summary instead of your cart or not opening PayPal at all) or anything else of concern, please call us to report it. We'll try to have it fixed for your convenience within the next 5-10 minutes. Afterwards, refresh the page and try again.
NOTE: As of July 1st, 2018, an extended goods and services tax (GST) has been applied to all Australian consumers buying overseas, charging an extra 10% in taxes to us with each purchase. To ensure that you can continue to purchase from us in Australia and we can provide our parts at our usual lower cost, please
contact us at the email below
if interested in any particular parts so that we can make a special shipping arrangement for you.
It is the sole and exclusive responsibility of the purchaser to determine the suitability of any part, product or work for his or her use.
The purchaser shall assume all legal, personal injury risk and liability and all other obligations, duties and risks therewith. There is no warranty on High Performance products.
Click to go Back to Carb System Index
Cycle X Global Headquarters
6246 US Hwy 51 South
Hazelhurst, WI 54531
Phone: 715-356-7346
Email: hotrodcyclex@gmail.com